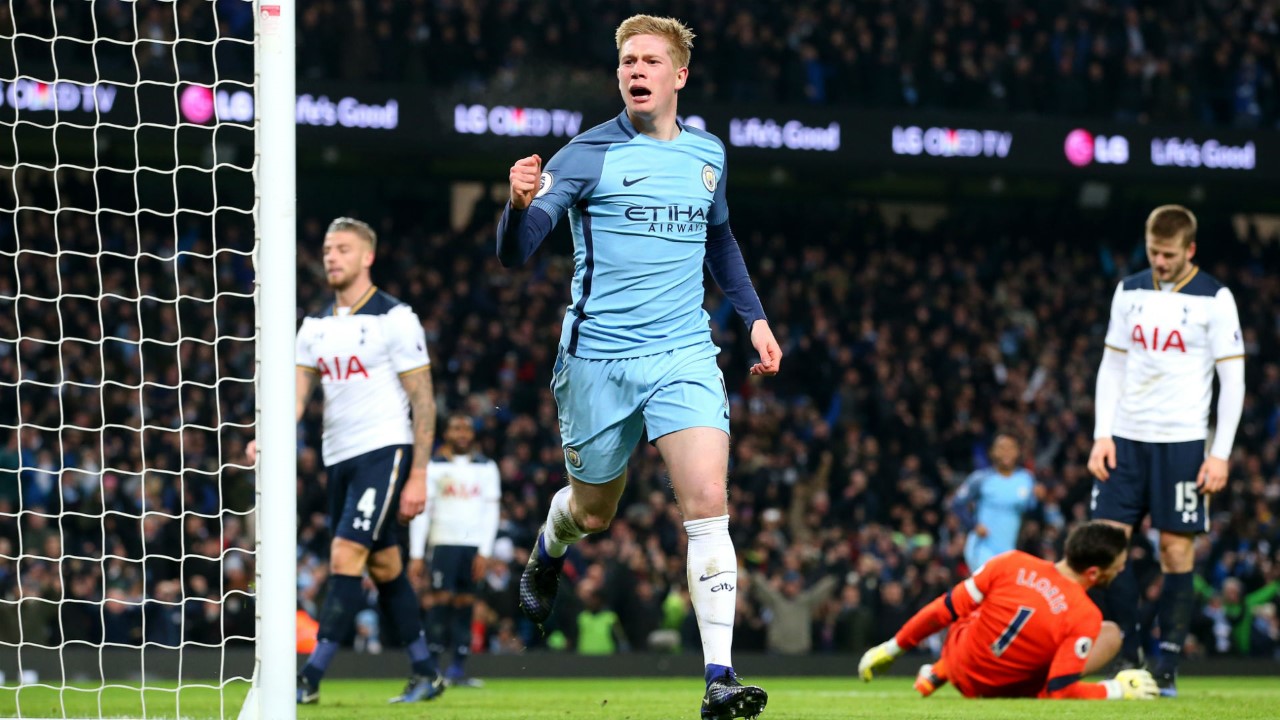 It's been an awful week, but it just wouldn't be City if it was easy.  I'm going to be optimistic going into this game, because I know we are good enough to beat anybody if we want to, and I don't care about anything else. I certainly don't care about the spuds, and these comments haven't changed that view
COME ON CTIY!!!
Referee: Jonathan Moss
Assistants: Simon Bennett, Andy Halliday
Fourth official: Stuart Attwell
Team Selection
Lloris
Trippier – Sanchez – Vertonghen – Davies
Dier – Dembele
Son – Eriksen – Dele
Kane
And the rest…
After seeing them throw their toys from the pram yesterday, I'd be keen to see Lamela and Dier start to wind them up a bit.
Just watched the full match highlights for their game with United. I can't quite believe how shit their supporters are. For a title winning match and derby to be that quiet (in the first half), it is embarrassing. They have always had shit support but it has sunk to new lows. Almost feel for them as they don't really have a football club anymore. 
Anyway I think we can beat them.
To be fair to them when they were at Maine road in the lower divisions they always had a great turn out. There is no doubt that a lot of their old school fans feel as though , since the money has came, they have lost their club .
Just hope that they beat Liverpool , and it takes a lot out of them . Then come Saturday night we beat them…I hate Liverpool. To the point where I even want Chelsea to nick their cl spot
Need City to win their home tie v dippers 3-0. Extra time, penalties, hundreds of them. Game finishing just in time for them to get the flight down to Wemberlee for our 7.45pm kick off
The best they can hope for is a draw…The small team in Manchester forum is almost as amusing as the racists…Apparently they should have been given a 9k allocation because it could be the game they win the tIsle (yeah, if they hadn't bottled it vs Utd) and we haven't sold out a single game this season…That coming from fans of the most expensively assembled team ever in England that can't fill their own ground
Atmosphere should be banging
Thank god they can't win it against us. Walker winning the league at "our ground" would be sad
I watched parts of the first half of their match against united and they really should have been 4 or 5 up at HT. Sure united won and city collapsed but we cannot afford to give them that many opportunities because it's unlikely that they'll miss that many easy chances again. Sterling could have had a first half hat-trick
Utd were very lucky, though that's the effect of pressure I guess as Sterlings been putting those away all season. But you're right that we can't give them that many chances. We need to put them on the back foot and hopefully score first as that will cause them to collapse probably.
Genuinely got a good feeling about this one which is unusual for me…Fancy we'll be up for it, play well, and beat them.
It's a shit time/day combo for a kick off. I'm in London for a gig that night. If had been a 3 o'clock kick off, or even the 17.30 kick off I could have gone to both. Feel sorry for the City fans. Absolute crock.
Yeah this is purely for TV – completely fucks over fans who pay to go
We should start calling them Mansour United. That should really piss them off.
If we avoid defeat against City, we'd have broken our previous undefeated Premier league run of 14 matches (currently tied)
Full focus. Poch and his crew will have to have studied these last couple of games for City. Approach this right and we can take them…It won't be easy but this last week has proven that these fuckers can bleed. And that which bleeds can be killed.
Whoah they're gonna be hurting after tonight…Either that or the spoilt little Prima Donas would never have experienced a 'dip in form' and won't know how to cope!…
There for the taking if we handle this right!…Play it cool Trigger… play it cool!
When's the last time City lost 4?
We need to pile on the misery to City and leave them with the most anti-climactic title in memory… leaving them demotivated and dissatisfied at the start of next season for our glorious title-winning return to White Hart Lane…COYS
Need to get into them from the off hound fuck out of them and they'll crumble
They lost because they don't have a front to back system like we do, they are all front end and rely on an outstanding keeper to mop up. They play like headless chickens and can dominate the weak, we play to a system and the team has faith in it, because it works…They will attack because it's all they have and we have the team that can dismantle that approach…As long as we don't lose heart and stick to what we are good at, we can beat them as they will give us opportunities…It'll be good…….. oh, and fuck you Kyle Walker
Pep has an arrogance around him that made everyone believe the hype and how they would run away with everything so I'm glad they lost to united and Liverpool however the upshot is the scousers now believing their own hype. With Barca getting knocked out I worry they actually have a chance. The good thing is the players will be focused on that and not the league as they know they can't win it. If city lose a couple more games they will only just scrape the title so not the landslide everyone was predicting so bitter sweet for them…This is a massive game for us, not only for top four but mentally going into the fa cup. I pray we stick it to them
I wanna beat these fucking sky blue wankers so much: Shove that pin Pep wears right up his arse! Eriksen and Kane with a brace apiece. COYS
It's a tough choice on who starts as City hate being pressed. Lamela is brilliant at the pressing game, and is brilliant at picking passes. However Son is great for the counter, and is such a goal threat.
Their recent run of games has shown a mental fragility when things don't go their way. It shouldn't be ignored that they have had some terrible refereeing decisions against them in those games (two penalties not given against Utd. And a 2nd goal wrongly disallowed against Liverpool last night which in both cases would have put them in very dominant positions) however in all 3 games they've become very sloppy and capitulated once the pressure was on…We HAVE to get at them early doors and get a good foothold in the game without leaving ourselves wide open at the back.
They will want to bounce back from a bad week, so this will be tough. If we can get ahead of them, maybe they will show their fragility again. Need to score first, i reckon.
Genuinely think we might cause them a great deal of of damage, especially because they really seem out of sorts since losing the first leg to Liverpool…So how is it going to be? A controlled, dominant and professional win like the two nil at the lane last season or a 4-1 walloping like in the 15-16 season?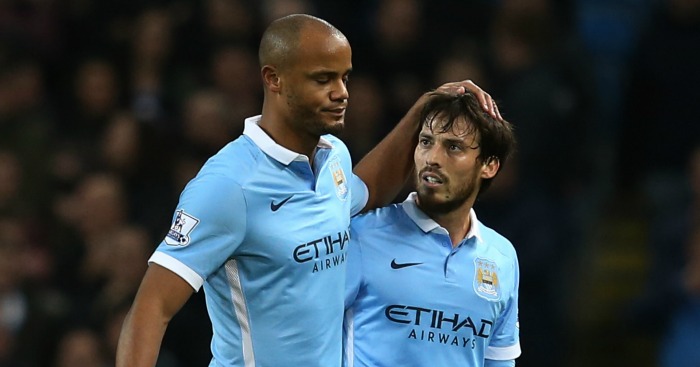 Happy we don't have to give the guard of honour to that shit Walker
what an awful week for them, 1st half is going to be really important, they'll run out of energy in the 2nd
It's going to make the match against them even harder. Pep is going to be keen to not have to wait any longer to wrap up the title. We need to be on top of our game and not be under the impression it will be the same for us as it has been for Liverpool and United…Fernandinho missing is big for them though. He is a very important player for them, it'll be interesting to see who they bring in to replace him. We need Dembele to have one of his masterclasses and let Dier do the dirty work.
Lets hope they put delph in there
Thought they looked very good last night before the offside, I truly think they would have won if that goal had stood…From our perspective, it shows that they can collapse when things go against them – so an early goal to deflate them even more would be massive.
If that offside goal had been given, city would have gone on to win that…If we score first, I cN see us getting something…Got a feeling they are gonna take their frustration out on us though.
Otamendi is a mistake waiting to happen. Also Walker is always prone to a mistake. He's a great attacker but defending isn't his strong game.. Son could cause him some real problems…We need Dier or Lamela (if starting) to hound De Bruyne all game. Also keeping an eye on Silva.
they scored first and early against the pool and yahnited and still made a mess of it we should be ok, we have earned the right to be confident in these big games
I think this will be key. KDB is an exceptional player but he will not like Lamela hounding him one bit. I don't think his team mates will like it either and it will wind them up and they could lose their shit. They are playing with so much frustration at the moment. Being embarrassed by Liverpool (twice) and their local rivals too after being 2 goals up, the shine coming off their apparently amazing season, rivals not showing them the respect they've become accustomed to. All we have to do is wind them up. Press them hard, follow through on a few tackles, a bit of guile is what we need. Dembele, Alli, Lamela, Dier, there's even a case for Rose on that basis, though I hope Davies starts cause he's better.
I have a feeling City will bounce back a bit. Their performances have still been decent going forward despite their poor finishing and recent results. We can attack their weaknesses at the back. They have been exposed of late. However, the reverse fixture at the Etihad showed how dangerous it was to think we can play against them like anyone else and go toe to toe. Therefore, this is still Poch's toughest game of the season to win, more-so than Chelsea away.
I hope Walker doesn't get booed. A good servant to the club who was part of both squads that got top four finishes under two different managers…If you don't like him or what he done, I don't think it warrants any boos.
Supposedly they only have 14 players, looks to be what we did a few years back run out of steam starting April, still not confident tbh