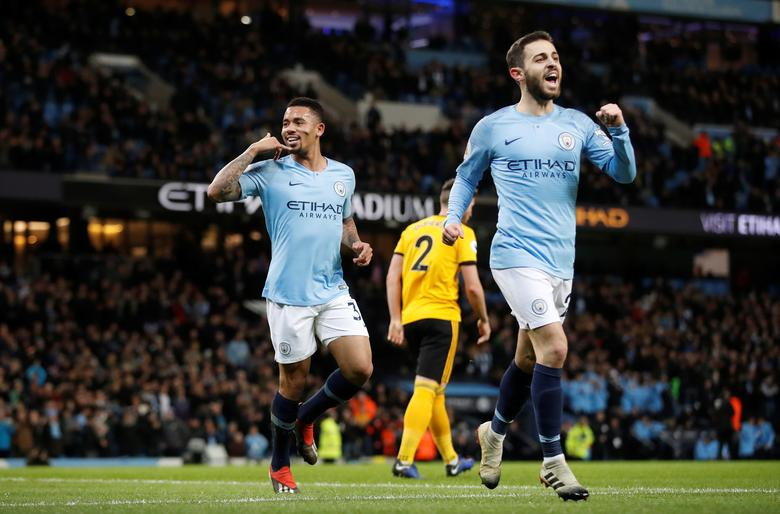 Hope everyone is recovering from the stuffing we all had yesterday. I managed to throw my back out on Christmas Eve, so I have had a fantastic couple of days on alcohol and pain killers. I thought I had posted a Christmas message yesterday morning, but I can't find it now. I have definitely wished City fans a Merry Christmas on some site! On to more important things, like the game tomorrow. Not much confidence from the home fans, especially after the weekend and KDBs performance against the foxes
COME ON CITY !!!
Referee: Martin Atkinson
Assistants: Lee Betts, Constantine Hatzidakis
Fourth official: Andre Marriner
VAR: David Coote
Assistant VAR: Andy Halliday
Team Selection
Patricio; Bennett, Coady, Saiss; Doherty, Dendoncker, Neves, Moutinho, Vinagre; Traore, Jimenez
And the rest…
No one does the double over City these days.
They were rather good today!!! You never know though, and we fear nobody.
If you offered me a point now I would take it. But then I would have taken a point today at HT!
I'd go back to the 3-5-2 as in the away game for this one.
Tempting but City's weakness is in defence so can also see the logic in 3-4-4 but with Jota and Traore playing slightly deeper than normal. That way we are best p,aced to capitalion any opportunities that do come our way.
I would bite your hand off for a point right now.
Think we will struggle. With KDB they are a complete different proposition and he will either score a worldy or unlock us with something outrageous. Much easier team to play without him. We will have to be better going forward than we have been and make the chances count when we get them on the break to have a chance. Their back 4 is still a shambles.
Yeah KDB is on fire at the moment which doesn't bode well as he can murder anybody on his day. He was absolutely unplayable yesterday and Mahrez wasn't far behind him. If we can get at their defence we're in with a shout but I really can't see us shutting out KDB.
Who is the ref? Its city's turn for a red card.
Last time 3-5-2 worked because the 2 on the counter with Vinagre and Traore getting forward quickly was effective. Also flooded the middle forcing them out wide with them putting in aimless crosses. Without KDB they had no x-factor so just resorted to these aimless crosses, but we defended this really well particularly with Boly in there…Without Boly I'm not sure we will be as good at defending these and The delivery from KDB will be better. 3-4-3 also is more 5-4-1, so theoretically has more men in defensive areas whilst still having more pace in the side to exploit the spaces left by their fullbacks on transition…3-4-3 for me. It's working generally and it allows us to have more pace in the team. It also worked great against city last year at home and we are a way better team than that now and they aren't as good.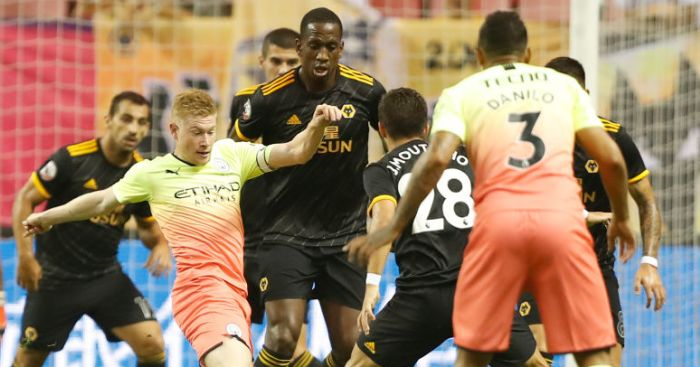 I am really looking forward to it. The match at Molineux last year was awesome. They were utterly brilliant. The passing and movement was astounding, and yet we went toe-to-toe with them for a large portion of the affair. It was the match that gave the immediate impression that Wolves in the Premier League under Nuno was going to be a rather different proposition to the Wolves under Mick or DJ…City were the best team I saw in the flesh (at least they were until Liverpool and the Virgil Van Dijk rolls-royce pitched up)…I love the fact that we don't see these games as free hits now. That's a negative mindset if you are pushing the upper reaches of the table. They are games where there is something to be won if we play our best.
As good as City were last night, Leicester completely played into their hands by just giving KdB all the freedom in the world. Tielemans was a joke from a defensive perspective and left Chilwell isolated with him and Mahrez all game…I wouldn't be averse to moving back to 3-5-2 with Donck playing in front of the back three.
I predict we will play better than against Norwich…We seem to do well against City generally. I think a draw.
Start slowly and they could be out of sight by half time. But we won't we are Wolves so hard fought 2-1 come on me Christmas babbies!!
We'll turn it on for the next two and put in a stinker at Watford. It's the Wolves way.
3-0 wolves. raul, jota, traore to score.
Much as I'd love six points against the reigning Champions, with our makeshift defence and them with KdB back in harness, I cannot see us claiming better than a draw this time. 1-1 (a repeat of their last visit) or 2-2 would do me just fine. Fear we might see a repeat of the Spurs result however unless all our front three plus Mouts and Neves are on fire.
Would love to have more faith, but can see a 1-2, 1-3 here…They just destroyed Leicester, current kings of counter attacking.
0-2 City. We'll battle well but miss a few chances then get picked off. They were literally devastating the other night – we need an extra body in midfield just to simply try and sit on De Bruyne in the current form he's in.
I'll be happy just to see Traore get some protection from the ref
Its one of those. 2-1 Wolves or a 0-4 City…Either way, its gonna be a cracking day on the pop and atmosphere should be bang on!
0-3 and then win at Liverpool
Liverpool look unstoppable but everyone has to have a wobble some time even the Galacticos. I think it's about time they dropped some points. less confident with City
Sorry to sound negative but I would be delighted with anything other than a City win…I can then honestly see us winning at Anfield.
With our current defensive frailties I think we will need 3 goals for a draw.
City and Liverpool are world's apart from the rest of us…I expect Pep has a plan to diminish Traore's effectiveness, so I hope Nuno has a counter plan, such as telling Traore to cut inside more often…I would be delighted with a draw at each game.
Watching City's 'defence' against Leicester and Man United should give everybody hope. It is truly shocking and there to be taken advantage of – if you can get the ball off them and break at speed…No stupid mistakes at the back, Adama on the ball as in the game at theirs, and I will stick with my prediction of a win…Kevin De Bruyne, though.
Lawro, Owen, Nicholas…et al are all backing Citeh to beat us…where's the belief and understanding of what we do?? #WeAreWolves!! Need to show these clueless, over-hyped pundits up for what they are.