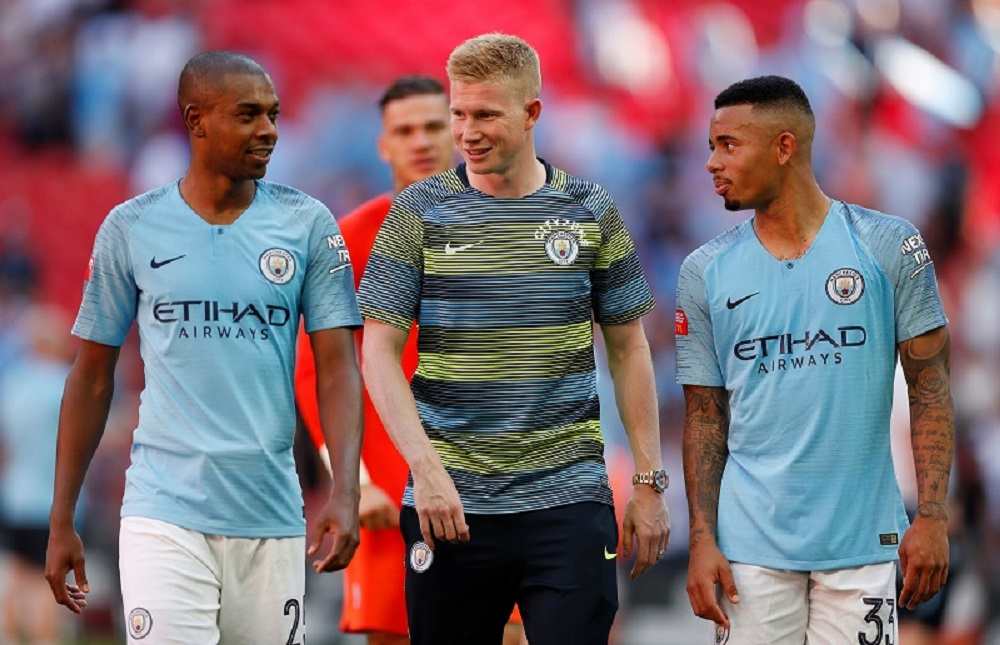 Thought I would get this done before I pack the car and head up the motorway for the holidays. For the most part the away fans seem a lot calmer than I remember them being recently (since they won the PL). There is always the odd exception of course! If Arteta does go today it would make a good statement to the world if we win. I can't wait, and I expect to be a touch merry by the time I get to the Etihad
COME ON CITY!!!
Referee: Mike Dean
Assistants: Darren Cann, Dan Robathan
Fourth official: Andy Madley
VAR: Andre Marriner
Assistant VAR: Andy Halliday
Team Selection
Schmeichel
Ricardo
Soyuncu
Evans
Chilwell
Ndidi
Tielemans
Maddison
Perez/Barnes
Vardy
Gray
And the rest…
Back to back against these and Liverpool will be tough. I'll take a draw in both games.
Be fearless.
We got this.
It's a tough call on how to set up for this one.  Man City are a tougher matchup for us than Liverpool, really, because we've become a heavily possession-dependent side and Pep emphasizes starving the opponent of possession above all things.  Do you start Choudhury, play a tight-packed midfield five and try to withstand the barrage and threaten on the counter?  Or do you try and play the new "Leicester Way" and beat them at their own game?
Would definitely take a draw.
Must win.
I think we will lose this one narrowly but get something from Liverpool. I think Pep will get into his players ahead of this game and Man City will see this as a statement game. They know the league has gone but whereas finishing second to a relentless Liverpool is understandable, finishing behind us would be poor given the embarrassment of riches they have…I'm glad Tielemans was rested against Everton as he's our key player in this one. Last season we started well but they gradually overwhelmed us and the outball disappeared. KDB is the best midfielder in the division but we need to be brave enough to keep passing the ball ourselves to play out from the press. If we do so we've always got the counter on through Vardy.
If we play on the counter like Wolves have done and Manchester United have done at their place then we have a chance, We have better players than those teams and Manchester City's defense isn't as good as last seasons, so every chance we can win this game game. I wouldn't set us up defensively because that will be our own downfall.
Think this game is set up for us to break on them on the counter. We need to defend well and once we have the ball break on them with pace. Hopefully Barnes and perez are back for this game. Would like to see us go 4-3-3.
We have to counter them at every chance. Their defence is a shambles.
Literally any result is possible…come on Leicester!!!
Draw would be fine by me. But their defence is definitely something we can exploit!! Will need wilf and the back 5 to have worldies.
Any result  their is a good result…We can get at their current defence but it's stopping the other end, particularly we can't allow De Brunye to control it.
Play them as Man U did, on the counter, and we'll have every chance. Our number nine will be really looking forward to playing against their CBs!
bit of a free hit really, just hope we actually go for it, unlike any other away trip to a "big 6" team this season…as far as the top 4 goes, with spurs playing chelsea, even if we lose, it's not a disaster.
Get at them down the flanks, two touch football, stop playing the ball around at the back giving them time to set up in defence.
Drawing MC onto you hoping to counter isn't sensible, they're still IMO the most dangerous attacking side in the world. If we match them man for man we can expose their defence, attack them as often as possible and be direct. Treat them like we'd treat a bottom half team.
3 points from next 2 games would be good. Go out attack in both and try and win 1 of them. Rather that than a negative 1-0 defeat in both or scraping a draw in one.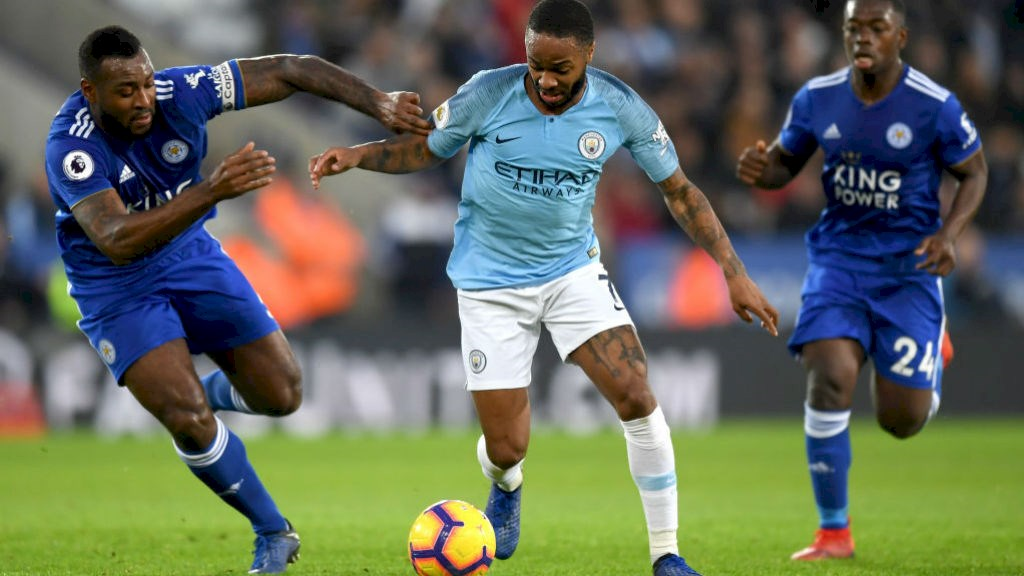 This is probably the hardest game to predict. It is certainly winnable if we can contain KDB and Sterling and take the game to them but by the same token we could get a hammering. I think it will be a hard watch as undoubtedly we will find ourselves having to soak up long periods of pressure at some point. Hopefully cags and Johnny will have their measure and we can keep them out. We should keepour p[ressing game going and there is every chance that Vardy will get in at some point as their defence can be a little suspect. The key to this really will be the midfield battle I suspect and we will need everyone to be on top of their game.
If I could pick one game to win it'd be against these weirdos…Can't wait to be there on Saturday and their first song be about us sacking Ranieri.
Aguero back for them?  Big advantage if he's still out.
Yeah. shame KDB is fully fit though. Not wishing anyone serious harm of course but i'm hoping he twists his ankle or something similar and has to go off after five minutes.
The draw would be fine because it keeps the gap the same but no point setting out for that result .We have enough on show to get through them several times.Its the other end we may have a problem Houston .
Arteta leaving right on cue before Saturday
Man City have a weird complex with the Ranieri sacking, they even have their own special chant for it, which I'm yet to hear sung by any other team. I give it 5 mins mins before they sing it on Saturday.
We are a better away team than at home, so I have no worries on that front. It's at home where we need to think more about the opposition away from home it's just a case of imposing ourselves on the game, which we are very good at!
A fair few pundits predicting we will win this on this mornings radio progs…that's just weird … isn't it ??