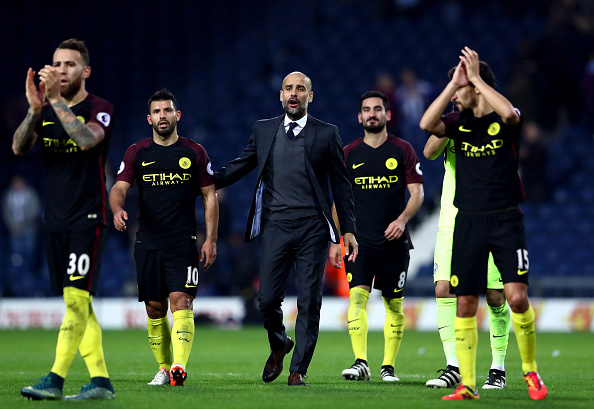 I really don't like Pullis, and it seems most of the Baggies here feel the same way. I also do not know if it is going to be as bad as this lot think, but they haven't won a game yet this season, and I cant see it changing. Hopefully the boys will be fully recovered from Tuesday, and Sergio will finally break the record.
COME ON CITY!!!
Referee: Mike Jones
Assistants: Matthew Wilkes, Mick McDonough
Fourth official: Tim Robinson
Team Selection
Foster
Nyom
McAuley
Hegazi
Gibbs
Yacob
Gregz
Phillips
Chadli
Brunt
Rodriguez
And the rest…
I quite simply have no intention of spending £36 on what will be a complete and utter mismatch and a terrible spectacle.
At least we will see some goals!
They go to Napoli a couple of days after this game and play in the cup against Wolves a few days before so we might have a chance to take advantage of their busy schedule.
Next week is a free hit. Not with the fans of course but the powers that be won't bat an eye if we get d**ked. City are currently that good.
They have a big squad so I doubt the congested fixture list will be much of a problem for them. We'll set up the way we usually do and only try and give it a go once we are losing.
Let's be fair their canteen staff can beat us at the moment……Anyone thinking that we are going to get anything other than a good trousering is delusional…..
Worried about our potential injury list for this game. Could be without Dawson and Evans, meaning a back 4 of Gibbs, Hegazi, Mcauley and Nyom…Can see us starting Phillips and Brunt as the wide two who will form a back 6 when we haven't got the ball. With Phillips as our main out ball for breaking away…Think it'll be Yacob, Livermore and Greg in the middle. With an isolated Rondon or Rodriguez.
I imagine Pulis will want to play the back 5-3-2 we played at Arsenal and the second half against City in the cup. He may be limited in doing that with Dawson and Evans potentially out but don't be surprised to see Livermore or even Barry (if fit) drop in there as one of the centre backs if required.
Flat back 10 for this game?
Lots of talk about a fans walk out.
Won't even bother streaming this, has the potential to be the most one-sided PL game ever. Has a team ever had 90% possession? Im expecting Yacob, Krychowiak, Barry and Livermore all to start…Pulis Out.
Be a few tired City players from tonight, Aguero played 120 minutes. Hopefully we can take advantage.
Pulis will set us up to defend…The only time they will be allowed to go forward is if we get a set piece…Woe betide any player trying to go forward other than that will be dropped the following game…We shall sit back and invite all Manchester Citys' players to have a holiday in our half.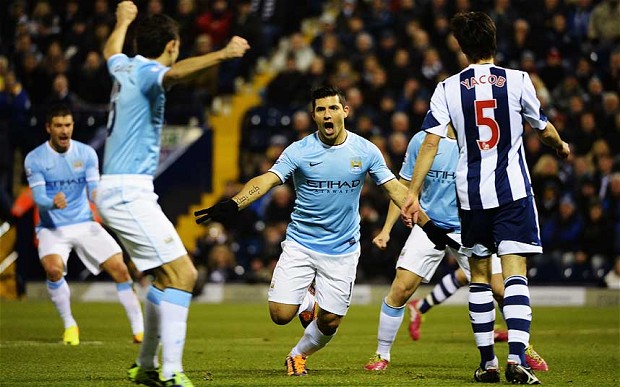 Dawson is out, big blow. Things just keep getting more difficult for us.
"We will approach the game a little bit different than normal but I won't say how we will do it. They're a very good team'' …I think this is the game where he tries to play 2 keepers and 9 at the back.
Livermore and Barry against De Bruyne and Silva…Our sports psychology department is going to be earning some serious overtime come Sunday.
2-1 us, have a good feeling about it. Think we'll keep it tight and catch them on the break
expecting 3 nil or above for this one…Not because we are bad but because City look unbelievable this year
We shouldn't be on the same planet as them let alone pitch, pulis comments after another defeat.
If we can keep the score below 3-0 it will be a result, based on city and on our run. Can't see it though. I think it will be a massive spanking.
I predict that Albion will achieve around 17 percent possession, sit far to deep with the hope of hoofing a long ball or gaining a set piece that may result in a couple of half chances which Pulis, no doubt, will say that if we'd taken 'em we could have won. And as we have lost the will to defend consistently then the outcome really is a no brainer.
In 68 when City won the league,with that great side with Colin Bell. We did the double over them and won the cup,same again this season COYB
They bricked our coaches at Main rd,bit draughty on the way home.
if we played 15 men and bricked up the goalmouth we'd still only manage a 0 – 0 draw! City on fire at the mo…best hope they pick up some injuries in training. Oh, second thoughts their reserve team would still thrash us the way we play under Putin.
If anyone thinks we will beat Man City on Saturday put your house up for sale & put all the money on it at the bookies, But buy a tent first.
I think we'll give them a game tomorrow.
Let me know what you are drinking, I need a pint of that…….
I also think we'l give them a game tomorrow, Pulis isn't daft he knows that if we play the same rubbish as last week the fans will turn quickly. We'l play them close with their quality prevailing in the end…My big problem with us doing this is we should be playing everyone with more attacking intent, there was no need to go to struggling Leicester & Southamptonteams and set up with 9 at the back, time wasting after 10 minutes.
Every manager in the prem will know we are on a very poor run and that if we concede first we rarely come back…City will hit us hard and fast early doors, if we are less than 3 down by half time, it will be a VERY long afternoon, if they do go 3 up they may take their foot off the gas, but either way they do seem to like a 5 goal margin in the league…I've been forecasting a drubbing for the last 3 weeks, I fear this is the week I get it right…WBA 0 – Man City 5 (Jesus hat-trick)
I think Pulis might put a really attacking team out on knowing it will get trounced by city. Then he will say 'ah you see, attacking is for losers'. He did it before against city…Maybe I am just getting paranoid about the whole thing.
They may be eyeing double figures when they play us.