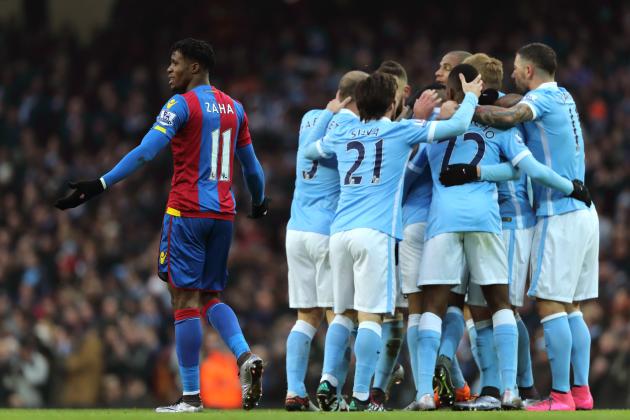 It feels like this has been the longest two weeks ever, and I can't wait for Saturday.  The most interesting story over the international break is the news that Pep has banned players from having sex after midnight (apparently). I'm curious how this works? For example, how long do they have to wait before they can do anything. Does an early morning quickie count or is that too soon after midnight? Does it still count if they are in a hotel room on their own watching pornhub?  And finally, does this account for the bad performances last year.
Anyway, I digress… Once again, no point in  waiting until tomorrow to post this based on the expectations of the home fans.  They are so confident of getting beat, it makes me very nervous.
Our travelling fans may well have an interesting afternoon. This is from The Croydon Advertiser:
http://www.croydonadvertiser.co.uk/why-are-crystal-palace-fans-baffled-by-manchester-city-fans-right-now/story-29645796-detail/story.html
COME ON CITY !!!
Referee: Bobby Madley
Assistants: M McDonough, M Perry
Fourth official: A Davies
Team Selection
Mandanda
Ward Dann Tomkins Fryers
Cabaye MacArthur
Zaha Punch Townsend
Benteke
My favourite
If Trump can do it so can we
And the rest…
We'll play our normal formation, the one that only exists in Pardew's head (because the players don't seem to understand it either). It has something to do with playing off the front foot and not being concerned about conceding goals. We'll lose 2-5 and Pardew will big up the opposition afterwards and say how pleased he was with the way we played.
We are not going to change to much the standard 4-2-3-1. AP has enough trouble coaching that let alone change it for City. Truth is that if we catch them on a good day and we carry on making mistakes it could be a massacre.
two up front would be suicidal against probably the best team in the UK. Knowing arrogant deluded Pardew he will do exactly this. We need 5 midfield to try and stop them playing
Does it truly matter who we play or where we play them? … I'm reaching rock bottom at this point. I don't even go into these kinds of matches thinking, "maybe we can really stay tight and get a point from this!" Admittedly, I sort of hope it's a 5-0 drumming to highlight Pardew's failure… he has to go. It sucks. I desperately wanted us to get something from that Burnley match, but we were outfoxed from the git-go and then again, sorely out of position at the death… and what an awful death it was.
Maybe some of their players will get injured in the international break
First clean sheet of the season, couple of goals from Wilf and Cabaye…So Palace.
When are the Argies playing? The South American players don't always start off a European break…Though that inevitably means we'll concede 3 to Iheanacho instead now I've said that
We might get something if Pardew plays a defensive midfielder and try hit them on the counter attack but no doubt we will play an open game and get ripped apart.
I think we will play out of our skins and beat them. Its the Palace way…We just need to play for 90 minutes, not 45 or 30.
Only thing on our side city got a huge champions league game 4 days later so they might rest some of there A team if they do we got a chance .
We have a manager that will actually try and go toe to toe with a team managed by Pep Guardiola. Think it could be a massacre with the way we are defending
Knowing Pardew he'll want it on his CV that he got one over Pep. If we defend like we did against Liverpool and Burnley it will be a blood bath. City wait for the ball and go through us like a blow torch through tissue paper…Back to basics. Good opportunity to drill the defence. 2 banks of 4 – Wilf and Townsend up and down. Make City fight for every inch of grass. Boring as f*ck to watch for the home support but anything taken from the game will put us in good stead for the next 3 fixtures that could determine our season.
I can see no argument for suggesting we might win this one.
We are going to get raped.
When you lose four in a row, the next game becomes a 'must-win' no matter how good the opposition are!…We must get something out of the game. Another home defeat is unthinkable
The way we are playing and set up right now, we couldn't beat air out of a paper bag. No choice but to change things up and risk 3-5-2 or 3-4-3 – it could not be any worse than 4-2-3-1 that has yielded 0 points from the last 4 games!
I wouldn't fancy our chances against Br*ghton at the moment, let alone a team with Kevin De Bruyne, David Silva and Sergio Aguero running at our shambles of a defence…
I'll be impressed if we keep it down to three.
Not even if we had 15 men on the pitch could we beat city.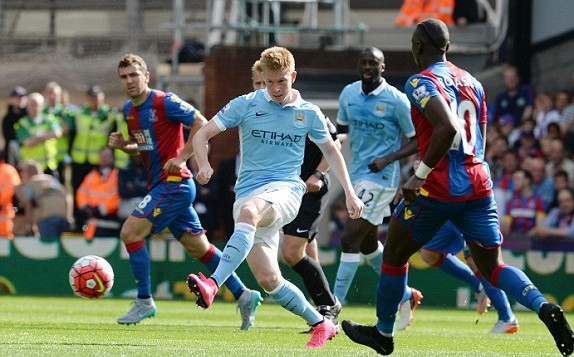 Aguero and Co are going to rip us a new asshole ….And Pardew will say 'apart from the 6 goals we let in, we were totally in charge of the game'
they will ******* murder us…6-1 or something
But at least it'll be entertaining
if we get a team of bricklayers to build a wall behind mandanda in each half then I reckon we could maybe keep it to a 3-0 loss ..Without that, its quite likely we will be 5-0 down by half time and then decide to bring some defenders on .So maybe 6-7 nil ..
Palace 1 (Wilf)
M C 7 (Agquero 2 Silva De Bryne Sterling Navas Fernandno)
We need to be careful about getting a hammering – confidence must be low as it is. I'd set up 4-5-1, stay in the game for 80 mins if we can, then mix it up with someone like wickham coming on or, ideally, Remy but I suspect that's too soon for him.
just want to see us put in a decent performance, they are light years ahead of us so lets at least make a game of it
Anything can happen. The great thing about this team is that we can lose to anyone, we can beat anyone as well…including City
Problem is that when we give them a two goal head start they won't allow us back in it like our other opponents have done.
Concede the first goal which inevitably we will & it's all over!
The first thing we should try and attempt this season is to try and defend like a team..that would be good. Secondly, pressure Stones at every opportunity. Thirdly, hope Ageruo, Sterling, De Bruyne, Silva & Gundogan have an off day. Oh yeah try and supply Benteke with good service…football is so simple yet teams try and over complicate it
Set up offensively: Aguero and Co. could have a field day. Higher chance of us scoring, though…Set up defensively: Will we be able to stop the Man City onslaught for 90 minutes? Aguero and Co. could still have a field day. Less likely we would score with this setup too…Not sure which I prefer…Probably the offensive option. I think we should have a proper go at them, like we did against Liverpool. We COULD win or draw obviously, but it is highly likely we will lose regardless of how we approach the game; so we may as well at least attack. I mean, this is the wrong match to go for a clean sheet.