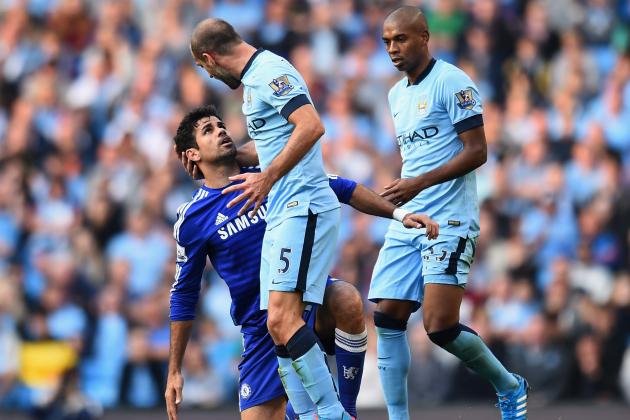 The away fans have been chatting about this game since last weekend, so lots of opinions below.  I think it's the first time I have seen confidence from the opposition this season, and I like it.  I feel that Pep has been planning for this game since we got back from Germany, plus we are at home.  Still, I am not going to get too excited, we have been here before.  I have added some stats about the man in black this week, which makes interesting reading.
COME ON CITY!!!
Referee: Anthony Taylor
Assistants: S Burt, A Nunn
Fourth official: M Dean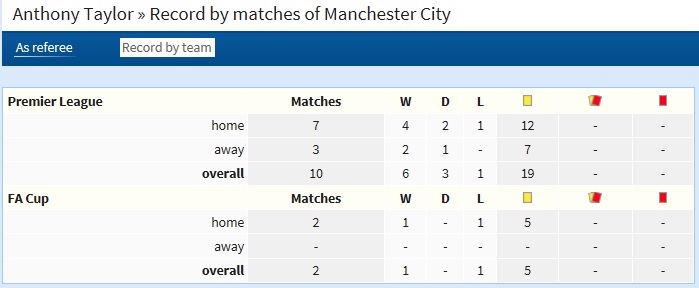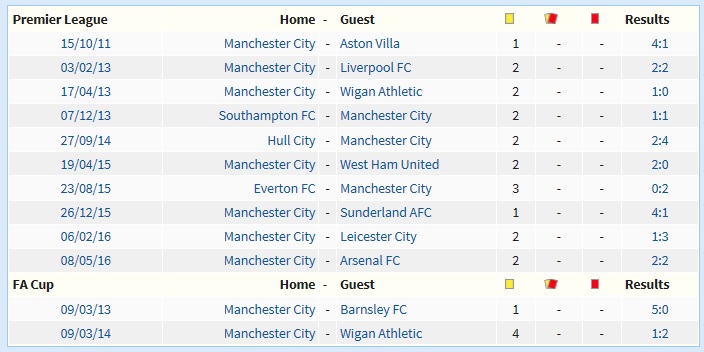 Team Selection
Courtois
Azpilicueta – David Luiz – Cahill
Moses – Kante – Matic – Marcos Alonso
Pedro ————– Hazard
Diego Costa
And the rest…
City now have Touré as an option which might cause some problems to our midfield similar to what Dembele did…Their defence isn't the best so if we can press their backline we could secure a fine result. Draw would do fine but I'm worried about what Pep might have tactically
I'd snap your hands off for a point
I imagine Man City will have seen how Spurs got at us first half by closing us down high up the pitch and do more of the same. We may have to rely on counter attacks for the majority of the game, as I can see them dominating possession. I'd certainly take a draw.
Our second test is coming, the first one against Spurs we have passed successfully, but our performance against Spurs wasn't at the top, we will need a better performance against City
Away to city is never easy…we will need to be on our game here. And make sure our midfield is dominant unlike the first half against Spurs…i would happily take a draw.
well we can't afford to sit back in this match, we have to go for the jugular and try to fight fire with fire. they can certainly be exploited defensively, as can we, so it should be a very intriguing match, and it will be interesting how conte approaches this game. i think on paper the first teams are fairly equal, but would maybe favour their attacking force a little more.
They haven't been as brilliant as I thought Guardiola would have them playing, and they've been struggling in some games. We are not as sharp as we were before the international break but we are getting results. I am not confident at all, but I think we can get a draw as long as the players show up.
I'm pretty relaxed about his. On paper they should be top of the league via 6 points, in reality they aren't. They haven't been able to put teams away, defence has been suspect at times, and there's always a mistake or 2 in Bravo. No doubt they will put us on the defensive for the majority of the game, but we got a much better defensive unit than Burnley, Everton or Boro, we shouldn't let more than 2 in. Kun, KDB, Sterling are fast, but our back 3 are mobile and reasonably fast this time, should be able to deal with them. I don't see them keep us out, there will be plenty of chances to counter. I think 2:2 will do, wouldn't be an upset if we win.
Call me a pessimist but I don't think we'll win this one
Got a good feeling about this one…City 1 – 3 Chelsea. No one need to worry about Guardiola tactically, he's never changed his ways, the one trick pony. Conte will destroy him.
Tough game and for City too.The teams at the top will all take points off of each other this season.We just have to keep our consistentsy and we will be fine.I like the team spirit we are showing and we dont lie down.We have the right man at the helm.
Don't see any reason to be negative for this game. Our game against Spurs wasn't at our best, but we still did win that. City have to worry more than us, both of us have good strikers, both of us have a strong midfield, but we have a big bonus in our attack. Moses and Alonso who are going to be one of our most important players for this game. I'm feeling very positive for this game, I think we're showing a good football and we can play against every team without fearing…We can give them a lesson.
A loss here could see us slip down to fourth. A must win game for us if we want to be challenging for the title. Same team, same result please.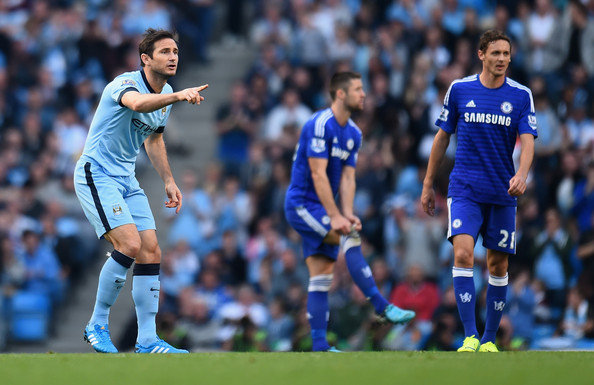 I think we'll win 3-1, defensively City aren't that great and with a focused Costa along side the attacking threat from Hazard, Pedro and Moses we will be fine. I can't see players like KDB, Sterling, Navas and Nolito being that great tracking our attacking full backs all game, so we can find gaps to create chances…I was more bothered by City a few years back when they had Tevez, Nasri, Kompany and Toure at the height of their game, Tevez especially used to score against us more often than not…If we can get through this game unscathed then I think we can make a big statement in the fixtures after to really cement our lead at the top.
I have been least impressed with City out of the current top 5, Spurs demolished them and they've been lucky not to lose more games than they have currently. I would love to get some payback for last seasons thumping's …0-3 away win
I think they're one of those inconsistent teams that play crap against the bottom sides but step up when they're playing a top side. They beat Barcelona 3-1 and drew 1-1 with some lower placed team. On their day they can smash anyone and on Saturday they will be on their day…A draw will be a fantastic result for us.
I'm actually more afraid of playing Sunderland away than going to the Etihad TBH…I think we'll beat City, in fact, I reckon Guardiola will be more worried about us than Conte will about them.  They've a fantastic side and shouldnt be under estimated at any cost bu tI think the confidence and more importantly the heart and desire they showed against Spurs showed this team is capable of coming from a goal down and winning a very tough game…Ideally we'll take the lead and force City out, you only have to look at some of their draws recently and terrible defending to realise you will get a chance off this team you must make sure you finish it and that you're still in the game… If we win at the Etihad too, its a statement win and will throw down a marker, I still think we'll probably get derailed by f**king Sunderland though
I like the optimism in the crowd, always a good sign. I do have to admit I am slightly jealous that so many are so confident we will win! I really hope we can keep this form and results coming. Although the only minor problem with a win this weekend is the classic 'favourites' label will be firmly back on us once more.
Its mostly going to be a draw . Pep nor Conte would want to lose this one , i dont see a killer game …Now its fine for Costa to pick up a yellow card . Once we're done with City , we wont need to face any of the big ones for a while
Since the Arab purchase we have been sh*t against City. In total we played 18 games in all competitions, lost 10, drew 3 and won 5. However City is not looking impressive at all this season, just stop Aguero from scoring as he loves to score against us.
Lot more to em than just Aguerro. De bruyne a big threat, maybe toure having a burst…
We will be defending and playing on the counter, but that can suit us. We will need our defensive passing to be sharp
This game will be a piece of cake for us. They have no pace in their team, we'll run rings round them. ..4-0…Yes, you heard me.
4-0????? Bit OTT. City have no pace? Sterling, Navas, Nolito, Aguero? Don't they have pace?
Who? Navas and Sterling are a joke double act and Nolito will get sent off…Aguero is the only one who might cause trouble but Luiz won't let that happen. Revised prediction: 5-0
k unt aggro scares me, can not see him being kept out for 90 mins so we will need to score and i think we will
I have no doubt we will score, when was the last time they kept a clean sheet? Barvo maybe the best passing GK in the world, but he's no Joe Hart comes to shot stopping. If we roll back the tape for the last few games, we had chances to score and Hart was at his best to stop us. I think we will play our normal game, this is not the time to be 'afraid' after 7 wins on a trot, and that's not Conte's character I believe. We certainly don't want be counting the points at this stage of the season.Win would be great but no means we are going to walk to the title , draw is very good, if we happen to lose, it's not the end of the world either. There are 4-5 games coming up before the new year, plenty of games to pick up points.
We'll thrash them 1 – 0
If we focus on Aguero alone, Debruyne and Gundogan will have a nice time against us.
Who cares that they beat Barca, it's hardly a barometer when they've been fairly average the last load of games…We won't change our mind-set and I'm sure attacking wise we'll be a massive threat to them. And someone mentioned there squad is better than ours, really?? I don't think so…I'm pretty confident we'll get the three points from this game, keep the faith.
Pep has been changing his starting XI so momentum is more on our side.. The key is always not to let pep's team play which means we need to adopt some intense pressing games.. Their defenders and GK are yet to be that comfortable playing from the back so maybe we can force some errors out of them…A draw is maybe not a bad result at this stage but it's enough to knock us off the top spot if liverpool win and I'm being pretty stingy over that so we have to win…Willian looked sharp last time he came on so I'm thinking about slotting him in for alonso but we have been winning the last 7 so well you see, a dilemma on my part.. maybe on the 2nd half…Oh btw, we have better XI than them overall, that's for sure.
the fact they've got the best coach/manager in europe (who also happens to be a great tactician to figure us out) and one of the best first teams (especially their personnel in offense) in europe also, gives them a big advantage. i don't feel too confident going into this, especially away from home. i think if city turn up and we play poorly in the first half like we did vs spurs, it could be all over in the first half because they will be an even bigger threat than spurs were in and around the box…against our defence they'll have plenty speed with sterling and navas, then the creativity to pick us apart in silva and kdb, with toure a danger outside the box, and aguero to pick up the chances those guys don't put away. our defence and wing backs are going to have to work harder than they have done this season as city will bring the heat, for that is certain.
I don't know if it's delusion, arrogance or extreme confidence but some of you need to wind your neck in…After the Arsenal loss and before the season started, apparently we had a broken squad as we didn't get Contes targets etc etc etc. 7 wins in a row and now we have the best manager in Europe and a better 11 than City (facepalm). There's one team in this league who are a slight notch above us and that is City. No shame in admitting that…A draw would be great as we don't have a great record against them.
We are too predictable with our current line up,,,, just pray Don Conte switch things up a notch,,, Man city wingers would love to exploit Alonzo's lack of speed,,,,
Looking at there back line I don't see any reason why we can't win this comfortably, Itll be interesting to see if Pep decides to play Fernandinho and Fernando to provide cover to the defense
We will crush them
A point will be massive for us, but Conte for sure will try and go for the win. Same team, same formation. City have not won at home in ages and will attack from the start. Guardiola's possession based football will suit us perfectly, and no way will their back line (whoever that is) be confident facing Hazard, Costa and Pedro. There are so many errors in that team – Bravo, Stones, Kolarov – and we should be on our front foot to capitalise. Still, City have enough quality to upset us, and will for sure do what Pochettino did with our wing-backs.
Biggest game of the season. If we win, I will go totally bonkers.
It's the kind of fixture that you dream about, both teams doing well and the first time Conte and Guardiola have faced each other in the EPL.
I suspect a draw will be the result though hope we again play for a win.