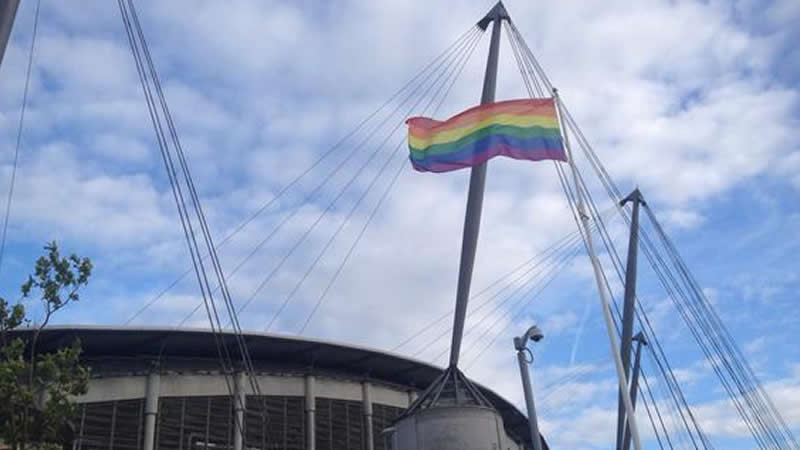 I have been watching a couple of threads for the game this week, and as you will see from the comments the mood of the Gooners has changed as the game approaches. Apparently Welbeck the savior is going to secure them three points on Saturday. Alternatively, we are going to put five past them, so clear as mud. For my part, I had quite enough of this team and its fans at Wembley, and I don't just want a win, I want a cricket score. The bigger the humiliation, the better.
As it's all about the arse this weekend, it would be remiss of me not to mention the second Rainbow Laces Campaign which happens this weekend. Personally I applaud the idea, but think that the implementation (by Stonewall) is lacking, and I honestly don't see what  they have achieved from last year to this. It is also annoying that Arsenal are being feted as the role models for this campaign, there is of course no mention of City in the Community or Pride in Manchester from just last week. Still I give credit to the home team this week for making the video, and I believe all the players at this game will be wearing rainbow laces.
Now COME ON CITY !!!
Team Selection
Szczesny
Debuchy – Mertesacker – – Kos – – – – Gibbs
Ramsey – – Arteta
Chambo – – – – – – – – – Özil – – – – – Sanchez
Welbeck
My Favourite
Oh for f**k sakes
And the rest…
Ref: Mark Clattenburg.
A real test for the boys, looking forward to this one. Comes at a good time imo, it should lift our playing level.
Can we just not turn up and take the 3-0 loss for forfeiting? Might be better for our goal difference…
MUST WIN GAME
4-1, City…. regardless of the window closure. We ain't buying shit. They probably buy Falcao and he hat tricks.
Try and keep it below double figures lads FFS.
BYE BYE MAN CITY    3-0
Won't matter who we sign or not sign tomorrow. Need to sort out our Form as its just not good enough. If we are not up for this match and playing to a high standard we will get a spanking.
Bless all your little hearts for thinking we have a chance.
We're in for a torrid time unless the right personnel comes in, simple as.
So you can all take off your rose tinted specs and see things how they are, A CALAMITY.
We need change, Wenger's time is up simple as that. No other club in Europe with similar stature of ours would settle for 10 years without a league success.
Porto's manager wins the league gets sacked. Chelsea win the Champion's League, Di Matteo gets sacked 4 months later. I'm not saying that's an ideal process but 10 f***ing years. These clubs are winning trophies while were here thinking we can get results.
f**k out of here Wenger
We beat them 3-0 with Sanogo upfront tbf
At least it's home this time.
I expect 1-1 draw with our play like United or Chelsea at home last season
The Good Arsenal show up Vs The Good Man City 1-1
THe Good Arsenal show up Vs the Bad Man City 2-1
The Bad Arsenal Show up Vs the Good Man City 0-3
The Bad Arsenal show up Vs the Bad Man City 0-1
Man City wont know what's hit them
City can afford to make their goal twice as wider knowing we have Danny Welbeck
Please don't let this be another 8-2. Or another 6-3 for that matter
we usually do fine vs city, expect the same even though we've been shite.
Can't believe people would start Walcott in that match you guys want to see the world burn right ? You truly deserve Wenger ..
I don't know how Walcott's supposed to be 100% fit in two weeks. He hasn't even started training yet. Even if he does, he won't be sharp enough for City. It takes time after the injury he's had. Wouldn't even have him on the bench.
0-3 community shield. We can beat them
First things first, we need to go back to 4-2-3-1. It's the formation that made Ramsey a boss, he's struggling in this 4-1-4-1, and also with the 2 playing deeper, we get extra protection for the back 4, playing only Flamini or Arteta against Citeh will be suicidal. I'd play on the counter, try and soak up pressure, they will inevitably start drifting forward, should give our pace merchants some room to hit them hard. Arteta should start over Flamini, we'll need his calm head, we can't risk Flamini doing something rash.
Huge game, if we can get something out of this I'd say we'll be well in the title race come the end of the season. Hopefully our new pace up top will cause problems for Toure and Fernan(dinho/o) stopping them rampaging through our midfield.
We rarely perform well in the early kick offs, lets hope this is one of the better ones. A win over a title contender early in the season would be huge.
2-0 (Ramsey & Alexis)
2-1  Welbeck double.
It's us. We'll probably win this one
This game is after the international break and an early KO. Only one result tbh.
1-5 to City.
0 – 3  Silva, Aguero and Dzeko
Another 3-0 for me, Welbeck hat-trick
If this was away from home i'd be all for dropping Cazorla for Ox, but we're at home and Man City won't be too open, which means we need that extra midfielder.
Our probably front 6 is
Cazorla-Welbeck-Sanchez
———Ozil———-
Ramsey(if not fit Wilshere)-Arteta
Man city are a far superior team than us im applying a bit of realism to the subject id probably just settle for not being embarrassed
Regardless of their squad, they are in as much of a poor run of form as we are, only they've lost one.
I don't think this will be the pummelling we saw last year, I think we will sneak this after a very tight game.
I'm hoping this international break has normalised the squad fitness levels now to get a bit more rhythm in our play going forward.
2-1 for the Shieks
We must win that City game, it would be a hell of a boost. Just then I'll be contended with the start
We won't lose at home, I know it. I'm liking the chances actually
What is foremost on my mind is the tactical approach from Wenger on Saturday. Remember he mentioned to us, at some point in the off season that he will be looking at better ways to address these tops sides this season, both with goals scored and attention to the game.
Lets hope we see that tomorrow, I dont think I can bear us mucking about in attack only to get counter attacked and hit on their first attack. I know Wenger wont adjust his play for anyone, but surely we need to see some adjustments in what is really a home, therefore must win game.
Seeing as we played the with zero discipline in our hammerings last season, all we'd have to do is apply some this time. No need for tactical changes—just common sense. I think City will be trying nit to lose first, and will probably let us have a lot of the ball.
5-0 City, whenever I have high hopes for these sort of games it all ends up in tears so I'm going to go with the opposite and resign myself to a ghastly defeat.
Have a feeling well get stomped
City usually come to play for a draw at our place, I'm expecting the same **** this time around.
Are we forgetting that we beat City only a few weeks ago in what was effectively a cup final? Seems awful depressing round here.
Id be pissed off with a draw yet alone a loss. We're at home ffs, have most of our players available so no excuses. We aren't winning big away matches so it's time to convert the draws at home to 3 points.
We're also unbeaten at the emirates in a year, time to prove why !
Only thing that worries me is when's the last time manC lost 2 in a row???
Jovetic is a doubt for City; could work in our favour as he's been in good form so far, on the other hand it means Aguero will start…
We typically do well against City – especially at home.
They don't seem to have the same hold over us that Chelsea and United do, good time to play them too as they're coming off a home loss against Stoke. If Ramsey is unavailable I'll be less confident: we need his engine/physicality to combat City's formidable midfield. Quite early in the season to play such a big game, for some reason I'm not really excited yet but I'd love Welbeck to open his account.
We really can't afford to lose as we'd potentially find ourselves 7 points behind Chelsea already, would be quite a sizeable gap at such an early stage