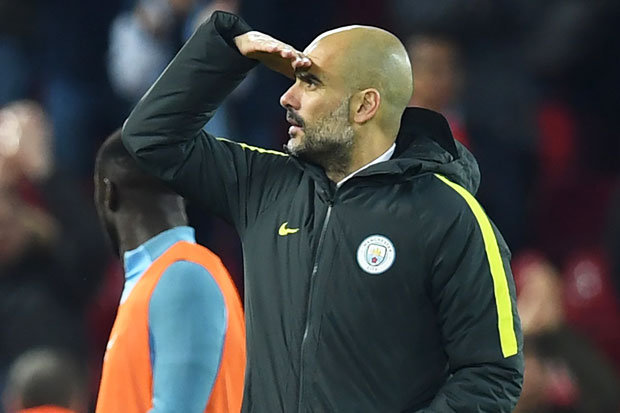 I feel a little bit sorry for the Hammers, but I hated going to Upton Park. There are a lot of long(ish) comments in the game thread, but as usual, I have tried to keep everything short and sweet. I can't argue with comments about a bounce back after the last game, I'm sure Pep is fuming! The weather could play a part, and I wish a safe journey to all Blues tomorrow.
COME ON CITY!!!
Referee: Graham Scott
Assistants: Neil Davies, Richard West
Fourth official: Chris Kavanagh
VAR: Craig Pawson
Assistant VAR: Constantine Hatzidakis
Team Selection
Fabianski
Diop Ogbonna Cresswell
Rice
Fredericks Snodgrass Soucek Masuaku
Bowen Antonio
And the rest…
Chance to redeem yourselves lads. I'm gonna be brave and say we'll get back 1 of the points we dropped today. 2-2 would do nicely.
God no.
Isn't it sad that if we managed to get two remarkable points in our next two fixtures against City and Liverpool, we'd still only have the same amount of points that we would have done if we didn't **** up so calamitously yesterday. We really do find ourselves in a dire situation.
I just hope we bring the lube, this is going to hurt!
So, who's going to be the culprit this week that commits the error leading to another goal. The usual suspects?, or will we have a new contender?…Just saw on MOTD, with today's result, we've now dropped 19 points from from winning positions. The slightest hint of pressure and our players turn into headless chickens. Any pressure and it's automatically 10 behind the ball packed 20 yards from the box – and yet still can't prevent crosses from coming in. It begs the question, what do they actually do in training?
Our best hope is that with title race over and Man City comfortable in the top four they will turn their attention to the Champions League resumption. Go at them with Bowen and Antonio either side of Haller…Man City 1-2 West Ham.
Even if City are thinking of other things they will still comfortably beat us. 3-0. And yet another soul destroying, lacklustre, inept performance from us…And afterwards Moyes will say something like 'There were real positives today….blah…blah..blah'…Let's just get this season over with.
Aguero masterclass.
We will win 0-1
Can't understand those saying we need to go out and attack as we have nothing to lose. League is so tight goal difference could play a part at the end. We cannot afford an absolute hiding.
All-out attack from us and we'll be destroyed…Keep it tight and try and nick it, we'll be destroyed…Park the bus see above! …In all seriousness, goal difference may well be a considerable consideration for this game with regard to staying up. Moyes is paid the big bucks to decide how we go about securing staying up, wonder how he'll approach this game?
Midfield too weak with a three of snod soucek and Anderson. rice in the middle where he has been for last couple of seasons.
Fortunately, the way we surrender possession and play balls pinged over the top for set pieces against even other relegation threatened teams means we don't have to adjust to much for man city.
I think I would be looking for us to have our strongest team out against Liverpool on 24/2 – they have a champions league game against Atletico Madrid six days earlier and might be tempted to rotate a bit. Sooner or later, they are going to lose – they ain't firing on all cylinders…I wouldn't risk Fredericks, Anderson or Antonio against Man City if there is any doubt about their fitness…By all means give Bowen a go, maybe Fornals in the Noble position.
….. but I'm sitting here watching Spuds and Man City and they don't look all that.
Don't know what game you are watching, they should have had 5, missed penalty, misses from two yards, tons of chances, they can't defend ( spurs scoring with their only two shots) but we don't have the players to take advantage.
Was hoping for another dull 2-0 but now i fear a rage bumming.
First time under Pep that Man City have failed to score in back to back League games.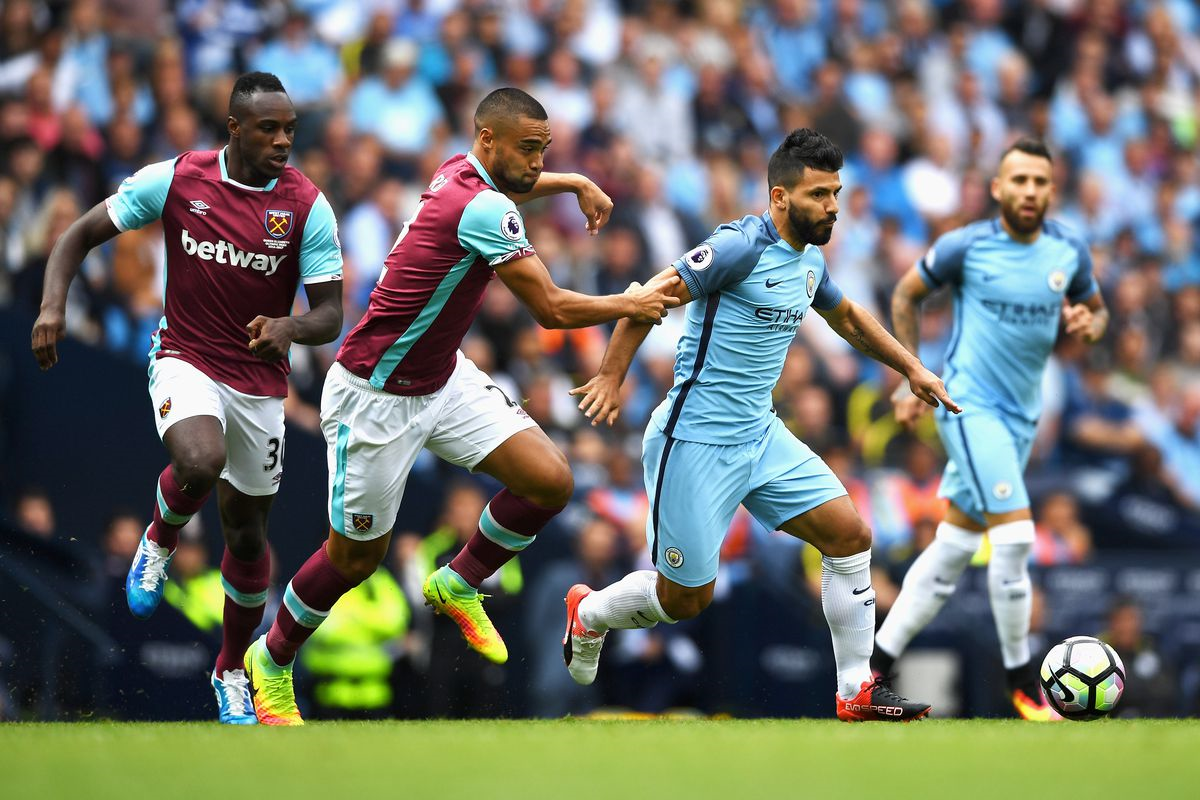 Spurs 2 – 0 Man City…City will be angry now, and we will be the ones that suffer because of it.
Pep kept the players in the dressing room for over 35mins after the game…They will show no mercy, and we will duly oblige.
7-0, I reckon.
You know Moyes will throw this before a ball is kicked. Expect the same formation that finished the game yesterday and a lot of praying they don't score.
I just want a goal please…a proper goal. not a massive deflection, not a shit ty set piece, not a cheap pen, just one nicely worked goal that we can all go home and think "cor, wasn't that a nice goal we scored. i enjoyed that". Other than that man city will do with us what they will.
Although I didn't think we were going to win this game, them loosing today means we're getting a tonking in front of the sky cameras.
Golden opportunity to have a few banners on display for the cameras.
I expect after today, Sky will have a camera set on our away fans, and the mics turned up.
Cant see Pep allowing another defeat and I fear we'll get well beaten on the backlash. On the positive side, Zinchenko is now definitely out and Sterling looks doubtful after picking up and injury today.
We're getting smashed 5-0 Sterling and Aguero embarrassing us again. Noble and Haller wouldn't even make my bench, I'd completely drop both. Send a message loud and clear performances like that on Saturday will not be tolerated. We're relegated anyway so why does it matter.
We won't pull off a shock win here – we're too knackered. We might compete for 45 minutes but in the second half, we'll tire too much and we won't have the subs to freshen things up without reducing quality. I'm not overly worried – I'm still pinning all my hopes on a resurgence after the break.
Apparently City having trouble shifting tickets for this one…Expect a new marketing campaign along the lines of "Come to the Etihad and watch the West Ham super-flops, its lambs to the slaughter time".
Since 2016/17 season our aggregate score against City, including this season's opening game is 23 – 3 in their favour and we haven't scored against them since April 2018. It's fair to say that they like playing us.
They're beatable..Just not by us.
The only hope we have for this game is to drop Haller and replace him with Antonio. Haller will offer nothing in this game, we might as well put Ajeti up there to run around and chase lost causes.
Sterling is out for this, so that's something.
He has actually been in poor form so this may not be a blessing…Silva or Jesus are more likely to hurt us!
I certainly hope we at least score in this game…Mahrez and Walker v Cresswell is normally a disaster zone.
It's either going to be 1-0 to us or 7-0 to them.
2017/18 Manchester City win the EPL and the League Cup…2018/20 Manchester City become the first team to win the Domestic Treble…Next season fans are wanting Pep out…I used to have a lot of respect for Man City and their fans.
Weathers going to be terrible on Sunday so hopefully might give us just a glimmer
So this is what it's come to now. We've tried different managers, players, formations and tactics all to no avail, we're still sh*t. Only an act of God will see us take anything away from the Etihad. I fear our plight may even be beyond the Almighty.
The only 2 Premier League matches Sterling hasn't featured at all this season…Man City 8-0 Watford Aston Villa 1-6 Man City…Good luck lads.
We are sitting ducks, no chance of us doing one of our mythical 'classic West Ham' performances and pulling it out of the bag, we'll go there and be rolled over.
My prediction is postponed due to safety concerns over storm Ciara.
I guarantee we'll be 1 down in the first 5 minutes, any preparation will go out the window