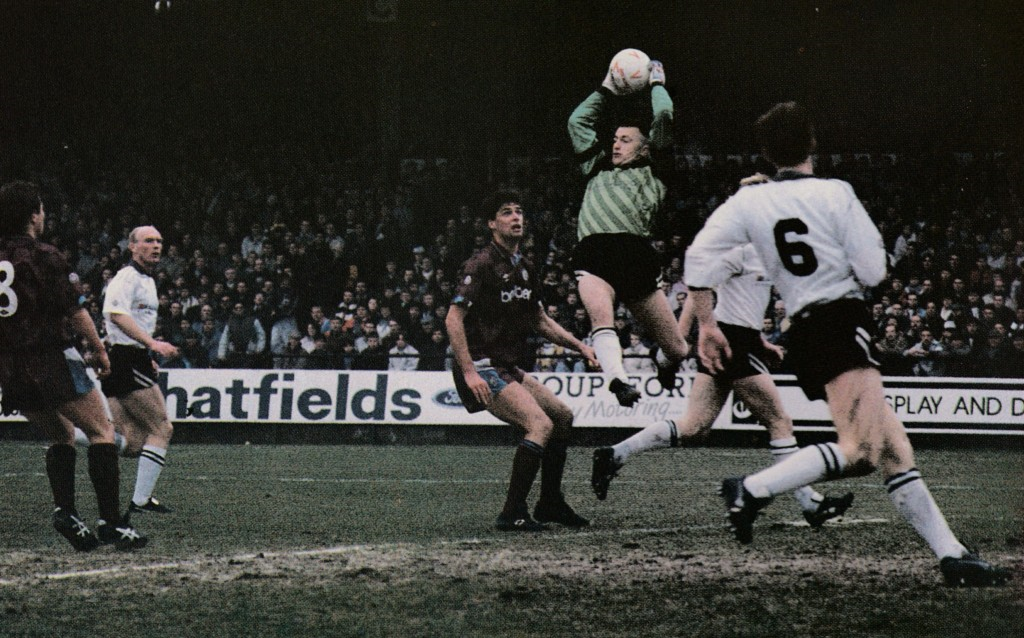 Normally with the cup games I just put together a quick view of what the away fans are thinking, but when I checked the Port Vale forum there was already 42 pages in the pre match thread. It's interesting that before the draw they all wanted an away game to a top 6 team, but none of them mentioned City. Once they got us, it's fair to say they are fairly excited about it.  I've got to admit I do not know an awful lot about our opponents tomorrow, but thanks to Wikipedia, the key points are that their nickname is The Valiants and they have a bar named after Robbie Williams at their ground. Hope this gives you an idea of what they thinking before our game
COME ON CITY!!!
Referee Lee Mason
Assistant Referees Nick Hopton & Adrian Waters
Fourth Official Sebastian Stockbridge
VAR Michael Dean
AVAR Daniel Robathan
Team Selection
Brown A
Gibbons   Legge  Smith  Monty
Burgess  Joyce  Taylor
Amoo  Pope  Worrall
And the rest…
Draw at the usual time 19.00 BBC2, great to have a shot at the big boys with £135k at stake
Love to see Vale get Liverpool or Man U home or away as a thank you to every one connected with the club for the progress made this season, failing this a lower league side at home. Defo no poorly supported Championship side away.
Please please please….Man Utd away.
Big 6 away. Villa, Everton, Newcastle, Leeds, Wolves at home. (All of them would fill the away end). Not bothered about going through, get some money in to fund a promotion push.
Not the way Arsenal are at the moment. There was 'only' 30,000 there against Eintract the other night…Utd, Spurs, Liverpool then Arsenal away, in that order. Would be happy with Chelsea, Newcastle, West Ham, Villa or Everton. Not that bothered about going the Emptihad if I'm honest…If we happen to draw Agent O'Neil's Championship giants, I'd prefer it at their place given the carnage that always accompanies them when they come to Vale Park…Knowing our luck, we'll get the much wanted Premier League draw….and it'll be Bournemouth away.
Stoke home or away would be my first choice, failing that Arsenal, Spurs or Chelsea away as would love to go those grounds with the Vale.
Man city away! Jesus christ that's fantastic!
oh wow  incredible draw!
Fabulous draw!! Get in!!!
I think the gods have at last looked down on us with favour. So deserved for the amazing new owners…
Last season, Rotherham played Man City in round 3. A 52,000 attendance (kerching) but also a 7-0 defeat.
What a day out that will be…I don't care about the 12-0 defeat. We're going to take thousands!
Oh well if we're going to win the thing we have to play the best at some point. Seriously anything less than 7 would be fantastic.
Don't care about the result…Just thrown limbs in my living room with my old man and shouted down the phone at my Grandad…Big day out for the Super Vale Away, £100,000s of money into the club, a repayment of the faith and work of what Carol and her family have done for us…Robbie's coming home; the Title and Cup holders away; edge of the playoffs – legitimately shaking. One of the best few weeks in our recent history…Up the Whites; up the Vale…Can't believe it.
Man City are a team in decline.  Good time to play them!!!
Let's not be defeatist. I smell a Cup upset on the cards.
Guardiola studying Tom pope videos, fantastic draw. We should be making the next two home games voucher games for tickets. It will boost the Walsall and Cheltenham attendances.
There is precedent…We knocked out the Cup holders in 53/54.
And 95/96.
Great draw just hope the inevitable c*nting does not knock us psychologically in our quest for promotion.
City probably quaking in their boots but Pep telling 'em now's a good time to play us after the defeat to Scunny a couple of weeks ago. Potential banana skin for us we need to treat them with respect.
Plenty of comments on BBC football site that in both Europe and the FA cup City always get the easy draws. Who cares as long as City fans turn up to swell the gate money.
Hope they don't hold it against us from when we relegated them to L1.
Just had a text from BBC App saying Morecambe / Vale match is postponed – that will be because we are playing Man City then.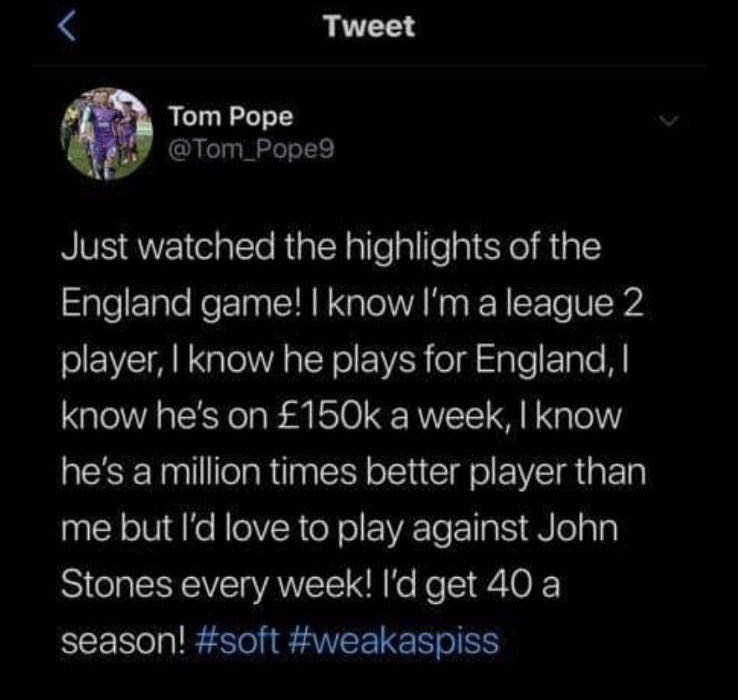 Jesus versus The Pope what better divine intervention could we get?
They could well have an Angelino on the pitch as well.
Most football fans tend to like Guardiola's sides because the football is good to watch.  There are other sides who play cynical football.  City almost always play good football.  We don't have players who dive and cheat, kick the opponent off the pitch, or scream in the face of the referee.
I like watching City.  And whatever folk say about Sterling, he's not a diver on a par with Salah and Mane who go down if you cough near them.
Just been to get my ticket for Morecombe, only to be told they are not on sale yet in case we draw at Man City…When I started laughing, the woman in the ticket office said I'm being serious.
Looking at Citeh's team against Everton this tea time, it seems that Guardiola is resting his big names for Saturday's bigger Cup tie!
Can't wait for this one. Biggest game in a lifetime for many Vale fans. Going to be a great day regardless of the result.
Lee Mason is the ref. The first time he reffed a Vale game was against Luton 17 years ago when we were in administration and we thought the Icelanders were going to take us over. He gave a very soft penalty against us and someone ran on the pitch and tried to hit him.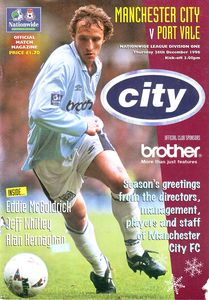 Imagine if we score first!
Most City fans would probably pick Garcia and Harwood-Bellis to start (17 and 18) on the basis that it's better to play specialist defenders, even if they are young, over a midfielder and aging defender.  Playing young players is the one area in which I would criticise Pep.  Barcelona and Real Madrid are not afraid to play very young players.  Neither are Liverpool.
Our main striker and club legend Tom Pope would certainly relish playing against two very young and relatively inexperienced centre backs. He's a proper old fashioned forward and would definitely be winding them up and try to get at them from the start…I'm really looking forward to the game and the atmosphere! Cannot wait to visit your stadium either as it looks fantastic on TV!  …I reckon anything upwards of 5-0 as a final score. Just hoping you play some of your stars as I would love to watch KDB and Sterling live! Even if they come on as subs and play 15 minutes!
(Re Peps press conference comments) Yeah love this… we will make changes… just a world cup and two times European Championship winner in Silva to come in! Just Mahrez… instrumental in winning Leicester the title or Aguero… or Jesus…Buzzing though today… purely for the atmosphere.
Will the Pope slap Jesus's hand before putting the ball in the net?