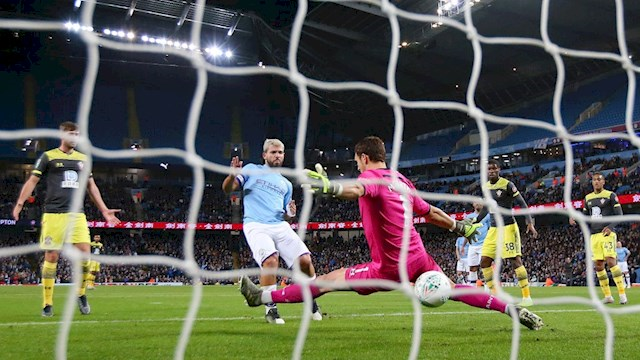 Have to admit, I have been to the pub, so who knows how this will turn out. I guess the general feeling is that the Saints are screwed. I would agree that Pep will field a stronger team that midweek, so I think we will be OK
COME ON CITY!!!
Referee: Lee Mason
Assistants: Adrian Holmes, Nicholas Hopton
Fourth official: Robert Lewis
VAR: Andre Marriner
Assistant VAR: Scott Ledger
Team Selection
McCarthy Valery Bednarek Danso Stephens Cedric Hojbjerg Romeu JWP Redmond Ings
And the rest…Post game reaction
Well, we weren't the laughing stock of Europe this time, so that's something.
Could have been worse…Marked improvement, not that it could have been worse than Friday. Second half, I thought we played very well. I don't even think it was because Man City slowed down because they don't tend to do that…Positives for sure.
Out of the league cup. At least we got to beat a 3rd division side 4-0 along the way.
Better. Confidence was higher second half.
Embarrassing performance for an hour then City just relaxed. Good to see a Gao out banner in the away end.
Awful reaction from the drubbing the other night. The first 45 minutes especially was dire. We are a bad side, being badly coached. Sideways, backwards passing, no pace, no passion. We never remotely looked like we believed we could get a result there and Saturday will be much of the same.
Show a bit more intent like the last 20 minutes on Saturday please and no Ward Prowse, Couldn't care less if you're giving him an assist for the corner.
That scoreline flattered us and may deceive some into thinking we played okay. We were absolutely awful again and if it wasn't for City's profligacy in front of goal, it could have easily been six or seven. The last 20 minutes proved that City are vulnerable at the back. If only the manager had tried to win the game.
We improved once City took it easy on us. I don't see them being as kind on Saturday… Disgraceful performance for the most part. Zero fight and zero passion…Get the next game out of the way and then we look towards Everton – Which is a must win.
It was a throw away match. We're coming off a battering, I'm not at all surprised that the first half was all about damage control. The confidence of the team was at zero. Now it'll be slightly higher.
Was alright for the last 20 minutes or so, still felt like City could easily have gone up a gear or two if needed though…They won't be anywhere near as forgiving on Saturday.
Amusingly tonight I was told that all of the saints media team were told not to post anything on social media after Saturdays game. They expected a load of abuse so thought it was wise not to bother.
Is what it is damage limitation this Saturday more of the same…Do you really think we are going to go full attacking against City with our bottlers for players…They would destroy us on the counter…. You can't blame Ralph for trying to shut up shop.
I do not think MC had their foot off the gas in second half. Their players were not so familiar with each other. So, in 2nd half, when our confidence rose, one could see that MC was not so good. I didn't have the impression that MC with their playing team could give much more in second half.
Man City 'reserves' is a bit harsh, I mean yeh no De Bruyne or Sterling, but still Aguero, Mahrez, B.Silva, Gabriel Jesus, Walker and Otamendi, those are all first team players and Foden is a pretty good 'reserve'…I mean they brought on two subs that cost a combined £110 million.
Did you see their reserve players? Their where a couple of promising youth players (who seemed several levels above our youth players) and then a load of players that would be first name on the team sheet at a lot of PL clubs. I mean reserve front line of Agüero, Marhez and Jesus is just ****ing ridiculous.
We have spent lots of money. The trouble is we have spent it poorly and have little to show for it.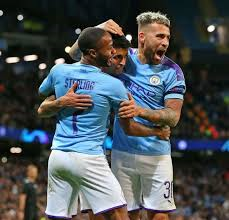 And the PL match thread…
Would take another 3-1. Who wouldn't right? …They'll be a lot stronger for this one. Honestly think De Bruyne and Sterling added to Tuesday and despite our "improved effort" we'd have lost by 5 or 6…Expecting that Saturday. Just need to recover quickly after that and start to build an attacking team.
Matters not who we put out as we will try to grind out a non embarrassing defeat. Just how ****e are we right now!
Probably far too much to hope that Ralph will bother trying to Mark their full backs this time round rather than letting them play as unmarked wingers.
According to Solent last time we beat Man City at their place Paul Sturrock was our manager I'm pretty confident our current team isn't going to change that fact.
We simply have to flood the midfield we are non-existent there and as a consequence surrender control of every game…One up front which changes to two or three when we have the ball and are attacking. There is no point in having two or three permanently up front we will be taken apart…We need to be more flexible in and out of procession and have some decent strategic coaching which there is fat chance of with Ralph defending or attacking.
Hoping for another great result for us…Would take 3-1.
Prepare for another smashing I'm going with 6-1 City…Cue the Ralph is gash! Threads on mass by the wet towels on here standard procedure.
Do we have to play this game? Cant we just 'pull a sickey' lol.
I can only see us starting this one in a very similar fashion to Tuesday, they certainly won't want to concede early. Unfortunately I also can't see us getting off so lightly this time.
City's easiest game all season. Hopefully it'll be single figures.
On the handshakes can't we line up in a V in the hope it will throw City?
Man City did indeed take it easy on us in the cup game, goal difference means nothing if you win the game, and they did so very very easily, the league tho is a different proposition, they'll score doublle figures if they can, and with de bruyne and sterling back i really fear for us. i mean imagine sterling running at our shambles of a defence or de bruyne carving our feeble midfield apart time and time again. i saw their game against villa last weekend and sterling tore apart their defence (miles better than ours) countless times. he could get a double hattrick against us. i for one won't be watching…ralph and the players seem to think we made it out of there with a relatively respectable defeat because we showed a "reaction". i don't believe for one second that it was our effort that kept the scoreline respectable, pep probably thought it better not to destroy our club and get the manager fired by embarrasing us so soon after the leicester game. make no mistake, ralph would've left and the club wouldn't recover if we suffered a consecutive humiliation.
Man City would no doubt like to break the PL record score but they won't as our lads always seem to remember how to play football when they are in the Big Boys shop window. 4-2 to City.
Couldn't give a toss who we play. The outcome will be the same whatever the team selection. City to score at least 5.
Suspect it'll be another 6-1. Even if we hadn't lost to Leicester, I'd expect this…They are vastly superior to us in every department.
Our record against Man City until 2017 was: Total won 31 drew 25 lost 29 Simple as that.