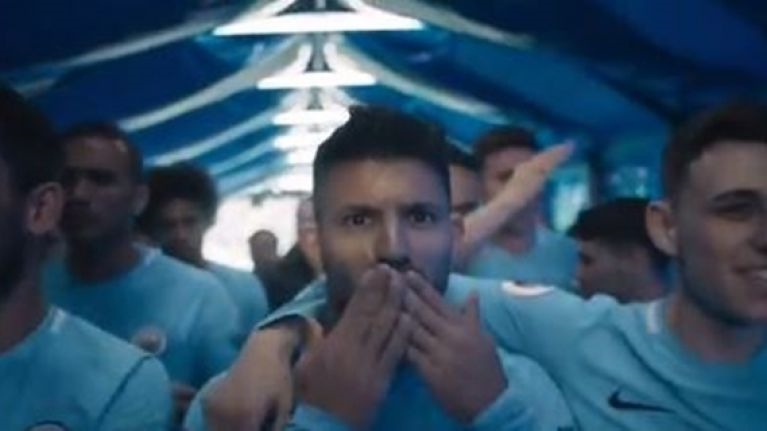 I have just realised that I have drunk beer everyday this year. To be fair, I needed a little help to get through these comments. There are so many things I could say about this lot, but they are seriously not worth the effort. When I was home last week a (rag) friend of mine told me that the whole of Manchester is behind us for this game. I actually think every decent, intelligent football fan is going to be Blue on Thursday.  Finally I would warn everyone that these comments are not for the faint hearted, or sober…You have been warned
COME ON CITY!!!
Referee: Anthony Taylor
Assistants: Gary Beswick, Adam Nunn
Fourth official: Martin Atkinson
Team Selection
Alison
Trent VVD Lovren Robertson
Milner Henderson Gini
Salah Firmino Mane
And the rest…
I can see us beating them with a good margin, something like a repeat of the 16/17 at their stadium…I think Klopp will be very cautious and try to play on the counter sitting a bit deeper. A classical 4-3-3 switching to a 4-4-2 diamond with Firmino dropping deep and Salah and Mane attacking City's high line narrowly. I would love to see Keita as a part of the midfield instead of Henderson, as I think he can cope with City's high pressure better
Toughest game of the season on paper. Goes without saying any kind of result would be huge. Expecting a midfield of Henderson, Fab and Wijnaldum given Milner's injury. The rest pick themselves.
These are the only small club we've dropped points against so far this season, let's not make that mistake again. Get them twatted. They are just another nothing club in the way of what we want.
We are winning this one! …Mane to get a brace, and Salah scoring one as well
Biggest game of the season, by miles. Potentially season-defining.
Let's twat these plastic twats
Be a very interesting game, wonder how we'll approach it seeing as we dont need to go all out for the win. Back 5 and front 3 pick themselves, midfield will be interesting. Gini, Hendo and Fab could be our safest bet but maybe Keita will get a start and play left to counter the threat of Sterling and Walker. Cant wait for this, avoid a defeat and it will give us all a massive lift.
Really looking forward to this…Think we'll defo come away with at least a point.
Going to be a thriller I think. Pep played it cagey at Anfield first time around and they should've won with a penalty. He didn't want to get exposed to our attack on the pace. I think given they have to win this time there needs to be some exposure, which makes our tactic interesting…I expect to see more heavy metal football and less of the shoegaze we saw in the home game. I think City will be on it but so will we
Win this and well, actually i don't want to say it. Reds to win 3-2.
I feel like a clean sheet is important for us, because we can't lose that way. And I want us to break Chelsea's record of conceding conceding only 15 goals in a PL season.
I'd take the 1-1 and run right now
Has this been confirmed having this Manc as ref? I'd be echoing Rodgers comments from a few years ago on what a disgrace this is in the pre-match conference- maybe get a freindly journo to ask about it
Yep, it's a horrific decision, the whole of Manchester is desperate for us to lose and even if he's the most neutral man on the planet he's going to have friends and family on at him non stop. I'm sure he wants to do the biggest games but it's a stupid position to put him in. It's worrying.
I feel like all the pressure is on City for this one. They are the champions, playing at home, and if they lose they will be 10 points behind us. They are shit scared of us and they aren't playing well at the moment so bring it on…we're going to beat them.
This also affects our CL run too. If we win Thursday, it will allow us that little bit of extra cushion to rest key players here and there (hello Virgil). We'll be fresher for both the Champions League and the Premier League. And we'll be able to give some underused players like Sturridge, Origi, Lallana, Matip some playing time so they'll be ready if needed in important matches down the road…Like others here, I'll be content with a draw & won't be worried by a loss. But a win, deary me, a win would…be nice.
This was my thoughts also. Lose or draw and we are still well in the title race. In fact a draw is a great result. But win with a ten point cushion? That would do wanders for helping our shot at the big double. Never expected to be talking like that at the beginning of the season.
Its going to be more cagey for them than for us. They cannot afford to lose. Does not mean its not going to be nerve-wracking  though, but I have seen us play a must-win game against Napoli and we have been in a similar situation against the same opponent in the CL last season, and I think we can handle the pressure better than they can
It'll be interesting to see what Pep does. Imagine if they'd been ahead of us they'd have played for the draw like they did at Anfield. Bet since they had the back to back losses he's thought about nothing but how to approach this. He could try and do what they did in the 2nd leg against us and basically try and blow us away before half time, risky though given it's at the end of the christmas period and as we saw in that game, we were able to keep it close and then they had nothing left to fight back with once Salah scored. I'm expecting something crazy though like 3 vs 3 at the back, or all of Mahrez, Sterling, Sane, Aguero, de bruyne and silva starting.
I reckon he might do something mental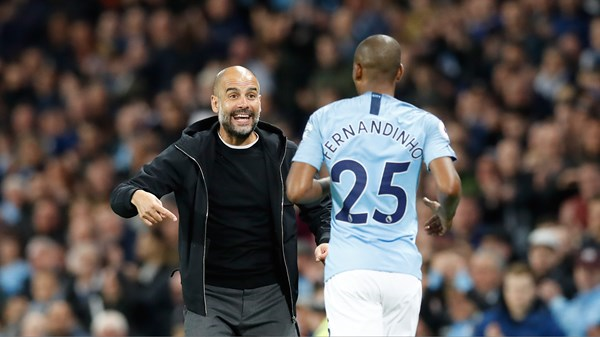 Cannot wait. It will be fun.
If we want other teams to be brave and expose Man City, then we should not be hypocrites, we got the firepower to get there and hurt them. We should play for a win. If it's a game where we trade blows, I believe we can come on top even if it's 3-2. Drawing will still keep us favourites, but a victory will psychologically knock the stuffing out of them… and that is why we have to go there with a winning mentality. Let them then focus on the Cups.
The annoying thing is after this game it's an FA Cup tie. Meaning regardless of what happens in this tie we'll have to wait a week to go again in the league…On the plus side members of the first team will be given a much-needed break.
We are better than them.  They are not going to change from the off form team of recent weeks that leaks goals.   Pep is rattled, their support is rattled.  I hope we don't sit back too much and just look to exploit them on the counter.  Get the first goal, take control then pick them off.  2-0 win.
On a positive note, just heard that city have conceded in 10 consecutive games so can certainly see us scoring a goal or two…
Spot on, win, lose or draw we are in a remarkable position. The same definitely can't be said for them. Given how brutal our December was and we had CL to get through I feared we could be going in to this game behind them, I'm smiling non stop it's plus 4 points to us at worst now after the game. And it's all well and good them talking of pressure on us if they do beat us, that's fine but they are the one's who have been losing to mid table sides lately not us. There's no guarantee if they do close the gap that they go and beat Wolves the game after. We won't give this up regardless, we are too good in every area now but hopefully we avoid defeat and make it much easier on ourselves! I think this may be timed perfectly, our attack is firing just as they are defending like absolute clowns.
City will definitely come to the game with fear… with shit to lose. We don't.
It's going to be a long 4 days waiting for this game. Guaranteed City cranks up the mind games. They've already started.
Not gonna lie…I would take a point right now! It maybe negative but we still continue our unbeaten run and we retain a healthy margin…Would love 3 points though. Let's twat these twats!!!
When was the last time we conceded two goals in a league game?
We don't do draws. NEVER do draws.
Liverpool Football Club has a more formidable armoury now than for decades. A baseline of solidity and an attitude of solidarity, complemented with a never give-in fighting spirit unrivalled in this league. Jurgen has built a force with an attack that penetrates mercilessly…Football teams feel inferior facing the Reds, their basic instinct as professionals cannot be strategically coached to be focused in the preceding days of going in to battle with Jurgen Klopp's team. They sense trepidation and the inevitable prospect of annihilation daunting, together with the consumption of terror being dealt over a gruelling 90 minutes. Suffering is unavoidable for the opposition…We are Liverpool.
Up the goal scoring Redmen. Let's have these. Get through the first half unscathed and it's ours to lose…Also, City fans are a vile bunch, so it'd be nice to shove it up their horrendous, vitriolic, oil-sniffing faces.
Nasty fucking twats!…last 5 mins bring vinny on and tell him to take a 3 match ban for injuring salad and vvd everyfucker seems to try it with us
City fans are toxic and this is reflected on Bluemoon, which is an absolute dive. No interesting opinions or discussion, just bitterness and aggression. This is what happens when you inject Gulf money into a small club with small-time fans. They get a bit giddy.
A couple of things I said before.
1. If Arsenal fail to beat us at the Emirates we will go the season unbeaten or probably lose 2 games max.
2. If City loses to Chelsea and we nudge ahead – no one will catch us.
No matter what happens on Thursday, City will not overtake us this season. I don't bet but as far as I am concerned we will be Champions this season…This Liverpool team will not let this one slip.
If Klopp goes with Keita in midfield, I think he'll do the job well enough in this match, he has all the ability to do so.
Crucial to avoid defeat.
Lets fuck these fuckers
I know I will get hammered for this, but I think we can win our first title in 29 years on Thursday…Shitting myself for it
Couldn't give a shit about Pep's mind games nonsense. We need to score early and build up a lead. Three points would be huge
I expect around 3 yellow card worthy challenges from Fernandino in the first half and not one of them given…Someone needs to give Taylor some shit after the first one to ensure he doesn't get away with it.
My biggest fear is simply that ManC plays on top of their game. It's a very good football team after all…No need for overly clever tactics here. Henderson abd Wijnaldum have been brilliant in these kinds of games before, and Fabinho has been great lately…Time will be on our side at 0-0.
The only atmosphere that shower will be creating is if they have a massive collective fart in the stadium.
When Fernandinho goes flying into tackles safe in the knowledge that refs don't usually book early tackles then I hope the players go down like they've been shot to draw the refs attention to the foul. Fernandinho gets away with way too many fouls as he stops counter attacks.
Milner to put Fernandino in his box early doors.
Think it's fair to say this is the biggest league game we have played in many a year. I want to say i'd bite your hand off now for a draw but fuck that i think we need to stick the knife in now and go for the win. We are a proper club and team whilst they are mercenaries.
Too good for City.  As long as we are fired up with no complacency we will win.  Might just welcome our bus after a couple of drinks in town.
Come on red men let's send these c*nts back to Dubai vwith their head scarf between their cracks. We are fucking Liverpool and nobody does defiance like we do it
Liverpool will win, I just can't see any other result. We're the best team right now, we can do this!!!
Just had a gander on blue moon There is literally a poster who is encouraging them all to bring bricks and bottles. And saying go to war. Appalling, should be removed
They will do fuck all , just look back to their coach welcome last season against us , a few hundred turned up to watch a supermarket DJ and some gimp with a megaphone call the players names out as they stepped off the bus .They are piss bags like their team .
Fernandinho played in the loss at Chelsea…David Silva also missed their two surprise losses. They're both tremendous players, but Silva is clearly their best one. Everything goes through him. Like Salah, too, he's got a very handy knack of scoring first in games.
Fernandinho gets away with murder. Constant niggling fouls all game long unpunished by refs, because? It's infuriating that refs turn a blind eye to one of the most cynical players in the game. How he didn't get a booking in the Southampton game is a total mystery.
These fuckers are still talking, every day another one pops up to mouth off. I think it's just dawned on them what's coming, they've started to shit themselves and are desperately trying to convince each other that everything is going to be ok. Voices cracking, pupils dilating, they are fucking losing it…Is there anyone left in their club who hasn't had their say yet? Who's next? the fucking tea lady telling us how they're jolly well going to play the best they can and everyone should be scared of them. You fuckers got found out by Roy Hodgson only 10 days ago…Meanwhile back in Liverpool, nobody is talking unless they have to. Everyone just sitting back watching them shit themselves. We all know they'd rather win the champions league.