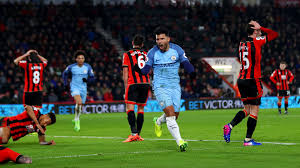 I'm looking forward to this one, I think more than the away fans. It's just the usual doom and gloom from the Cherries, treating this as free hit tomorrow. I wonder if the players ever feel the same. Knowing that the likelihood is they are not going to touch a football for most of the 90 minutes at our place?  On the plus side, my membership card finally came, but I still have a paper ticket for the game like a cave man!
COME ON CITY!!!
Referee: Stuart Attwell
Assistants: Stuart Burt, Derek Eaton
Fourth official: Anthony Taylor
And the rest…
I think I am going to hide in a cupboard when we play them….
I think that will be a very crowded cupboard with 10,000 of us in there
I've tried the cupboard thing…it didn't work because I had the radio with me and it kept letting them score…I've tried stirring my tea anti – clockwise ..going for a walk to a feed the donkey in the field along the road … that's usually worth two goals in our net..all sorts….bloody Sterling is immune to all that!
I'm all for being optimistic, but there are friggin' scary and totally merciless. GF 40, GA 5. They scored 106 last year and seem determined to go better – on pace for 116!
If we still have a positive goal difference at the end of it i will be happy.
Ok, well I'll go out there and bravely predict a 3-1 win for AFCB.
I'm actually looking forward to it. We've matched Man Utd and Arsenal albeit at home, whilst I'm not expecting a victory I think we can give them a decent game.
I think we will do ok up there. Been unlucky the last few games plus they have a few injuries so not feeling too down about it.
We will be missing a key player in Lerma…They have got injuries, but they have such a strong squad in depth…De Bruyne missing, but they have cover and more importantly for them, they are getting results.
Guardiola wasn't overly happy with their performance at West Ham despite the 4-0 win … plenty to improve on apparently! Arrrrgh …
City have been awful first half at Lyon, who have missed four sitters. Hoping for a fourth season of beating the defending prem league champions. Of course we could get another 4 goal margin defeat but I am looking forward to the test. No point being negative all week!…Edit; now deservedly losing
Well – I went to the last 3 there, and I'm not going on Saturday. Hopefully I'm the jinx…..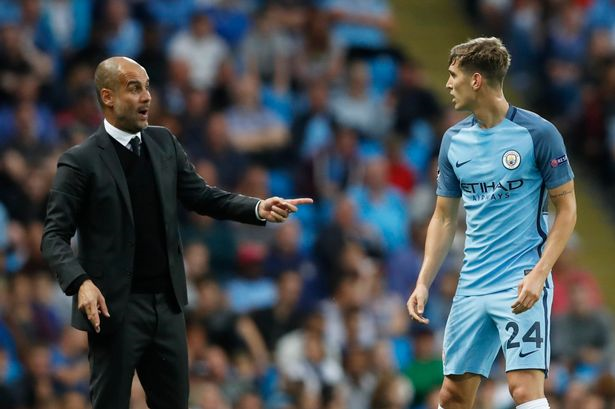 Could i just point out that Wolves got a point off this lot and they're shite….#togetheranythingispossible UTC…Boll0x i've just remembered Lerma isn't playing….we're fcked
Referee Atwell is another who favours the big clubs on tight calls.
Really looking forward to seeing how the lads fare against City. Plenty of interesting duels across the pitch. If we can keep it to 0-0 until say 30 mins, who knows? We've got pace to burn, catch them on the break, the move which to King's goal against Arsenal was breathtaking. More please!
I'm looking at this match as a free hit. We get something great but I have zero expectation of anything. I think fans from every team visiting City will feel the same. Let's get it out of the way and concentrate on Huddersfield. Can't help thinking that if by a minor/major miracle we beat City we would only then lose to the terriers.
It looks as if our chances of getting anything at all at Man City is now near on impossible with the absence of Smith, Lerma and now Gosling. This would mean that iur entire central midfield is missing. God help us!
I don't fear these games at all. Yes we could get stuffed but no point worrying about it. Thus going tomorrow expecting a good display, whoever we put on the pitch. No Lerma and Gosling means Lewis cook has centre stage to perform.
Eddie has a plan ….. As long as our players keep their heads up,
I think a good performance could be on the cards.
Winning the whole time playing sublime football must be soul-destroying. I think we'd all love to be as bored as City fans must be this season! …Give credit where's it's due and remember, nothing will last forever, either at the Etihad or at DC
PSG have the same problem, nobody can touch them in their league.
But fail miserably in the CL.
God help us all.