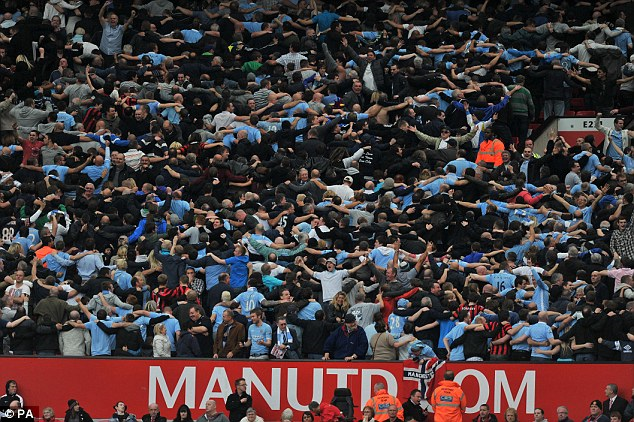 I'm not saying that I am nervous about this game, but I have just starting drinking. The comments below could be worse, but still the usual deluded stuff. Talking of which, I heard a comment on Talkshite this week (from Alan Brazil, I think), which said that the rags were back to their formidable self, and are now feared by all of Europe. If all were even, I would be more relaxed, but I fear the worse, and there will be nothing we can do about it.
COME ON CITY!!!
Referee: Anthony –RAG – Taylor
Assistants: Gary Beswick, Adam Nunn
Fourth official: Craig Pawson
Mr Taylor's history officiating City: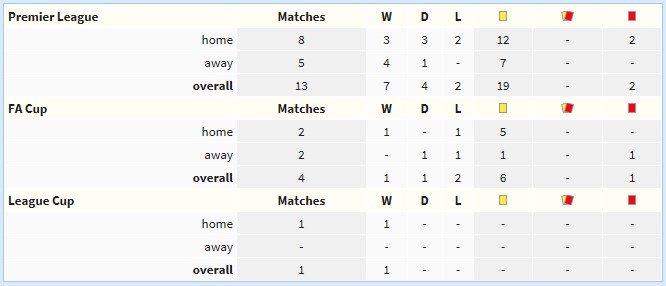 Team Selection
DDG Young Smalling Lindelof Shaw Herrera Matic Pogba Mata Sanchez Martial
And the rest…
I thought this was at Old Trafford.
If we have an intent to press high up and cause problems then it will be a very interesting match. Just hope we don't build a wall of players and hope for a draw. After tonight we should be optimistic going into this
Hoping for best but dreading the worst, we have a habit of making a fool of ourselves anytime we go into a big game with some momentum. Remember Sevilla after beating Scouse last year?
Fellaini-Pogba-Herrera is by far our strongest midfield. As long as we play that midfield with Martial wide left, we can trouble them. The rest of the team is much of muchness.
Going to have disrupt their rhythm at every turn..A great deal of cynicism is required for this one.
Please win, thanks.
Line up won't be that different to the Juve game. The GK and back four pick themselves, Herrera, Pogba and Matic in midfield. If Sanchez is out I can see Mata coming in and Rashford playing centrally and Martial on the left…I think we'll be ultra cautious and keep it as tight as possible. City will probably score first and then we'll come out swinging like last year.
City's off the ball movement is too good for our brain dead defenders. We got lucky the last time, can see us getting spanked if I'm being honest.
Think we have enough threat up front to trouble them. Still not convinced with their defence so we just need to switch and transition defence to attack smartly. Obviously they will dominate possession and probably shots on goal. Think we may see an end to our comebacks in this game but I hope I'm wrong.
This game will be vital for the rest of the season. Get a draw or possibly some kind of miracle to get a win and it could give the squad the boost they need or get shat on and all the current confidence will be lost and we're back to square one.
I see us overloading midfield for this one. I can see us starting with Fellaini, Pogba, Herrera and Matic in the middle with Martial and Lingard playing as central two to play on the counter.
3 points please. Of all the points dropped this season the 2 points at Stamford Bridge hurt the most. To have beaten Chelsea would have been a declaration of intent "we're Manchester United and you can't write us off"…Now we need to do the same in this match. If we can keep beating teams, there is no reason this season can't be rescued.
Need to win this while playing well could really become springboard to turn our season around domestically ,with our upcoming schedule we could easily be second before end of the year.
It's City at the Emptyhad. I'd take a 97 minute winning goal that ricochet off 10 players arse on its way in, from a free kick wrongly given and watch them cry…On a serious note, we can't afford to start as slow as we've been doing. They will put a few past us inside the first 20 minutes and it'll be too late aka Arsenal away 15-16.
Need to exploit any space left by Walker. Pogba and Martial can expose that area of the pitch. It's a shame Mendy doesn't play at RB, he looks suspect.
These guys will be a lot more clinical than Juve…We need to be less sloppy in possession and cut the mistakes, else it could be embarrassing
Win this and we are right back in the title race. Would be a great time too, just before we go off for internationals. When we get back we have a run of the likes of Palace, Fulham, Huddersfield etc and would hope to kick on.
We're going to get demolished.
Our toughest test yet that's for sure. Both teams will be up for it. If we keep it tight again and go in at halftime level, then it's game on. Mou will no doubt have some plans. We need to out work them and play a physical game. Tough one to watch if we give a goal away early.
We had the much tougher game yesterday than City. We also have to consider the travelling that City didn't have. And city will probably bring in at least 3 or 4 fresh players in as they were probably in second gear last night…Then you have to add in we have not been convincing at all this season, while City have been destroying teams. Oh and finally Lukukka will be back…1-0 To Utd. (I wish)
Press, hound and foul them up the pitch if we have to.
Silva as always is their key man. The thing with city is that theyve pretty much bought two line ups capable of winning the league and when a player is out of form they dont suffer at all. Theyre coasting without de bruyne. Will be an incredibly tough game similar to last season at home in that if we lose we will be back to square one. If we win anything could happen. Would happily take a draw…Herrera man job on silva
Rashford been very average lately and shouldn't start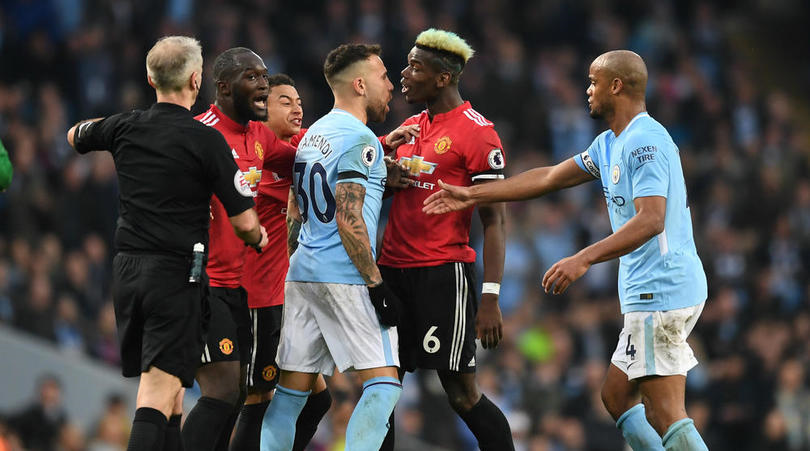 I'm going to go with we win this by hook or by crook. My mate was saying we'll get hammered this week and I said it's possible but these are the type of games we normally pull a result out from nowhere. 1 down, 1 more to go…I think it will be tough but just feel Fellaini is going to do a job on them when he comes on late in the game.
Feel we're likely to loose this one, think they'll be a come down after the Juve win
Yes would be disappointing for any Man. United fan if Mourinho just sticks 10 men behind the ball all game (or at least first half). Of course going to Man. City you need to defend and at times be cautious but the confidence Man. United now have and also winning there last season also needs to be respected…I still think Man. City will win 2-1 but will be a tight game and Man. United will have chances. Got a wierd feeling Lukaku will declare himself fit on Friday and Mourinho will throw him straight into the 11 which would cause a meltdown on here.
City away.. Expect absolutely nothing here…We'll probably set up to defend… and knowing our defenders, we'll make a couple of mistakes and let them score.
Will be a very tough game against this disgraceful set of cheats.
Expect us to lose. So I can watch without pressure.
There's no way we'll stop them from scoring.
We can barely keep a clean sheet and they score for fun.We'll need at least 2 maybe 3 even to get something from this game and with this in mind we must set up to attack.
Mata, Martial must play. We need speed in our attack so Rashford should play also. Would also pick Sanchez in front line. Those front four will cause some problems.
Our best chance is to make it an open game. End to end.
If we let them play we'll get torn apart.
2-1 win for us. After Juve, the lads won't be in any mood to let this one go. Keep Lukaku out and play Martial, Rashford, and Sanchez up front.
Really not looking forward to the tactical fouls
I'd take a 1-0 loss right now. Zero confidence going into this game.
For Some crazy reason I think we will knick this too! The players are trying and we do have some top class talent. We are just starting to see it click into gear again… saying all that this will probably be our hardest match this season. Hopefully the Juve match has galvanised us!
As much as it was nice to beat Juve, I consider them inferior to City almost in every department. I expect City to take us on a merry ride round the Etihad from minute one and with our incredibly disjointed non-system, I wonder how we are going to counter that. I expect City to be far more clinical than Juve too.
I fear we're gonna get hammered. Too many lucky escapes recently, and City are going to have a field day if we keep defending like we have this season.
Apparently Lukaku has a chance of making Sunday. If he does, he should not be starting. The team has looked far more cohesive without him. Let's hope the Sanchez knock wasn't too serious.
On paper, they should thrash us. They took a fair few points off us back in the 2000's though when we were one of the best in europe & they were shit. Anything can happen in a derby, as last year proved.
They're capable of taking this United team apart…Can't see anything for us and would be happy to simply not get thrashed. 2-0 City
We're better equipped to deal with it this time than last season I hope with the addition of Fred to the midfield…Herrera, Fred, Mata, Lingard, periera.. there are options.
They have been putting 4/5 past opponents for fun in recent weeks. For the love of God, hope we defend well.
All our rivals face easy fixtures this weekend…It's actually a must win game.
I was watching the sky sports show on youtube and they were debating whether Pep is the greatest ever coach. It left a bitter taste in my mouth. Our team absolutely needs to put in a performance on Sunday. If Jose is this master of defense, he absolutely needs to show it.
How do we play against these cnuts on Sunday?