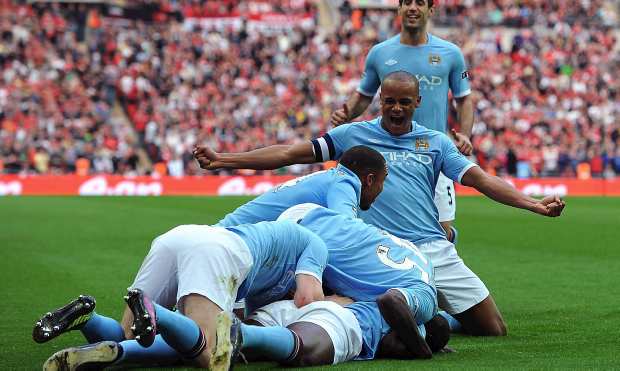 Another early post for this game, because I wont have time tomorrow. Plus I also feel the need to cleanse myself, after a crappy dipper filled week. It is wonderful to see how much pain we are causing the rags, and long may it continue. I am worried about what Pep will do with the team on Saturday, but I want him to go balls to win the game and title against the shower from Stretford. The worrying thing is, I don't think he will.  Now, more than ever…
COME ON CITY!!!
Referee: Martin Atkinson 
Assistants: Lee Betts, Stephen Child
Fourth official: Craig Pawson
Team Selection
De Gea
Valencia Bailly Smalling Young
Herrera Matic Pogba
Rashford Lukaku Sanchez
And the rest…
Can't really predict the team for this. Maybe a similar lineup but with Herrera or McTominay in, possibly Bailly for Lindelof…Anything but a defeat would be nice.
Hopefully they fully focus on the game against Liverpool and don't put out a full strength side… Pretty much our best chance. Obviously any sort of defeat would be shit (even if it is extremely likely), but if we put up some sort of fight and lose then it's fine I guess. Expecting a full park the bus with us doing very little in the other end and still ending up losing by a couple though.
Bring on our double decker bus!
Just dont make them champions will do. Kicking two or three City's will be nice.
We need either Herrera or Mctominay for this or they will run us over. De God will probably save us multiple times. Hoping for Lukaku/Sanchez/Martial to get us some goals
Do not lose, I'm not arsed about anything else, we can have 1% possession for all I care.
Just avoid a battering.
3 in midfield, tight at the back, break the press with balls forward to Lukaku, and get someone up close to him (probably Sanchez)…Want to see Martial for the last 20 minutes, I'd take a repeat of the Spurs game at OT.
The title is obviously gone, so it would be great to lay a marker for City for next season. Would like Jose to try and identify a weakness in the city team. Don't care about the result at all.
So they can secure the title with a win against us next week. I would 100% take a 0-0 right now, if only to delay the inevitable for another week.
Just play some decent football.
Let's piss on their parade.
Hope City getting a thrashing by Liverpool next week, robbing their confidence off before they face us would be great.
Hopefully we don't park the bus and we give them a good game at least. If we park the bus and they still beat us it'll be humiliation and we'll all be wondering what's the point of even going there. At least try to win the game instead of going there not to lose. We have nothing to lose.
I can't say I'm massively looking forward to this one
for the first time ever, I am not looking forward to the Derby, lest face it they are playing better football than we are…All I want is not to be PL Champions by beating us.
Im not looking forward to this game, in fact im looking backward…I still cant believe we went for Mourinho and did not fight for Pep. Citeh went after him like in many years and did not stop trying till they got him. Because they believe in his Philosophy. I must admit, watching citeh's football makes me sad.
If City win just please spare us the 'Congratulations Manchester City' thread.
Going to save myself from anger and frustration and Not bother watching they'll be really confident and likely will smash us.
They're going to smash us aren't they?
What an unfortunate fixture.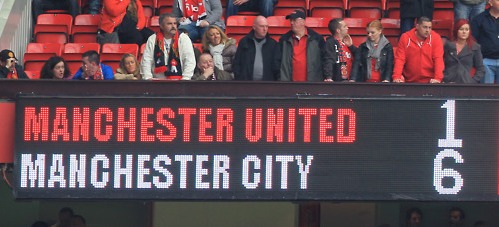 Dreading this. Think we'll lose, I just hope we don't get thrashed. I don't want to be down on us but this is their season, tbh I want it to be over already and we can try again next year.
Jose is made for this kind of games
They're going to be up for it, they can seal the league.
At least they got CL football as well to deal with. Could see them embarrassing us otherwise. We'll lose pluckily by the odd goal.
The drama couldn't be much bigger (except, of course, if it were the last matchday and United could win the thing themselves). I expect a Jose close to exploding with the ambition to deny City this one particular win, and if he hasn't lost all influence with his players, they will fight with everything they got, too.
Its going to be a cup final for them. Their tinpot fans might actually turn up for this one and it'll most likely be their only full house of the year. Let's ruin it for them!
We're going to win…Yeah City beat everyone else at the Etihad but we're better than everyone else .
Have a feeling this will be a draw or us winning. Jose wont like losing it and delaying them the title would be a good moral boost .
I think Guardiola will be more focused on the Liverpool games either side of the derby. He might select a slightly weaker team…We have the fire power up front to trouble their defence.
I can only see one result and that will be City winning whilst we use park the bus tactics that will make me cringe through the entire game.
Will Man City sell this one out do we reckon?
I think this game is going to suit Rashford. Does well in the big games. Just not sure who to drop.
Pep gave us a lot of respect too. Fact is, City would hate to lose this game just for pride, so expect a cagey approach from both sides.
It depends on the Liverpool game really. If Man City lose that game or even draw to leave things in the balance Pep will have no choice but to rest players in the derby game. If they win convincingly then he will go full-strength again on Saturday and rest some players in the 2nd leg.
Silva – Sane is the new Rooney – Valencia.
If we park the bus we will lose.
Not that it's super likely, but wouldn't it be nice to stick the boot in, beat them and watch their feeling of invincibility disintegrate. I'm sure Jose is licking his lips.
If we were 6 points closer then it would be interesting given their run of games. Would be a small statement for next season if we can go there and get a result, even in these circumstances
City will win the title regardless of the result on Sunday, whilst the CL is still a possibillity (albeit a remote one). The CL is clearly the larger priority thus resting players for said occasion is only logical.
Pep would be mad not to rest players. God forbid KDB or Jesus get injured in the game, Pep will be barbecued post match irrespective of anything they do vs us.
There you go Jose, you've seen how to beat City – got to get at them. None of this parking the bus and hoping to nick one on the break.
The fecking scouse bastards. They only beat City so that they would have a real go against us and not field a weakened team.
I've gone for 5-0 as my score prediction. Gonna smash the blue nosed cnuts
A victory against City would decimate further the dynamic they've established this season. Liverpool put a huge dent in that image they've got last night, if they were to lose against us this weekend and then get knocked out by Liverpool in the 2nd leg, they'd end the season quite deflated even with the Prem in the bag. It would be great for next season…Hoping for an absolutely determined and restless performance from the team, hunting in packs and playing with intensity throughout the game.
watching liverpool attack man city with a midfield of henderson, chamberlain and james milner! gives no excuses why mourinho shouldn't set the team up to go at man city's defence rather than cowardly parking the bus on saturday?
We should play the U16s. Give City an easy game so they're more ready to knock out Liverpool come Tuesday.