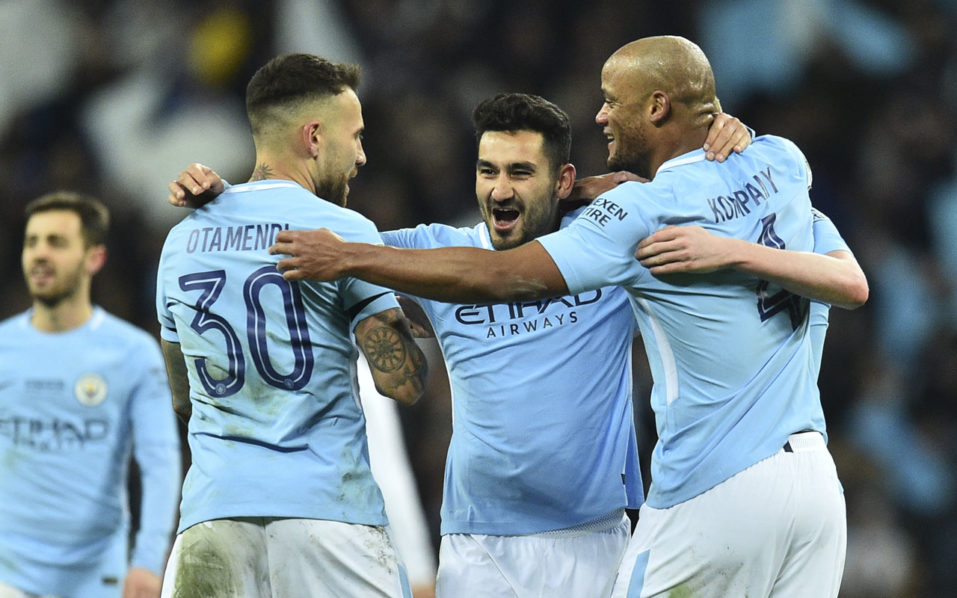 The things that pisses me off about the chavs at the moment is how they have the nerve to bring up how unfair it is that City have so much money to spend.  Apart from the complete hypocrisy it shows how they are brainwashed by the media, and believe every word they hear. However, I wont rant about this, I will just sit and enjoy the pain in the comments below. I can't wait to see Sane tomorrow, and Sergio's 200th goal ( in front of a home ).  On a slightly different note, I have just got an iPad, so if anybody can let know the best way to watch a game on it, I would appreciate it.
COME ON CITY!!!
Referee: Michael Oliver
Assistants: S Bennett, S Burt
Fourth Official: Jon Moss
Team Selection
Courtois
Christensen – Azpi – Rudiger – Alonso
Kante – Fabregas – Drinkwater
Pedro – Giroud – Hazard
And the rest…
No chance
That's the spirit!
Can't say I'm very confident
Agreed, not a chance. We will be lucky if we get out without being embarrassing.
I'm looking forward to see what Conte has learned since our last game against Citeh when they totally outplayed us…Conte must show signs of learning from that and improving.
We all know how the team will be set up. Sit deep and couter City with Willian/Hazard, like we did vs Barca.
The thing with Citeh, they have the ball for long periods, and people assume you need to hold the ball away from them to be successful. But the best part of their game imo is the way they play without the ball, the high press is just part of it, but they have a game plan like no other team when they have not got the ball. It's something we need to aim towards ourselves.
The only chance of beating them I think, is after they trash Arsenal again on Thursday they won't bother playing and like good pals let us win…They have a big cushion as it is, they'll be champions in a month.
This will be a totally different game than against Utd…..if we didn't get anything at Old Trafford (even though we should have done) then I don't see us getting much out of this game either….it depends which Chelsea turn up for the full 90 minutes.   We knew this was going to be a tough period and had we not have beaten by Bournemouth and Watford the damage a point each from both of these games would have been OK.   Hopefully Utd can take a point or even beat Spurs next week to at least keep them in touching distance.
We have to hope city have an off day, because we aren't good enough to go there and get anything other wise…We've got a full week to prepare for this one, so hopefully that gives us an edge…Not too optismitic obviously.
A comfortable home win for both City and Barcelona away… 1-3… 0-3
Will be tough to even get a point. BUT… we really need to, to even have a chance of having a shot at top 4.
City playing on Thursday gives Chelsea a better chance, if there was a week's rest I couldn't see Chelsea taking anything.
Everyone saying we don't have a chance aren't been realistic. There is always a chance Chelsea could upset City. Ok, it would take an off day from City, and a top class Chelsea performance. But, it can definitely happen.
Showing Manchester City too much respect has done nothing but backfire, if you press them they're easier to beat.
City have 3 games in 6 days, won the league and through the champions league so it will be interesting to see which game or games Pep takes more serious. I guess he will want to put a show on at home against the Champions. One position City don't have much depth is centre midfield and Fernandino is out, Conte gets a full week to work on a counter attacking system, im pretty sure he will get something out the game.
I am sure City players will run a lot more in spite of playing mid-week. We might fight hard but I don't see us winning. Maybe a draw.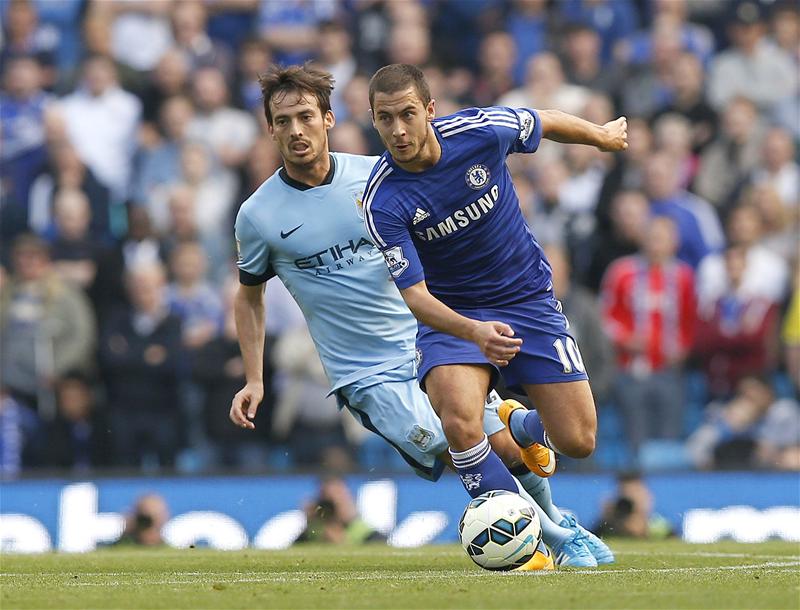 If there was a perfect time to play City, we are playing them now. They are playing two top four challengers, three times within the space of 7 days. They are travelling to Emirates on Thursday then have 2 days rest to recover for Sunday in which we have a full week's rest. Only reason I am have higher hopes than I would of without their game in the week. Fernandinho will probably be a few weeks on the sidelines and for our counter-attacking style we look to implement at the Etihad, him not playing is a huge bonus for us, as when we do counter, they don't have another player who can do the defensive work he does…We really can't afford to lose this with Spurs and Liverpool having on paper, games where they should be collecting 3 points. That being said, this City team is on another level and literally are world class or bordering on it. Just hope that in this week building up to the game, Conte works on his tactics and pulls of a master victory…If it was not for City having the league wrapped up, no doubt they would be complaining regarding the timing of the fixtures and how unfair it is, but really on the scheduling side of things, let's hope it gives us an advantage and we be the first team this season to go and win at the Etihad.
Chelssa have been given the best chance to get something at City, if they can't in these circumstances they never will.
A draw out there, will be perfect just for keep going and not lost our moral after 2 defeats in row. If we lose there 3-0 it's the end of Conte…
Now I feel a bit more confident. Hopefully in the latter stages of the game City start to show fatigue from playing Arsenal in midweek and we can capitalise on that. Though we suck at holding the ball when they press us so I still see it being very difficult.
Only team to beat City this year in the league is a team that went out to attack. Conte will set us up like Barca with a false 9 and expect us to hit them on the counter attack. Can see it being 2-0 City this one. 23% possession to Chelsea with 2 shots 0 on target. Hazard subbed in the 70th minute to piss everyone off even more. Gary Cahill to start too.
Don't know if I'm confident or not. We're in very poor form at the moment. Wouldn't be surprised if we lost.
Its a pity their CL game is over with as they may have had one eye on that but pep will have a full strength team to choose from. Kante has to shut down de bruyne, be on him like a f**king rash every minute of the game.
They don't need to win, but we do. A big factor at this time in the season.
However, I fear we're witnessing a repeat of the Chelsea Pantomime where the manager engineers the sack and walks away with a shed load of money. Why wouldn't he? And why would the players give a toss? They certainly don't look as though they do. RA has become like a race horse trader, buying, selling loaning out players right left and centre. Not football as I remember it . Pretty bloody tedious actually. We're becoming a graveyard for talent
Whenever Conte has a whole week to prepare a gameplan he is usually spot on ( The main reason we won the league last year). Wouldn't suprise me if we robbed these CITYZENS
Sorry to be negative nancy but I'd be amazed if we somehow managed to get a top four place now. For the game on the weekend I can't see anything other than a City win as the team seem to be lacking in leadership, luck and balls.
Hate to say it but 4-2  with us scoring first  1-1 at half time  then Conte will do his defensive mode take Hazzard off and we will fall apart  trying to defend
I'm sure we will defend better than the ars tonight!
I'm not looking forward to this much but then again I thought Barca would spank us and we turned in a great performance, so you never know…Come on Chelsea!
City are playing a brilliant football, to be honest. Against Arsenal, they played without a defensive midfielder and with three attacking midfielders and it actually worked for them very well…Their passing forward is very good, make them very dangers every attack, but our defence is better, I expect our 5 defenders to stop them and then turn it into a counter attack. We have the ability for that, Moses and Alonso must be the keys for that. Maybe we aren't at our best period, but the first half against Manchester United showed how strong we can be, so I believe Conte will go with that formation again…Seems like Barkley is back to the squad also.
Maybe going toe to toe with City could be the best idea. There is no reason why Chelsea with players like Kante, Hazard, Fabregas, Willian, Alonso and Moses, and even Giroud/Morata can't cause them problems. Of course, the way things have gone this year it probably won't work, but sitting back for 90 mins hoping on a for a few counter attacking opportunities won't work either. We are already chasing the top 4 pack, so why relax and give it a whirl.
We are gonna win this!!! You heard it here first. Just have a feeling about this.
Time to write this game off, we lack heart and desire, everything City have.
We lack heart at home, away it's even worse.
We'll have a chance if Pep decides to play the same Gundogan-D.Silva-KDB midfield as today. Fernandinho is such a crucial player for them and the consequences of his absence were so clear against Arsenal. Liverpool would have scored 5 goals against that City team.
If Chelsea win this game…You can expect The world to end in less than 24 hours later.
Surely, we'll play better than Arsenal have against Man City on Sunday? SURELY???