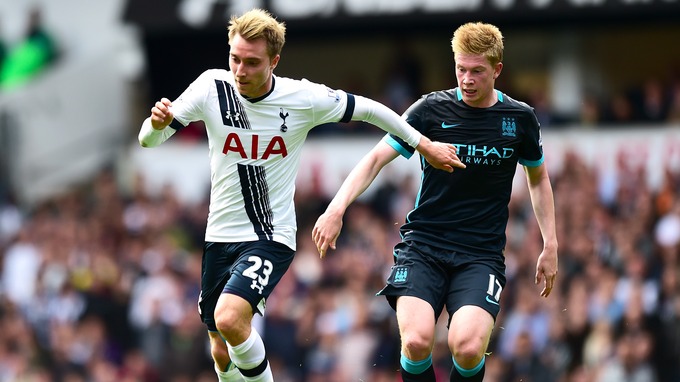 It's always interesting to me when the away fans start their match day thread before they play us. I checked the forums on Sunday evening after our game in scouseland, and there were already 55 comments. I would normally wait until tonight to post this, but given they all seem to think the same thing, there is no point in waiting. No idea what Pep is going to do at weekend, and we will have a better idea of his (longer term) strategy after this game. I am 100% behind Pep, but I am getting a little bit worried now. If he is only here for three years, he can't really afford to write off this season. We will see, I guess
COME ON CITY !!!
Referee: Andre Marriner
Assistants: S Beck, A Garratt
Fourth official: M Jones
Andre Marriner » Record by matches of Manchester City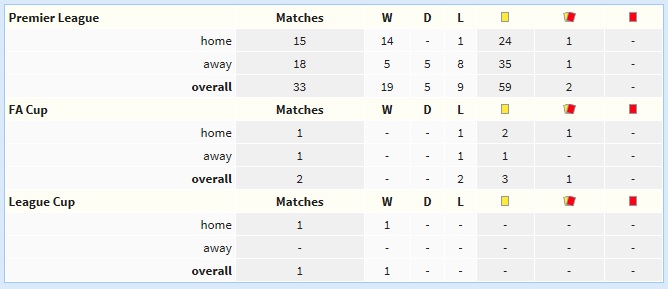 Team Selection
Lloris
Alderweireld – Dier – Wimmer
Walker – Wanyama – Dembele – Rose
Dele – Eriksen
Kane
And the rest…
Watching them v Everton and fearing fuck all about them…Note: This was at 0-0!
Will be interesting to see how we play. 3-4-2-1 or pack the midfield? Would go for the latter, but I trust Poch…I dont expect a tough match actually. They dont have Gündogan and Fernandinho. We will overrun them. We need to keep being clinical and we should get away with 3 points. COYS
Confident
Amazing how a rich run of form makes even the most pessimistic of us predict or even expect a win against Man C. I'm still not sure that 'spursey' is dead and still at the 'hoping' stage. However if we did win, even I may think we are going to achieve real success this season. I do know that, if we can keep the momentum going, people will have to sit up and notice.
This will still be tough. I think we are more than a match for them but I think a lot of us thought that before we travelled to Old Trafford…They still have the likes of Silva, de Bruyne, Aguero who have been a thorn in our side in the past. I believe they are without Fernandinho who has been brilliant for them when not getting sent off and Gundogan being out injured is always a positive…This will see us on a 7 game winning streak which we've never accomplished since the Premier League was founded which means we've gone 25+ years without doing so. A win here would not only give us some breathing room on City and potentially close the gap at the top, it will also send out a big statement like it did last year.
I only see us winning this. City have some great players but they don't have a team and have several weaknesses. We basically have no weakness at all. We are mentally strong but they lack belief. I think they will be dreading this. We'll win by at least two goals. I am really looking forward to it.
We've won our last 3 games against City. The players know they have the beating of them if we play near our best
Easy enough win. Eriksen to score
Apparently Claudio Bravo has now conceded 11 goals from the last 18 shots on target he's faced in the Premier League!
If they play against us like they are today, we'll take them to the fuckin' cleaners.
City are absolutely dog-shit against Everton…The football is crash-boom-bang compared to how we played it against WBA, who is a much tougher team to break down.
4 shots on target, 4 goals conceded…Brilliant day at the office for Claudio Bravo
Can't see City having 2 stinker games in a row. In for a battle next week. Fuck'em either way
Being a shitty northern team it will be their cup final so of course they will raise their game against us.
Don't let the result fool you…They aren't going to be that shit next week. BIG changes. Zabaleta isn't going to be starting in central midfield. Kompany will be starting. They'll probably bring in Caballero who has proven to be better and more reliable than Bravo this season. Nolito will probably come in too.
They will be better next week, but if we play like we have the past few weeks we should win, but probably 2-1 or 3-1. Losing Verts hurts, I don't think we will keep a clean sheet.
Every games massive now, even with so many games left. Most of the big teams winning every week makes each weekend huge. If we beat City next week I'd go as far as saying top 4 is down to five teams. Doesnt look like they have the fight, Pep to leave before the end of the season seems plausible.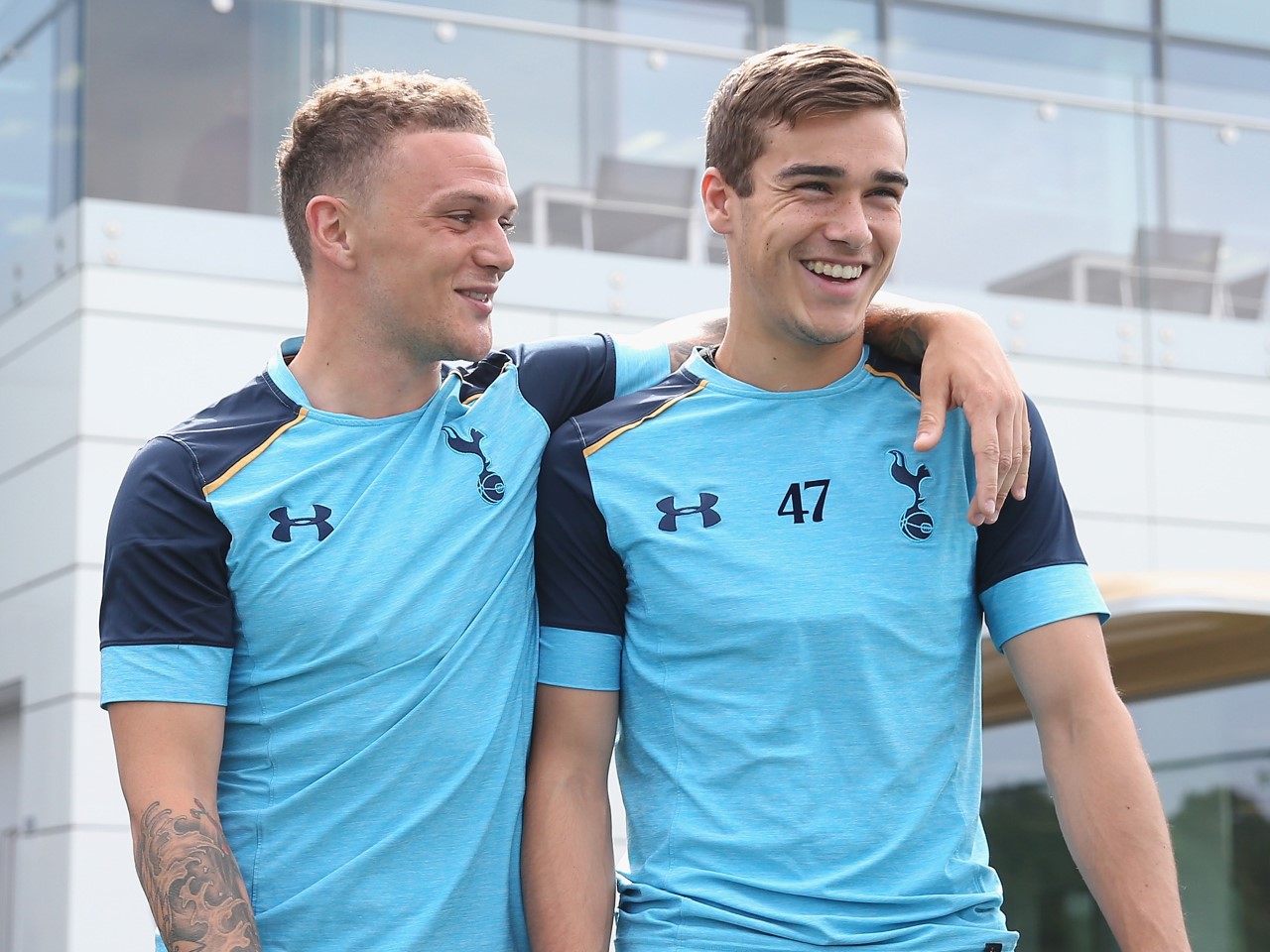 We are the better team. Back before Poch, apart from a short period under Redknapp, we would sometimes win games against other big teams but it was always hard to predict. We were just as likely to get spanked or just lose despite playing quite well. Our defense was always leaky. Our mentality was always weak. Our bench was always shit. We were never the favourites. Nowadays we are the better team, we are favourites even if pundits wish we weren't. It really doesn't matter how good City are next week. They could play at the top level they have reached this season and it won't be enough to match us. I have serious doubts that they can reach that level anyway, but I would be truly astonished if they could reach a new level they have yet to hit – and that is what will be required for them to beat us.
City are a completely vanilla team for me. Their success is irrelevant as they're just a middle eastern piggy bank
City at home are a much different proposition to what they are away. Their pitch is massive which allows de bruyne, sterling, aguero and silva a shitload of space to operate in. It's far easier to mark them on smaller grounds like WHL. They really should have thrashed chelsea and would have if not for de bruyne missing a tap in. We shouldn't underestimate them at all, nor expect them to lie down.
We´ve scored one less away goal than they have scored at home, and let in one less away goal than thay have conceded at home…Our GD is nearly double theirs…Im simply just not impressed or bothered by them…Play bad and we will be punished. Play at our top level, and we will win. Its about us, not them.
They'll be under massive pressure from the home fans and should come right at us…Will suit us nicely
Very unhappy with how confident I feel about this game
I've never known such pessimism… thought they were all cocky Northern Mancs with a swagger…?….Apparently not, eh!…unless it's a ruse
For all the waverers and the 'let's not go over the top – City are a good team'. Next Saturday will prove how good we are.
They are at home, wanting to put right the Everton game and will desperately want this one. They may do us a favour and move aside but I doubt it. We are going into this on very good form and there is no reason why we cant win this-I cant see us not winning. We mustn't under estimate them and show then 100% respect. Its a massive game for us, all 3 points will keep us ahead of the pack and on the heels of Chelsea. Its all so close that one defeat and we all change places. We mustn't allow Chelsea to win the PL.
I think we're winning the mental battle, teams and fans are starting to fear us. Puts us in good stead for when we turn up and express ourselves. I feel more confident going up against Guardiola's City than this time last season against Pellegrini's City.
Walker and Rose pushed up and Waynama and Dembele vs Zab and old man Toure. Let's go
I can't decide if this is the best or the worst moment to play City. Pep's tactics obviously isn't working and their defence is horrible but after the Everton match they will have something to prove. We are favourites to win this match and if we can bear the pressure that comes with that notion I believe we will.
I don't think Guardiolas ego will allow him to change his tactics. Which is why I am pretty confident about this game. High press on Stones who loves to dwell on the ball and Bravo who panics when closed down and they will present chances to us.
City have had some big game defeats this year … when we beat them the dropped points the following game … when Chelski beat them they followed that by losing at home to Leicester … let's hope that the Everton hammering will have the same effect …They could be a 'wounded animal' but with the title all but gone they may have little fight left … we need to start at 100 miles an hour … score early and they will fold ….
Fair enough if Pochettino sticks with a 3-man backline and puts in Wimmer so we don't "disturb" our rhytm. But Wimmer versus the likes of Aguero, de Bruyne and Silva does give me the chills. I'd rather see a 4-3-3-ish thing with Winks, Dembele and Wanyama screwing their flow up.
There is no way City can be as bad as they were against Everton, but we can still beat them. Without Fernandinho their midfield is feeble…The only selection decision is Davies or Wimmer to replace Vertonghen, too close to call really. I think Davies might get the nod as he was exceptional at the Euros playing on the left of a 3 man defence, he has played in that position for 2 years at international level whereas Wimmer is a bit less experienced in a 3.
I can't remember being more positive ahead of ManCity game, ever…Toffees academy boys made them look like a bunch of fools, it was joy to watch that game. Best possible timing to face them for sure.
I read about their academy, and found it strange that they had 8 players over 30 in the squad for the Everton game. Why don't they use them?
They have incredible youth they just don't trust them or use them very much a Chelsea of the North West
Can't wait for this match, feeling supremely confident
The difference in progress between the two teams is stark…While the likes of Kane, Alli, Alderweireld, Rose, Walker and Eriksen are young and improving, they are relying on Toure, Silva and Fernandinho whose best days are behind them. And Stones and Bravo have hardly made them any better.. One team going forward, the other going back…
I dont think Pep is scared to give players a debut…..I just dont see City entertaining anything that will take more than 6 months to come to fruition. So that rules our kids really…I wouldnt be surprised if he's gone by the summer is over should they finish 6th
For me Citeh have made serious investment, like no other club in the World, with their academy. I have doubts if this investment will see a pathway to first team football or if it is just to supply players for their sister clubs in Australia and New York. They have 4-5 seriously talented kids (all bar one bought) and if Pep doesn't give them a chance then it's time for me to criticise. what he hasn't appeared to do is improve them, specifically their mentality. In Poch's first year you could see him working through our squad identifying and disposing of the dross.
City is playing at home. Their players are more experienced and more expensive then ours. Still no clear signs of when Lamela will be back. So I am going to have to retract my earlier prediction of 9 nil to 6 nil with Kane (4) and Alli (1) and Silva (OG).
Jesus is coming
Gabriel Jesus is a very talented young player, but if he's anything like other young ones coming to Europe he will need a lot of patience before he can be trusted to be a threat on regular basis. Would be rather crazy to throw him in vs Spurs.
Fun fact: We've never won 7 in a row in the PL
I was quietly confidant before the Chavs game and more so now…Can't see anything else other than a comfortable win
Seeing the City CBs trying to soak up pressure for 90m would be ultra-comedy!..Meh….. It's purely hypothetical anyway with that charlatan Guardiola in charge… He'll stubbornly keep faith in his system… I mean, it's only a matter of time before the rest of the EPL wake up to his might and start to role over for his god-like genius on a weekly basis.
I think they're playing with us!…I know Managers/Coaches sometimes like 'mind-games'… but this is the first instance of the FANS doing it!