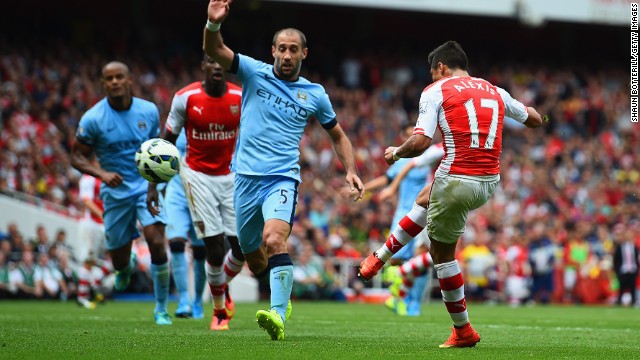 I've got to admit, I am feeling a tiny bit more confident than I was at the beginning of the week. Not that that means anything these days.  I did have a chat with a gooner this week who thought they could easily not turn up on Sunday, and they would have no chance. So between that insight and Pep's ever changing strategy anything could happen. Draw anyone?
COME ON CITY!!!
Referee: Martin Atkinson
Assistants: G Beswick, A Nunn
Fourth official: R Madley
Martin Atkinson record by matches: Manchester City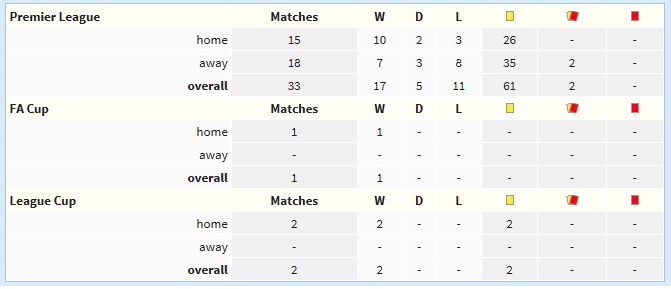 Cech
Bellerin – Holding – Koscielny – Monreal
Xhaka – Coquelin – Özil
Walcott – Sanchez – Chamberlain
My favourite
Just keep shooting at Claudio Bravo
And the rest…
Walcott hasn't been great recently but this is the kind of game I can see him excelling in…Pep leaves so much space in behind.
Martin Atkinson is the referee for this. Had a horrible game in the Sunderland-Arsenal fixture back in October.
We all know what to expect from Pep.He won't deliver something new for this one.Our defence will be on test and if we let them to play their typical game,we can be in trouble.On the other had,i'm pretty sure that we"ll score some goal,they are **** in defence.
Must win game now…
This week's been ruined by a horrific couple of days of football. Please don't ruin Christmas as well Arsenal…The lads should be chomping at the bit to redeem themselves from yesterday…I'm really in two minds about changing up the team. Happy to see Ox dropped for Iwobi, but I don't want to drop old Theodore. Got a feeling hell do well here. Özil needs to get his **** together, that's the most important thing for me.
They could have been missing De Bruyne, Silva, Nolito, Otamendi, Sagna, all of them. Doesn't really matter if the right Arsenal doesn't turn up.
This game has a scored draw written all over it…Don't expect much.
Things are still going a little bit too well for my liking…3-0 City. Guardiola resurgent
Agreed…Pepe must be thinking to himself.."who's next? Oh its Arsenal! …just the right time to play them…" I fear we'll gift them an early Christmas gift
Can't see we can win this game. We will be 9 points from top of the league after this game and we are under crisis
Have a sick feeling we're going to bend over for these lifeless c*nts.
Going with a win, 2-1 to us with Sanchez and Walcott scoring the goals. We really need a win, but if we drew its not the end of the world, its a very hard fixture. But the way tuesdays and wednesdays results have gone we need a good result…No Aguero which is huge, he always scores against us at Etihad. Their defense is shaking and still not convinced with the goalkeeper either. We can get at them.
Ramsey and Xhaka in midfield for me if fit otherwise Elneny. Coq just invites pressure on, you can't win a battle for possession with a guy who can't pass more than 5 yards…Up the pitch I'd go Iwobi, Alexis and Theo. I know Theo isn't that reliable but honestly if they play against us like they tried with Leicester we'all absolutely murder them on the counter. No Giroud and no Özil on the wing.
Play like we did v Everton and we will lose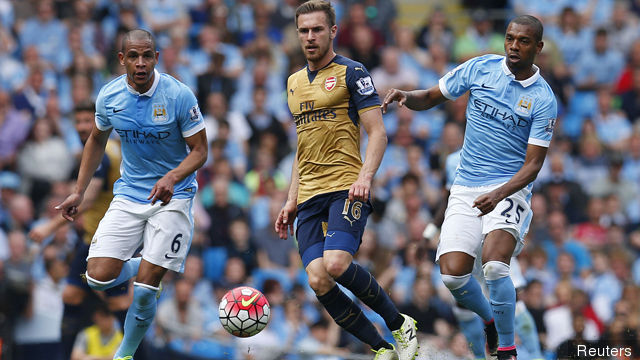 Looks like people are getting a bit carried away with the suspensions and injuries…City are still able to put out a very dangerous attack, although defence looks weak…Hopefully Giroud will get enough time here, has a good record against them.
Hopefully Alexis steals one of the loose balls that Stones and Bravo occasionally drop…He's already scored twice in PL from such situations: vs. Chelsea on Cahill pass and v. B'mouth on Cook's error
No better time to play them, but it's the kind of game I can see form going out the window. Similar to when they played Chelsea, City couldn't buy a home win and Chelsea looked unbeatable. Chelsea won, but City outplayed them and should've had it wrapped up by half time. We need to be resilient and not give anything silly away at the back. It'll be backs to the wall and I expect we'll need a bit of luck, but City will leak a lot of chances. A draw would be a good result.
Can't see us getting anything from this game. We missed the boat vs the Toffees to get some points.
Easy win, trust me
3-0 loss…IF we manage to win this one after the Everton setback, I just may sit up and take note that this team has the mentality to challenge for the title…Who am I kidding though? Did you see our manager?
City are really poor at the moment, 4 wins in 14 or something like that and shipping goals left, right and centre. They'll probably enjoy playing us though because we both have similar styles, but we really need to go there full of confidence and exploit them. Wenget will probably set up conservatively, so lets hope we can replicate that 0-2 win from the season before last…This is the chance to prove the doubters wrong and regain some credentials, so go and do it
Games against modern Citeh are at the very least always fun to watch…If the ref decides to not give them 8 offside goals and not deny us 4 pelanties, we should win 7-3.
Need three points. If we go behind City and drop into 4th I see us more looking down than up and that's a dangerous position to be in.
City will be buoyed by their victory against Watford and will be hoping to put things right at home after defeat to Chelsea…We need to be vigilant in our approach to this match. Soak up the initial pressure and gradually start pressing them upfield to force errors (which the much maligned City defense will oblige)…If we go into the break level we'll have too much for them on the counter in the closing stages, provided Arsène has applied the same tactics to our victory there two seasons ago…No scoreline predictions but I"m confident in this much, we will win
The city midfield are gonna outwork and out fight us unfortunately, their creative players silva, de bruyne, gundogan, are either faster or work harder than our creative midfielders Özil and xhaka. Plus their laziest midfielder toure is stronger than our hardworking midfielders. Plus to cap it all, the best def midfielder fernandinho can out pass ours le coq. Its times like this i wish ramsey was actually capable of having a decent game. Elneny can kind of pass the ball, is kinda good defensively and athletic, we need better. Usually in other teams, this kind of match is where the manager knows the other team is better and adapts his tactics. This is why certain managers seem to have one on wenger despite almost always having worse teams than him.
Gundogan is out for the season, Fernandinho is suspended as well as Aguero. Their midfield trio will probably be Fernando, Toure, Silva with KDB and Sterling flanking Iheanacho…We are certainly capable of beating them, but I wouldn't put it past us to completely fold if City apply strong pressing and nullify Özil.
It will be an open game for sure, so we need to get Özil on the ball as often as possible because we don't have a better player at finding gaps. Alexis is nailed on to score IMO.
Sucks having to wait till Sunday for this after a poor defeat…Compared to them we have basically everyone you'd want to start available, no excuses.
It's two teams who score a lot and can't defend so it should be interesting!
City, just like Everton, haven't been winning lately and many teams have exposed them defensively so you'd hope vinegar has done his homework. If we start off like we did at OT and stand back then City will destroy us because they have too many good players. If we start off confidently and play at a bight tempo then i think we can get a draw at least…Head says 2-1 heart says 1-3.