West Bromwich Albion v Manchester City
Barclays Premier League
Monday 10th August, 8pm KO
Live On Sky Sports 1HD
Referee: Mike Dean
Opening Day…That first day of the new season where the league table has been reset…no one has made a mistake…all the players are preparing themselves for career seasons…every team can push for the Champions League…the replica shirt is fresh out of the carrier bag…the match balls are newly pumped up…the manager is a genius and being touted for England…that new signing that is going to take your team to the next level…even the sun is shining…and City aren't even involved.
Yeah, playing Monday night is an anti-climax. Missed is the warmth of the August sun as thousands don their new shirts, the club shop does record sales, heading to the pub near the ground for the first time in months, looking out for the familiar faces who you only know by sight, the grass seems ever green and the beer better. Instead it's replaced by an early finish from work, a rush to get to the match or the silver medal of being forced to watch on television.
The pessimists are already worried about playing catch up, even if it is West Ham who are top by virtue of goal difference…they'll be no catching them now. The threat of national television, with the entire league focused on one game to magnify that fear of embarrassment and Jamie Carragher and Gary Neville given hours in which to dissect your every defensive vulnerability. In addition it seems that City just never seem to play that well on Monday nights. Of course, let's be grateful to Sky Sports that it's 'only' West Brom and that they didn't send us to Bournemouth or Southampton on that (original) opening day.
Actually, playing Monday might help City, if last Monday lunch time in Vietnam is anything to go by. Of course, Sky conceals their propaganda ministers Carragher and Neville in studio's somewhere hours before the game rather than on the field as the game should be kicking off. The Vietnamese language is an improvement on listening to Carragher!
Pre-season has become ever more a challenge to determine its worth as City jetted themselves off to Australia with stops off in Vietnam and Germany on the way home. City fielding a mixture of first and youth team players, minus the internationals who forever seem to be playing in summer tournaments and the lads being shipped off to Italy in cut price deals, didn't really tell us anything that we didn't know.
We learned that, yet again, our established first teamers will need the first half dozen games of the season to get into it, our left backs cannot defend the cross to save their lives and Real Madrid's strongest XI are much stronger than our EDS lads (for now). I do miss the pre-season trips to Shrewsbury, Port Vale, Doncaster and Wrexham just a little bit. The players we saw when we got there not so much. There were a few special performances from the EDS to salivate over and fingers crossed that they'll be given their chances this season.
A special mention to Nike for designing a shirt that isn't completely awful…but what about the lads who will be wearing it? As I type this the club have made two major signings whilst three players who were involved in the last season's squad have left with more likely to follow.
In the outgoings James Milner's semi-retirement has been well documented as he has chosen to forgo winning trophies, playing in Europe and a bit of extra cash for the chance to play centre midfield for a Premier League mid-table side. Harsh on Milner yes, he's done superbly for us throughout his time at City, earned his medals but I think at 29 if he'd have been foreign there wouldn't have been the same fervour about his move. He was solid on the wing, reasonable at full back and up front but in the middle of the park, partnered with Frank Lampard, Yaya Toure, Fernandinho and/or David Silva, he was on occasion awful and his technique, primarily the ability to pass a ball to a blue shirt, was often exposed.
Also leaving us was Frank Lampard, who I boldly said last July would never play in a City shirt, and he leaves us having contributed massively to the team. Like a summer romance he won us over and left us wanting more before heading into defending Bermuda triangle that is currently New York City FC.
Stefan Jovetic returns to Serie A as the latest in a string of expensive forwards that have done well for other clubs but, in part due to injury, have failed to achieve for us. Eight goals in 30 games isn't the worst return for a striker but Liverpool at home last season aside how many times did those goals have a direct influence on the three points? Many he scored were off the bench when City were three or four goals to the good.
Edin Dzeko also departs for Serie A in the form of Roma. The scorer of important goals and part of some of the biggest moments in the clubs history but sadly too often showed us why he fell out of favour as he favoured an extra touch or five instead of shooting or wandered aimlessly like a lost shopper in the Arndale at Christmas time. However, good luck Edin, you played your part in the recent part of our history and I hope you'll be fondly remembered by City fans in time.
On the incoming front whilst it's been light on numbers it's been heavy on Media mud-slinging as 20 year old Jamaican born (copyright The Mirror) Raheem Sterling left his boyhood club for which he'd played for five years in search of his mercenary petro dollars! Ignore the fact that he was leaving to play in the Champions League. Ignore the fact that the side he was joining had won the league twice in the last three years. Ignore the fact that the side has collected both FA and League Cup's since 2011 and right now Sterling is leaving a club with better prospects in every one of the aforementioned departments. Oh and as for the money, if someone is offering me treble my wages (ok if someone offers me an extra tenner) for better working conditions then who isn't going to snatch their hands off. As someone from Blue Moon put it "leaving Liverpool is like trying to leave Scientology, death threats, abuse and celebrities insulting you."
As for the football aspect of it, Sterling has hit the ground running, three goals, five assists in four games; he's added width, pace and an eye for goal. Last season we lacked width and pace, especially when sides were happy to park the bus at home to us. In addition it will give us a rare counter attacking threat that has escaped us since the departure of Craig Bellamy.
Transfer saga's are like buses, once it's gone by, everyone starts waiting for the next one and City endured their second saga of the season (we've been linked with four players all summer and they've all be protracted negotiations) with the arrival of Fabian Delph. The 25 year old who'd managed 107 appearances for Aston Villa in six years and captained the side in the FA Cup final must have one of the bizarre transfer dealings.
Six months ago, Delph was heading into the final months of his contract and against what was expected he actually signed a new four year contract. However, Delph had a clause put in that said he could leave for the cut price of £8m should a Champions League club come in for him. So when City triggered the clause and Delph agreed personal terms it must have been a surprise to both parties when he apparently changed his mind on route for a medical. The media hailed it as a great moral victory for modern football, the third against City already this summer, and how football had won out over money. So it was even more bizarre six days later when Fabian Delph was unveiled as a Manchester City player en-route to Melbourne to face Real Madrid. As an attempt to troll both Aston Villa supporters and the British press its certainly up there!
Team Selection
You've got to love Manuel Pellegrini and his penchant for the straight bat in his press conferences and I will certainly miss it when the Pep media circus descends on the football club next season. However the one thing that is does make difficult is trying to pick a team for the trip to West Bromwich Albion. According to physioroom.com we have currently three injuries in Delph (hamstring), Toure (head injury) and Gael Clichy (muscular injury, the kind that City have become famous for) with only Toure out of the three likely to make the game. Of course, that doesn't tell us the full story with Sergio Aguero, Pablo Zabaleta and Demechelis having missed pre-season in its entirety due to the Copa America.
On that basis the full back choices become pretty straight forward with Kolarov and Sagna coming in at left and right back respectively. As poor a form as Vincent Kompany has been in the last 18 months, he is unlikely to drop him so it's whether he is partnered by Mangala or Jason Denayer. Of course your dropping your £30 million centre back in favour of a lad from the youth team screams failed transfer but they've given Denayer a new five year contract and now is the time to play him if they are serious about promoting their youth products. He's a league winner with Celtic (aren't we all?) and a Belgium international but on the form of pre-season seems to be one of the few bright spots from it.
Midfield is not quite so clear cut. The seemingly forgotten man Fernandinho also went to Copa America and with Delph injured leaves you a midfield of Fernando, Yaya Toure, Bruno Zuculini, David Silva and Sami Nasri leaves us either the two extremes of being frighteningly lightweight or immobile. Now if you are resting Aguero, and bearing in mind Bony hasn't played any football in pre-season if you play him up top that means you are going to have to use both Navas and Sterling on the wing. That leaves you with Fernando, Toure and a very deep Silva in the middle of the park and although Fernando says he played much of last season injured I don't have much faith in his ability to push Toure and Silva higher up the field.
The real positive is Sterling, Jesus Navas and Bony as a front three who will not only be lightning quick on the break, will not only allow the ball to be held up and give a target man for crosses but allow City to press West Brom deep inside their own half preventing them from bringing the ball to half way unchallenged. If City can do this, they'll win the ball frequently and often, especially if they pressure Lescott, which means that instead of starting in their own final third in possession they will start, at worst, on the half way line.
The Baggies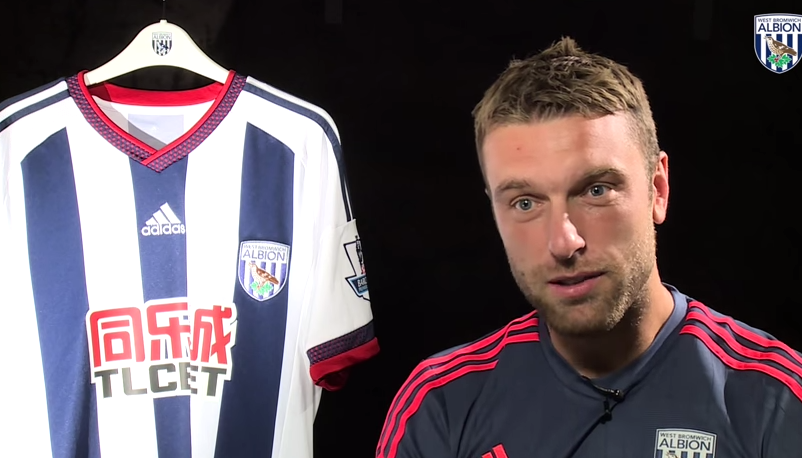 I'll be honest and say that I've had to Wikipedia West Brom's summer transfer dealings and I was saddened to see that they've decided to release Georgios Samaras, Stuart Pearce's gift to English Football.
On the incoming front, and remember this is the job that Tony Pulis waited for, he's signed James McLean from Wigan for £1.5m, Rickie Lambert from Liverpool for £3m and James Chester from Hull for a staggering £8m! West Brom, a side that has won plaudits in recent years for trying to play their football in the right way, regardless of division, are now being turned into the land of the giants that Pulis craves. And they have the cheek to say that we are ruining football with money!
Prediction
I'm going to be brave and say that we, and by that I mean Sterling, will get off to a flyer and we'll win 3-0 against Pulis' aerial assault.