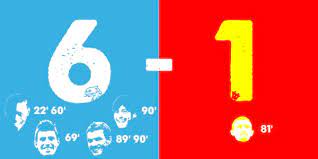 I hate this game, but fortunately I have a friend visiting tomorrow lunch time and then drinks with the in laws. Problem is they are at The Lowry for a matinee. I love Pep and don't want to get involved in any bitching about him, but I still think he doesn't understand what this game means to us. Apart from that, I worry that this is a 12.30pm kick off and every time the away fans are so pessimistic, it never works our well.
COME ON CITY!!!
Referee: Michael Oliver
Assistants: Stuart Burt, Simon Bennett
Fourth official: Robert Jones
VAR: Darren England
Assistant VAR: Dan Robathan
Team Selection
De Gea
AWB
Lindelof
Dumptruck
Bailly
Shaw
Fred
Mctominay
Fernandes
Ronaldo
Cavani
And the rest…
Another unpleasant 90 minutes to look forward to.
This could get very ugly.
I haven't seen any progress in this United team, nor any signs that we can even give City a game. I will be turning my phone off for a couple of days after the match. Ronaldo surely can keep getting us out of the shit can he?
3-0 City. Not quite enough for Woodward to sack Ole as it isn't 4-0/5-0, we go again vs Watford.
They're going to make us their bitches (again), could be worse than the 6-1.
Has any home team ever done back to back 0-5's?
9-1. That's not a score prediction, that's how we'll set up.
My prediction? ……..PAIN!
I believe in Ronaldo!
Start of a run. I think we wont lose. Defense is a big, big worry though.
Let the counter attack commence. It'll be interesting to see if he goes with 5 at the back with Varane probably out.

Oh, we're losing.
The board dont have the time to watch the games and performances. They probably look at the results and make decisions. Ole is here to stay.
This is not going to end well. Or start well.
Hope city attack Bailly and forget Maguire exists. If they go mad down our left side it's curtains early doors. They're always better against us at OT too.
The only positive is that it's a Saturday 12:30 kick off after City have played Wednesday night. Hopefully they aren't at it.
With Oles luck we'll probably win this through a Kevin De bruyne own goal after Ederson is sent off and Gundogan pulls his hamstring. Watford though that will be a real test.
Brace yourselves for another hiding. As soon as we lost Varane we went to shite, I can see City cutting through us at will, this could get very ugly.
Theyll probably hammer us and it'll be good riddance to Ole. So not all bad. Win win I guess. Either we win and you have temporary joy from winning a manchester derby or we lose and you expect Ole gets sacked.
Of course Maguire will enter the pitch riding on a camel followed by 30 handservants on Saturday. I would rather play Jones any day of the week. £80m ffs!
Man City and Pep especially will really be looking forward to this Derby against such a error prone group of United players who will likely be without its best defender in Varane.
Will be shock result if City don't win by at least a two goal margin.
City moving the ball slowly and having no striker could really save us on Saturday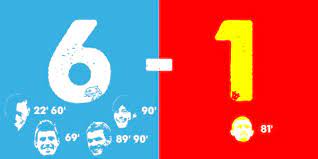 Didn't City just lose to Palace?
Already on the verge of soiling myself
Think it's time Pep beats Ole in PL after a long time. Just hope it's not a humiliation as big as Liverpool. 3-0 City would be enough for Ole to get the sack. Though he won't as they don't have replacement for him. Team picks itself as someone already said, hopefully 5 at the back and 2 defensive midfielders make us harder to break.
It's funny how people are so negative about this match considering we've been in this situation many times before. If the team play as open as they did against Liverpool this will be another massacre but I can see it being a very defensive performance where we sit deep and counter as usual in these games. Palace just beat City with a counter attack strategy. If they can do it so can we. It really won't be pretty but then it never is with Ole's brand of football. Plus we have Ronaldo
City have been poor from their standards so far this season but looking at the way they play and the way we do this could get ugly. City literally play with 6 midfielders and will run rings around us.
City aren't looking great. I'm thinking draw.
Sterling will finally score against us. That's how bad we are now.
Just wonder if Ronaldo might have that RVP moment in a Manchester Derby
City are far from great, shame we're just shit at the moment.
Ole will be very scared to lose and we'll go uber defensive. Maybe can snatch a draw.
They might win but they won't destroy us like Liverpool. They don't have the same level of threat attacking wise.
I dont know, i just have a feeling this is going to get ugly and it will lead to Ole getting the axe.
Pep usually screws up this game. So expecting a draw.
This game will further illustrate just how far behind the top teams in the league we really are. 3 years and close to half a billion spent, and we're further away now than we were under Mourinho. It's not even like we need to replace half the squad, Tuchel showed at Chelsea the difference an elite coach makes vs. a bunch of bluffers that we have currently.
" Getting sacked in the morning " will definitely make an appearance!
Lambs to the slaughter. 3-0 to City, at least. No Varane, no chance.
City have been so poor as of late at least we have Ronaldo to bail us out
Hopefully this is the end for the intern but not holding my breath. Don't see a positive result here at all.
We'll beat City on Saturday and there'll be more upset people on here than on Blue Moon.
If they score first and early it could get brutal again with the crowd and such and we'll go on and get hammered. I reckon if we do sneak the first goal in we might actually get a result out of it.
You just know if they score early it'll be "Ole's at the wheel" chants from the away end for the entire game. It's going to be absolutely toxic in OT on Saturday.
Ole has Pep's number. Will turn him over again. Start of a big run.
Undefeated in last 4 league derbies.
Ronaldo will win it for us. Have faith.

I wonder if we will go three at the back against a team without a striker.
Lindelof is doubtful. We are one injured defender away from the return of the mighty Phil Jones
This will be another beat down just like the Liverpool game…City probably wont score 5 but they will control the game and win with relative ease.
Back to a 4231, we'll beat them 3-1. Ronaldo and Rashford with the goals.
They're due a performance against us
Celebrating head to head records but no trophies…..we are the noisy neighbours now??
Ole will be here next year