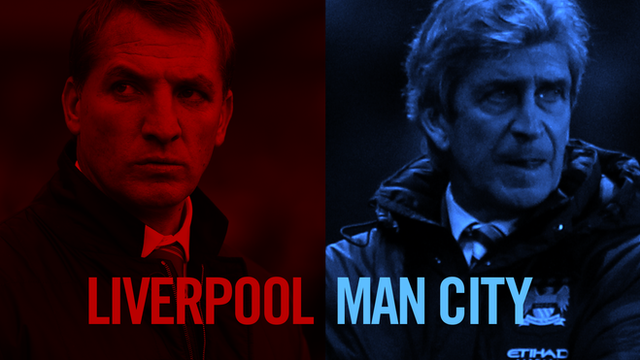 We are back to the Etihad for the first time this season, and what better way to introduce the class of '14 than giving the dippers a serious seeing to. I am a little bit shocked by the lack of opinion on RAWK, and what is there is not bad (with the odd exception). The general feeling is that the most they are going to get on Monday night is one point. Overall a lot of negative feeling about this game. Enjoy the comments below, they are taken from three Scouse boards.
COME ON CITY !!!
Team Selection
                        Mignolet
Manquillo…Skrtle..Lovren…Moreno
Gerrard
Henderson………….Can
Coutinho
Sturidge…………Sterling
My Favourite
Forgive my ignorance but is this not the bunch of billionaire playthings that we opened a six pack of whup ass on in the good ol' US of A a matter of weeks ago?
And the rest…
Moreno is a cert to start I think. Because of this I think Brendan might not want another new player starting so I imagine Allen will be chosen ahead of Can.
I quite fancy a Can duel with Toure. Baptism of fire and all that.
City are full of size & power from front to back. I think we will need Jordan, Emre & Steven in the midfield.
Wouldn't throw Moreno in against City. He's not played competitive football for a while and hasn't played with the team yet so it's a bit unfair on him
Hendo and Can both box to box, supporting Gerrard and Coutinho. Sterling can roam wherever he wants, sturridge up top
And pray they don't play Fernandinho, Fernando and Toure in a midfield combination. That is just a brutal combination. If we want the 3 points we'll have to score more then one since they will definately score from a set piece.
Come on boys!! Big performance needed in this one .. happy to get one of our most difficult games of the season out of the way early
I'll get slated for this but I'd go 4-5-1.
Keep it tight Jose style & smash & grab on the break.
Bring Markovic on in the 2nd half.
I agree, we aren't in the form of last season and don't have Suarez, I'll be surprised if we go there and attack.
Lucas,Gerrard and Hendo as a middle 3 with 2 wide men capable of defending. I wouldn't bet against Coutinho being left on the bench for this one.
If we can get a draw it will be a brilliant result. If we can win it will be a truly remarkable achievement. A loss will not be the worst thing in the world considering we scraped 3 points in our opener. But if we can avoid defeat it's reason to celebrate.
Sterling on the right so he can square up against Kolarov.
Our midfield should be able to at least match that of City's (Yaya, Fernandinho, Fernando). Their main threat will come from Silva and Jovetic.
With Moreno and Manquillo we should not be outdone for pace in the FB areas by any of Navas, Silva, Nasri, Clichy or Kolarov.
We CANNOT sit back and hope to counter, recipe for disaster that.
Our finishing will have to be on point as Hart and Caballero are top keepers.
There is a possibility that Brendan may attempt to surprise City by dropping Coutinho back into midfield with a front 3 of Sterling, Sturridge and Markovic, doubt it though since it's an away game.
They'll want to hammer us after Anfield last season. Could work to our advantage. I'd be more than happy with a draw though and that's the hardest fixture of the season out of the way.
I'd kill for a draw to be honest.
A point would be fantastic.
Can't see us getting anything to be honest though.
Hope Brendan is hard at work plotting a tactical mastermind formation to beat City.
The defeats at Ethiad and Bridge while expected last year cost us come the end of the season, I fancy we will be up for this one and I'd love us to nick a famous win.
Ultimately I feel City will have too much for us and we'll lose by a couple of goals
Want a win, screw a draw
Last year that negrado shot killed my soul
The Mancity look very strong physically in the middle with Fernando Toure Fernandhinho.
That triangle is very strong in the tackle and with Toure have a massive threat going forward.
Id take a point right now. Sterling going to be key for us.
Seven of the players behind the front three can all defend at the same time create a goal or score a goal, this is just my opinion, also there is an element of surprise for Pellegrini.
Further I dont think this is an experiment as we played this system last season and the players can adapt to it.
No idea why people are coming out with new formations etc.
its man city, not rotheram. we wont and cant be experimenting
lets just play our normal way and team, and lets face it we have been the better team last 4 occasions at least now.
only changes I would make is Allen in for Lucas, and Flanno if fit for Johnson. If not stick with Glen, to big a game to throw Moreno into for me.
Play with no fear and I am sure you will do us proud, onwards
3-1 Citeh.
I'm unsure how i feel about this game, i think it may suit us playing away and hopefully catch city on the counter , especially if we have lallana and markovic back. i watched city play newcastle and if newcastle had a daniel sturridge up fron they would have took something from the game, only hope is we do not give away stupid goals and put us on the back foot!
My target would be seven points from the first three games. Also I am happy to see that Oliver is the ref.
Looking forward too this game, I think this will be a 2-0 win to us
Last year we had Suarez for this fixture but no Sturridge. Skrtel and Sakho were the centre back pairing.Aly Cissokho was lb.Aspas and Moses came on as subs.Gerrard wasn't available through injury.And we still outplayed them! (But lost of course).
Quietly confident for this one!
I am quietly confident for this one as well.
Allen is the key for me in this one as he has already proven that he could keep Yaya Toure quiet and annoy him all game long with his movement and buzzing around him…
No Yaya, no winna for Citeh
Newcastle kept getting at them on the counter without really testing Hart so hopefully our quick counters can do more damage. Aguero back will be a nightmare for our CB's. Gerrard will need support or we'll be overrun through the middle like Wanyama and Schneiderlin did all match yesterday
We have always played City well, may not have always got the result. Their style is also a bit more open and that suits our pacy attack.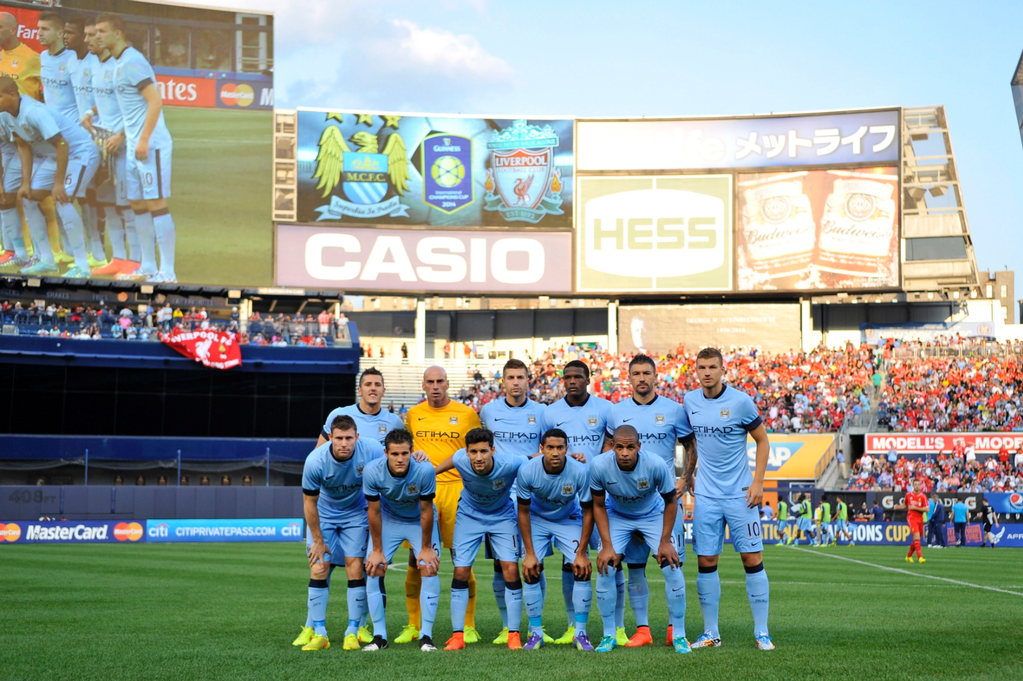 They could go for an overly physical midfield and that is something they can now do better than anyone else in the league.
City will likely go 442, with Silva and Nasri on the wings, both of whom prefer to come central. They rely heavily on steaming overlapping fullbacks for width – but even then, with Clichy at right back it makes them less of a threat on that side. In any event, Henderson/Allen/Can on the sides of the diamond should have enough in them to cover the flanks, and don't forget Coutinho and Sterling are very good hasslers on their day.
Think the only way we get anything from this game is playing for a draw, that may result in us taking all 3points..
I don't think we're ready for City yet, so the strategic part of this game will be huge if we want to better last seasons point total and get something..I'd also like to see Moreno and Can start over Lucas and Glen, 4-2-3-1.
I also don't think that post Suarez much has changed in how we must approach our football. We can't play City and Chelsea on their terms – they are too good for that, and the most obvious way to unsettle them is to do exactly what they are least comfortable with, and that's attack the shit out of them. That's how we did them, and most teams last year.
Brendan figured out, 4 games in a row against Citeh, how to play against them (2 draws, 1 loss 1 win).  Even last year, when we lost there, we could have won or at least drawn.
It feels strange having such a huge game so early in the season with the transfer window still open
We'll twat them.
Take a draw leg it, go to white hart lane smash spurs. Simple
Looking forward too this game, I think this will be a 2-0 win to us
Balotelli to get sent off after scoring last minute winner
Very interesting. The biggest factor in this game is how we deal with there midfield. Fernando, Fernandinho and Yaya is outrageous.
HUGE game, even if only in the 2nd week. Need to improve greatly from yesterdays performance, need to be a lot more fluent in attack, especially with the likes of Fernando playing, but also having a defensive eye with their potent attack.
This is gonna be big, I can't wait for it. City are the main challengers imo and with good reason. They're a very physical side and we'll need to be solid defending. In terms of attack, I think we have lenty of pace and movement to create chances against the best teams around, so I'm not that worried for goals. Plus, I get the feeling Sterling will want his goal to make up for what happened last year.
I don't want us to come away with a courageous defeat. A draw would be a great result but lets take the game to them and see how good they are.
We will take these to the f*cking cleaners
a very difficult game and not confident after the saints game. I expect Allen in for Lucas. We will have a better bench though as Moreno is now available but there is no way him and Manquillo are starting. Their main weaknesses are 2 in midfield with Yaya not the most industrious at times, and the lack of pace from Dimicheles. A pressing 4 3 3 with Gerrard Allen and Henderson would be great. Hopefully Markovic can make the bench. I'd take a draw all day long..
don't see us losing this one
Same here, I think we'll dominate this game
Very tricky game to call, we have to play a lot better than we did in the first game and I believe we will, but City aren't quite firing on all cylinders either. I know it sounds silly but it all comes down to which team can get the sh*t together quickest, I have a sneaky feeling we can win but it will be tight.
If we win this it would be a MASSIVE early victory over them.