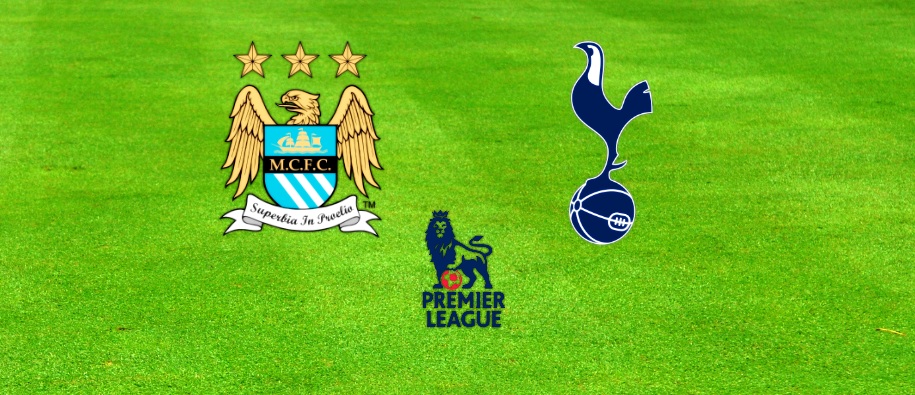 The (only) good thing about the international break is that everyone has been bored, so there is a lot of chat about this game on the spuds forums. Slightly off topic, but it makes me wonder – are there any fans out there who actually enjoy these breaks?  Once again I don't see much confidence from the away fans, there is a lot of chat about team selection and who should play up front, Ade or Kane. They are also taking some comfort in the fact that a large number of our squad have been away on International duty this week, and will be too tired to put in a shift. Still, it's hard to find anyone predicting an away win. Once again I have used all my powers of restraint with the pictures. If I was talking about fighting cocks anywhere else, they would be completely different! I had a dream last night that I missed the game and when I checked online, the score was 5-0, which is great continuity from last season…Enjoy
Now, COME ON CITY !!!!
My Favourite
There will be buggery
Team Selection
Lloris
Dier – Kaboom – Verts – Rose
Capoue – Benji
Lamela – Eriksen – Chadli
Ade
And the rest…
Only way i see us getting a result against them is by damaging their team's bus before the match.
Kaboul says 'No More Shame!' Let's smash these twats. Alternatively – anything under 3 goals would be ideal, and as long as we play positively with intent and some sort of system. Lloris, Eriksen, Lamela and few of their better mates
We aint losing nothing!
It's doable. Fingers crossed we don't have anyone get any silly injuries during the break, and put our faith in Pochettino
Lets hope Verts doesn't pick up a knock and it has to be Vlad v Aguero.
Be interesting to see if Man City play Joe Hart after they started dropping him.
I am not sure we're going to be ready for the likes of Man City, seems a little too early in the project, I imagine we'll set up like we played against Woolwich after we scored, pressing high against these boys would be very high risk.
The only glimmer of hope I have, is that Pochettino's Southampton always played well against City, home or away. Fingers crossed he can translate that to us.
We need to stop Silva before we worry about anyone else. If he turns it on and we let him have space in between our defence and midfield we are in big trouble.
The positive thing is so far we've been good at taking play makers out of the game. Silva is on a different level of course but with our midfield getting better every single week with this pressing and harrying I don't think minimizing his impact will be our biggest challenge. I'm worried about balls into the box, sure Vertonghen and Kaboul have dealt superbly with them so far but they haven't faced anyone like Dzecko yet… And with Dzecko's record against us it does scare me.
Is that the Same Edin Dzeko that dived to get a penalty and Kaboul sent off at ours last season? The red was rescinded, so was it not a foul and therefore not a penalty as he was the last man? However, the damage was done. I sometimes think that is the difference between Spurs and teams like Chavs, Liverpool, Arse, Man U and City.
They all have players that go down professionally and win penalties. They all have players that make tactical fouls to stop breaks, In other words, they all have certain players that will cheat to get results.
Arse now have Welbeck who falls over in the box with the slightest touch. He's been at it full time at Arse (went down in dangerous areas on numerous occasions when we played them, but it didn't work) it won't be long before his diving pays dividends for them. He managed to salvage Manure a point at ours with his simulation skills.
To be honest I don't think anyone can touch City or the Chavs, I mean the financial doping has paid off hasn't it. How can a club with 41,000 capacity afford to pay the wage bill and transfer fees it does? However, a win is not beyond the realms of possibility, but I would be very happy with a draw. As long as we go up there and give a good showing.
You may laugh, but I thought they were there for the taking last time we lost 6-0. I mean we started brightly and could have scored. I just don't think we had the belief. However, our defending was dire.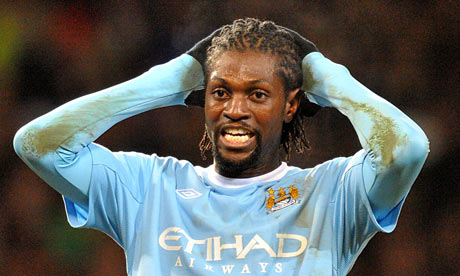 City are beatable, but do possess some dangerous players with tremendous quality, but so do we. It's about time they started showing it more regularly. COYS! After the shitty international break of course
Rather we talk big and get smashed than be completely defeatist. As long as it's not a cricket score I'll be happy
After City were brilliant for 20minutes, Dembele then bossed Toure at WHL last year in the first half. The joke red card and penalty gifted them the match after half time so who knows what might have been
City do not look unbeatable at the moment. Think we could give a good account of ourselves but they just have so many players that can kill you out of nothing.
I've always wondered where we would have been today if Abramovic and Sheik Mansoor never existed on the face of the earth.
Luckily, Toure hasn't been firing on all cylinders this season so Capoue and whoever partners in the middle might find the game easier than previous seasons. I think our biggest weakness will be through the wings, as City play quite wide with the fullbacks really pushing up.
Best away day I have been too. Off to this one. Always a decent away day at the Manchester clubs.
Agree Lennon would be a good shout defensively. Same with Chadli imo. Can't carry two tiny dancers in the form of Eriksen and Lamela
I cannot fucking wait to see us play again, I genuinely think we will not loose this game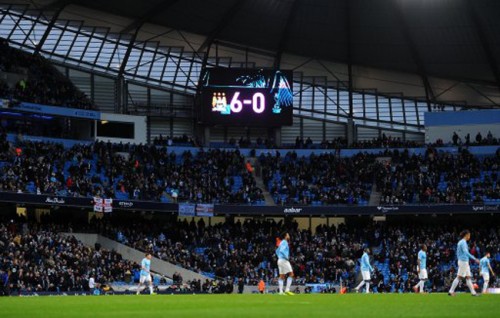 Just want a decent performance, and a bit of luck so we don't get tonked again. A draw would be a decent result.
Chelsea and Man City fixtures are the only ones i really dread this season… both home and away.
A couple weeks ago Roma pretty much wrote the manual on how to boss City at the Etihad, but I don't think we've got the players they do. Like others have said, we need to play exactly like we did at the Emirates.
We can get something out of this, City hasn't been at their best this season.
If Kaboul and Lloris continue to play well we have a shot of getting something from this game because City haven't quite hit their stride yet. I would hope MP goes out with a similar game plan as the one away to Arsenal.
Should be a tough 2-1 victory for Hotspur
Toure would probably be rested. Lampard is expected to start – cue the customary 30-yard deflected goal
I'm so sure that we're going to get an absolute spanking that we might actually end up scraping a win!
Good test, relishing to see how our boys fare in their first real challenge
They've got goals in them and we haven't, so I think they'll win by a street. I reckon Lumpard will play (and score).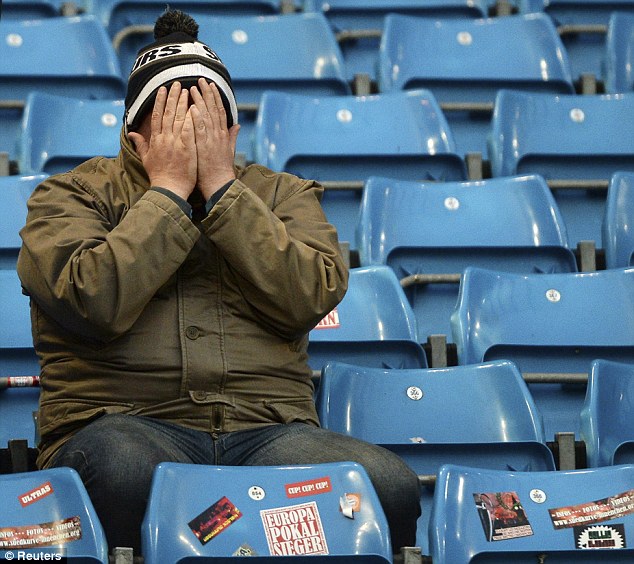 First PL match this season that I'm struggling to get excited about. City just don't feel like a proper football team to me any more. They're like the Harlem Globetrotters – just there to make retard tourists clap like semi-trained seals and dismissed by anyone who's actually into the sport.
The main problem Townsend will cause at citeh is to those sitting in Row Z
Townsend on the right, more like. Or Lennon, who also tracks back. That way we keep Kolarov busy with his defensive duties and prevent his forward runs, which are key to this Man City team. On their right flank, Zabaleta is not the same type of full back, he stays on his station more often than not.
Yaya Toure will not arrive in Manchester until Friday, and he may very well sit this out. Which is fantastic news.
I hate Townsend on the right – can't cross and always cuts in to shoot from improbable positions. Play him on the left and get him providing good crosses.
Their pitch is the largest in the premeirship 116 x 77 yards (2nd widest in the premeirship , one yard narrower than Goodison Park).
They attack their opponent in the wide areas, with their full-backs offering support, so I do think it's important we offer good protection to both Dier and Rose. We can do this by playing deeper and counter attacking swiftly on the flanks with Lennon and Townsend.
I want to start the game with three in the middle so as to combat their fluid midfield attacks from Toure and Silva. Capoue, Stambouli and Mason will be tested but I do believe in their work rate and defensive know how. All three have had an international break and will have spent time on the training field with, Poch and the coaches. Eriksen, Lamela and Chadli on the other hand, have all been away on international duty and coming back to an away trip to Man City, is a big ask. If the three regulars are fit, I would have them on the substitutes bench for this one.
Our lone forward for this game, I feel should be either Kane or Soldado. An out of form Adebayor, will be returning from Africa after two tough games against Uganda, so I think he should be a substitute for this one.
I do feel we should also take into account that City have a must win CL game on Tuesday, away to CSKA, therefore I wouldn't be to surprised, to see Pellegrini rest some of his big hitters that have been away on international duty.
The team selection and tactics is all a gamble I know. But with the game falling just after the international break, I feel it's a gamble worth taking bearing in mind who the opponent is.
I do think at times against the Goons, we were exposed on the flanks and City are better in those wide spaces than the scum are . I think Dier, especialy will need protecting. An extra defensive midfielder alongside Mason and Capoue could be something we should consider. And As I've said in an above post, Lennon and Townsend to make a five man midfield, by playing in those wide areas.
4-4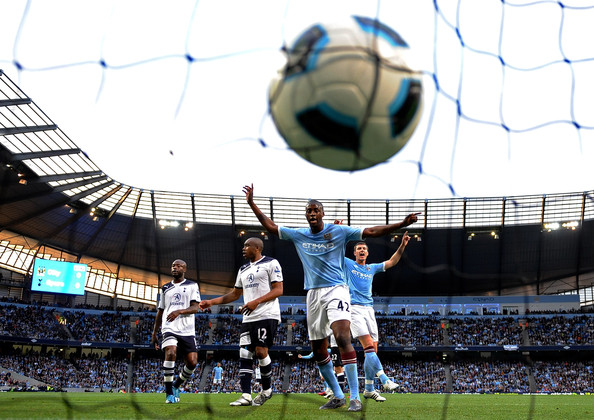 Finally
I found this nice little preview, which is worth sharing: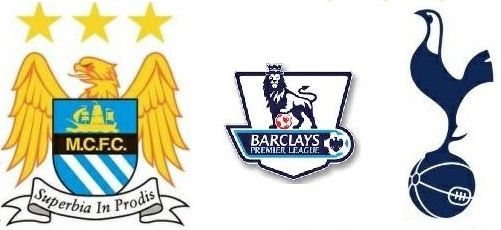 Manchester City host Tottenham Hotspur at the Etihad Stadium on Saturday 18th October 2014 (KO 12:45) in the 8th round of Premier League matches in the 2014-15 season.

City come into the match in second place in the Premier League on 14 points with Spurs in sixth place on 11 points. This will be the 149th time the two teams have met.

The first meeting came on 16th January 1909 in the FA Cup 1st round (today's 3rd round) at Hyde Road in Ardwick (City's original name) in a match which Spurs won 4-3.

The first League meeting came in the First Division in December 1910 at White Hart Lane and resulted in a 1-1 draw. Walter Tull, who was the first black outfield footballer to play League football scored Tottenham's goal. City won the reverse fixture in January 1911 2-1.

All the League meetings between Spurs and City up to season 1934-35 took place in the First Division.

The clubs were drawn together in the 1913-14 FA Cup 2nd round with City wining 2-1 at Hyde Road (City would move to Maine Road in 1923 and stay there for the next 80 years) and also met in the 1921-22 FA Cup 3rd round with FA Cup holders Tottenham beating City 2-1 at White Hart Lane.

The only League meetings between the clubs outside the Top Flight took place either side of the Second World War with City winning both Second Division matches in the 1938-39 season and taking three points out of four off Spurs in the Second Division matches played in 1946-47.

Spurs and City resumed their Top Flight meetings in the 1951-52 season.

The clubs contested the 1956 FA Cup Semi-Final at Villa Park with City winning 1-0 with a goal scored by Bobby Johnstone. City would go on to win the FA Cup that season, beating Birmingham City 3-1 in the Final at Wembley.

Tottenham Hotspur and Manchester City contested the centenary FA Cup Final in 1981. The match finished in a 1-1 draw after extra time after Tommy Hutchison had put City ahead but also scored an unfortunate own goal.

The replay was the first to be played at Wembley and Spurs won 3-2 with a brace from Ricky Villa and a goal from Garth Crooks. City goals were scored by Steve MacKenzie and Kevin Reeves. Ricky Villa's second goal was voted Goal of the Century and the match is one of the best remembered Finals of all-time.

The first of three Football League Cup meetings came in the 1992 3rd Round with Spurs winning 1-0 at Maine Road with a Vinny Samways goal. Tottenham also won the other two matches – a 4th Round match in 2003 3-1 and a 5th round match in 2007 2-0.

City had an amazing comeback in the 2004 FA Cup 4th Round replay at White Hart Lane after going three goals down to goals from Ledley King, Robbie Keane and Christian Ziege in the first half. City, who had been reduced to ten men after Joey Barton received a second yellow card, scored four second half goals from Sylvain Distin, Paul Bosvelt, Shaun Wright-Phillips and Jonathan Macken to win a memorable game 4-3.

Both Spurs and City were founder-members of the Premier League, although City have only competed in 17 of the 22 seasons played in the competition so far, while Spurs have been one of seven ever-present clubs.

Spurs have generally had the upper hand during this era with twenty wins to City's eight wins and five matches drawn. The 65 points Spurs have taken off City is second only to the points taken off Everton.

In 2009-10, Spurs did the 'double' over City with a 3-0 win at the Lane with goals from Nico Kranjcar (2) and Jermain Defoe followed by a vital 1-0 end of season win at Eastlands, which secured fourth place and Champions League football for Spurs thanks to a Peter Crouch goal.

The 2010-11 fixtures featured an opening day of the season match at White Hart Lane which finished in a 0-0 draw and a late season game at Eastlands which City won 1-0 thanks to a Peter Crouch own goal. During the summer of 2011, Spurs secured the services of Manchester City's Togo striker Emmanuel Adebayor on a season's loan.

The match at White Hart Lane in August 2011 ended in a comprehensive 5-1 win to Manchester City with Bosnian striker Edin Dzeko scoring four goals for the visitors, who were 2-0 up at half-time. Sergio Aguero also scored for City while Tottenham's goal came from Younes Kaboul.

The game at Etihad Stadium in January 2012 resulted in a 3-2 win for Manchester City. After a goalless first half, City scored twice through Samir Nasri and Joleon Lescott before Spurs made things level with goals from Jermain Defoe on the hour mark and Gareth Bale five minutes later. But a last minute penalty from Mario Balotelli secured the points for the home side.

Emmanuel Adebayor made his move permanent to Spurs during the summer of 2012. The teams met in Manchester in November 2012 and a Steven Cauker header put Spurs ahead after 21 minutes. City equalised through Sergio Aguero in the 65th minute and substitute Edin Dzeko secured the three points for the home side two minutes before the match ended. Spurs beat City 3-1 in April 2013 with Clint Dempsey, Jermain Defoe & Gareth Bale all scoring for Spurs and Samir Nasri scoring for City.

Jesus Navas scored in the opening minute to put City ahead at the Etihad in November 2013 and Sandro put through his own goal on 34 minutes. Sergio Aguero scored in the 41st minute to give City a 3-0 lead at half-time. He added another goal five minutes after the break and Alvaro Negredo scored City's fifth in the 55th minute. Jesus Navas completed the scoring in the last minute for a throroughly comprehensive 6-0 City win.

The game at White Hart Lane in January 2014 also saw a 5-1 City thrashing of Spurs with Aguero, Yaya Toure, Dzeko, Jovetic and Kompany all on the score sheet while Etienne Capoue scored Spurs only goal.

Overall, Spurs have won 58 games, City have won 56 games and the remaining 34 matches played have been drawn.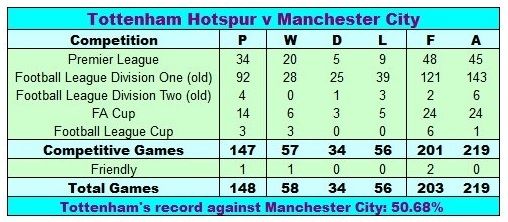 Complete Results of Tottenham Hotspur v Manchester City Matches 1909-2014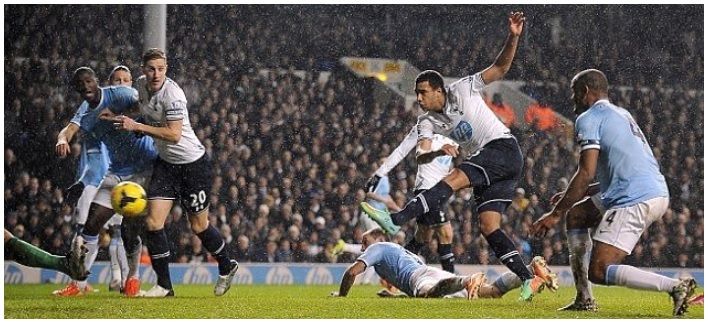 They Played for Spurs & City….

Emmanuel Adebayor
Clive Allen (Player with both clubs, Spurs development manager)
Jamie Atwell
Kevin Bond (City player, Spurs asst manager)
Ivor Broadis
Michael Brown
Jock Chaplin
Vedran Corluka
Bill Felton
Márton Fülöp
Foster Hedley
Chris Jones
Neil McNab
Bobby Mimms
Joe Moffatt
John Sainty (Spurs player, City coach)
Bert Sproston
Alex Steel
Paul Stewart
Perry Suckling (City player, Spurs coach)
Ben Thatcher
Paul Walsh
Charlie Williams
Clive Wilson
Alex Young