Portsmouth v Manchester City
Odds: Porstmouth 5/1, City 4/7, Draw 3/1
Premiership form: Portsmouth: LLL City: WW
Last competitive meeting: Portsmouth 2 – 0 City (14/02/09)
Sunday afternoon sees Manchester City defend their perfect Premier League record against Pourtmouth, a team whose start could not have been much different. It's not the best of times to be a Pompy fan. No points from three games, top players being sold, an unproven, inexperienced manager and, worst of all, that goalkeeper shirt. Yep, times really are difficult down on the south coast.
But hope lies on the horizon for the Premier League's basement side. Wednesday saw the league's 'other' Arab, or Sulaiman Al Fahim to give him his proper title, take full ownership of the club with the promise of renewed fortunes. Most City fans will remember Al Fahim from the Blues takeover as the smiley one who initially seemed to get himself on every press photo, became a frontrunner for club Chairman, spouted his mouth off once too often and then become quickly disposed of by the powers that be. If various press reports are true then it would appear that the south coast sheik may not be boasting of £120m bids this time round. Initial signings Aruna Dindane, Kevin-Prince Boateng, Tommy Smith and Michael Brown don't quite have that Robinho 'wow factor'.
Last Time Out (Premiership)
Portsmouth weren't even a part nuisance as the Arsenal train continued to gather pace last weekend. Outplayed and outfought Pompy plummeted to the bottom of the table with only on-loan striker Frederic Piquionne promising any kind of threat. Perhaps Portsmouth can take consolation in the fact that they didn't concede six, as Everton had done to Arsenal prior, or in that they managed to bag their first goal of the season. Whilst losing to Arsenal at the Emirates isn't the most uncommon outcome in football, Portsmouth will be more physiologically damaged by earlier defeats at the hands of Birmingham and Fulham.
The first game of the new season at Eastlands promised much. The rarity of a three o'clock Saturday kick off, white August sunshine, more media attention than ever before and, of course, a few new signings. Welcome to Manchester City '09. The game itself was a very good one. Going forward City looked as sharp and precise as a scalpel cutting through a sluggish Wolves back line often. The one chance new boy Adebayor put away was enough to win the match eventually, though he and a few other City players were guilty of not taking other chances. Luckily the woodwork saved City's blushes in the second half when Andy Keogh missed out on getting Wolves a point they never really deserved.
Team News
Ex City stalwart Sylvain Distin is certain to be one player who won't be lining up against his former club. Distin has become the latest passenger in the centre back merry-go-round after joining Everton this week. Any of the new signings are fit to play as Pompy manager Paul Hart looks to make his side a tougher nut to crack while big names such as Steve Finnan, Linvoy Primus, Papa Bouba Diop and Hermann Hreidarsson all remain injured.
All signs point to City keeping the same starting eleven that lined up at Selhurst Park in midweek which means that Joleon Lescott would make his league debut for the club and that Kolo Toure would be favourite to take the armband. It will be interesting to see if Toure is made permanent team captain with the news that Richard Dunne could be off to Aston Villa. Currently Robinho is the only fresh doubt after picking up a knock but he is expected to start. New signing Silvinho could make the bench.
Key Men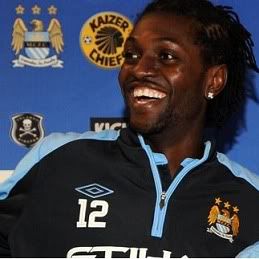 Ruby, ruby, ruby, diamante: Adebayor
Adebayor has arguably had the biggest impact (at least on the pitch) of all of City's summer signings. His natural ability, pace, enthusiasm and commitment to getting forward (and back) is something City have missed for years. He's the most gifted striker City have had since Nicolas Anelka left the club four years ago. You feel that Adebayor will be City's leading goal scorer this season and a lot could rest on his shoulders but that he must also become more clinical to reach the twenty goal mark.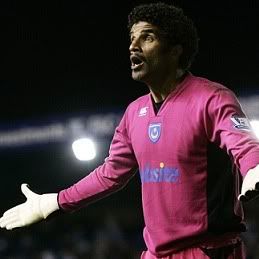 "You put your red socks in with my what?!!?" James
Hopefully James will be a busy man on Sunday. As City fans we know just how good (and just how bad) he can be. If James is in the right frame of mind, this could prove to be a very frustrating afternoon for City. James has been first choice for England when he has avoided injury, no doubt Mr Capello will be keeping tabs on this match.
Look Mum's Prediction
0 – 2. I think the players that have come in with Premier League experience will help up improve our away form this term.
A big thank you to "Look Mum I'm On Mancityfans.net" for this fantastic match preview. You can discuss this and many other topics on our Forum www.mancityfans.net