Crystal Palace v Manchester City
Date : Thursday, August 27, 2009
Venue : Selhurst Park, Kick Off: 8pm
From Balloongate to Ashton Gate
Poor old Neil Warnock, he really gets a rough ride doesn't he! Or does he? He was recently left bemused by the officials during Crystal Palace's game against Bristol City at Ashton Gate. Palace scored a goal and the only people in the stadium that did not see the ball hit the back of the net and bounce out were the men in black! I can understand Mr Warnocks frustration, however, he went way OTT when he decided to attack Bristol City and call them CHEATS. "They all know it was a goal, so they should have allowed us to walk down the pitch and put the ball in the net, its only fair" said an angry Mr Warnock. Well Mr Warnock, my memory might be playing tricks on me here , but I don't seem to recall you allowing City to walk down the pitch and score when balloongate occurred. You clearly sought an unfair advantage by watching the referee allow play to continue whilst balloons were all over the 6 yard box when you were Manager of Sheffield Utd. What Goes around Comes around Neil!
Crystal Palace should have ex-City academy product Paddy McCarthy in their line up for the game, it will interesting to see how he gets on against our now "infamous" attack. Palace lost at the weekend against Newcastle "victims of football" Utd 2-0 and will be looking forward to a giant killing against City.
City on the other hand look to have signed Lescott at long last and also a surprise signing in Sylvinho who could make his debut in this fixture. City are on a nice run of 4 wins out of 4 (Celtic, Blackburn, Barcelona, Wolves) and have kept a clean sheet in their last 3 games. The players should be full of confidence and I fully expect them to knock the ball around and play a patient game of possession that will see City leave Palace chasing shadows.
Previous Meetings –
City last played Crystal Palace in the 2004/05 season where City did the double over Palace. Also, City and Palace have only ever met once in the League Cup at Selhurst Park, however, I don't think the same scoreline will occur this time. In the 94/95 season, City lost 4-0 in the QF with Palace going on to lose the semi final 6-2 on aggregate to Liverpool.
City at Selhurst Park –
City have played 21 times against Palace at Selhurst Park with a record of 8 Wins, 6 Draws and 7 Losses. Palace last beat City at Selhurst Park 2-1 on the 1st April 1995, lets hope that we keep them waiting even longer for their next win.
City – League Cup History –
Manchester City – have won the competition twice (70, 76) and came runner up once (74) during the days when we were a major force, the very early signs are that those days could be on their way back (fingers, legs, toes and eyes crossed). Recent years have not been good to city as they have lived up to their "typical" tag line that the press like to use.
City Recent League Cup Years –
2008/09 (2nd Round) Brighton 2 – 2 City (Albion won 5-3 on penalties)
2007/08 (5th round) City 0 – 2 Spurs (City beat Bristol City en-route to the 5th round and I was mascot at Ashton Gate!!!)
2006/07 (2nd round) Chesterfield 2 – 1 City
2005/06 (2nd round) Doncaster 1 – 1 City (Doncaster won 3-0 on penalties)
Crystal Palace – League Cup History –
Palace have never gone further than the semi final (93, 95,2001)
Crystal Palace Recent League Cup Years –
2008/09 (2nd Round) Palace 0-4 Leeds
2007/08 (1st round) Bristol Rovers 1-1 Palace AET (Rovers won 4-1 on penalties)
2006/07 (1st round) Palace 1-2 Notts County
2005/06 (4th round) Middlesbrough 2-1 Palace (Palace beat Liverpool in the 3rd round 2-0)
Key Men –
City – Vladimir Weiss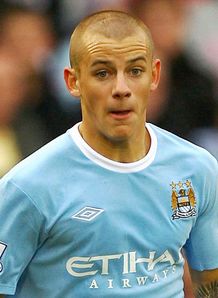 Young Weiss looks an excellent prospect for City. He looks to have the energy of a youthful SWP with the pacey attacking runs that full backs hate. I am hoping Leslie Mark Hughes gives Weiss a run out in this game to help his integration and progression with the first team.
Palace – Victor Moses
Moses is 18 years old and just like our Nedum Onuoha he is Nigerian but has chosen to represent England at U16, U17 & U19 level. Moses is a tricky left winger who likes to attack the right back and get to the byline to cut the ball back. Richards or Zabaleta will need to keep their concentration with this lad.
Teams:
Its difficult to second guess Hughes on this one, as he may mix experience with youth.
Manchester City (from): Given, Taylor, Zabaleta, Dunne, Toure, Lescott, Sylvinho, Mee, Ben Haim, Onuoha, Bridge, De Jong, Barry, Ireland, Wright-Phillips, Weiss, Robinho, Adebayor, Bellamy, Tevez, Richards, Garrido, Vidal, McGivern, Petrov, Benjani, Mak.
Palace (Probable): Speroni/Flahavan, Butterfield, McCarthy, Fonte, Hill, N'Diaye, Derry, Danns, Moses, Sears/Ambrose
Prediction –
City 3 – 0 Palace
Bellamy, Ireland, SWP
A Massive thanks to Mini-Wonderwall in conjunction with his Dad from www.mancityfans.net for this fantastic preview. You can discuss this and many other football related topics on our forum.