Tottenham Hotspur vs. Manchester City Official MCF.net Match Preview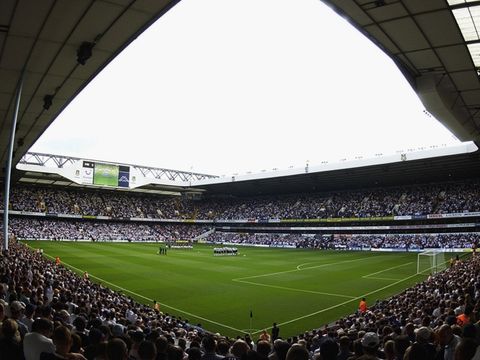 Venue: White Hart Lane, London
Saturday May 16th
KO: 3:00pm
Whilst it continues to pour with rain in Manchester, we are informed that summer is on its way in some parts of the world, and that means only one thing. The end of the season is approaching faster than Ledley King on hearing last orders. City travel down to north London needing a win to have any real chance of seventh place and European football next season – and face a Tottenham side in exactly the same position.
The stage is set then for an exciting clash between two teams who have the ability to produce superb attacking football, and whose defences often contribute to the fun so as not to feel left out. Neither team is at full strength with the Blues definitely without Robinho, and winger Shaun Wright-Phillips short of match fitness after injury. However, Martin Petrov should return to the team to take Robinho's place on the left. Spurs for their part could be without their own diminutive winger in Aaron Lennon, and Darren Bent, Michael Dawson and Jamie O'Hara are all missing.
With this in mind, MCF.net popped over the road with a few refreshing beverages to talk to TJP, one of Manchester's small but disproportionately annoying community of Spurs fans.
MCF.net: Looking back to the start of the season, would you have expected City and Spurs to be hanging on to Fulham's coat-tails for a place in Europe?
TJP: Before the season began I had high hopes for Spurs and Ramos. We had looked good pre-season and Dos Santos, Bentley and Modric all looked like quality acquisitions but apart from Modric, who himself took a while to get going they haven't really contributed too much at all. After the first game I had quickly slipped back to the Spurs state of mind and expected another season of relative mediocrity. For the next nine games until Redknapp arrived I was resigned to relegation so to be where we are now is unbelievable, and feels like luxury compared to back then so I can't really have any complaints…..relative mediocrity is ours once more!

He couldn't even get the hang of mediocrity.
MCF.net: Bye Bye Sven, Hello Hughes. Bye Bye Thaksin, Hello Sheikh Mansour plus oil billions. Bye Bye Sun, Hello Robinho. What do you make of the events at City over the past 12 months?
TJP: It's all been a bit bizarre really. The Thaksin and Sven era was in keeping with the shenanigans we have come to expect from behind the scenes of Premier league clubs nowadays, and the on the pitch displays were in keeping with City's underachievers tag – which us Spurs fans can relate to all too well. The oil millions and ensuing Berbatov, Robinho and Kaka sagas were just surreal. It was like an April fools and I still can't quite get my head round it. I'm just keeping my fingers crossed that Sheikh Mansour doesn't take a fancy to any of our players close season especially if Jol comes in, as has been mooted in the press.
MCF.net: On to the game. City don't have the best away record (this phrase is fast becoming a definition of "understatement"), but considering the Blues have scored over 100 goals this season, how do you think Tottenham will approach this game?
TJP: Well it's a big game for both sides with a possible place in Europe at stake but as I said, to even be in with a shout is a bonus so I'm hoping the players feel the same and relax a little, as that's when we play our passing game best. If they do I think it could be an open game as City will definitely be having a go as I think the European place is more important for their ambitions of attracting more galacticos to Eastlands. That's presuming 80 grand a week won't do the trick on its own of course!
MCF.net: Who are the key players from your team, the individuals who can win this match for you? And who from the City team are you worried about? (£10 says one of them is bald and Irish.)
TJP: Correct. Ireland on form is a real threat. He's had the look of a world class midfielder at times this season, even up there with the likes of Gerrard and Lampard although not as consistent. Elano has also been looking dangerous again recently. If Palacios was available I wouldn't be so worried but we're definitely not as solid without him. Aside from Palacios, Modric is obviously key as he can really dictate a game on his day. If fit Lennon 'Meep Meep!' verses Bridge could be an interesting battle but I think this one could really be about the strikers. We've not been converting enough of our chances recently and I can see City getting a goal, so I'm really hoping Keane and Defoe come out firing. Oh I almost forgot, I'm crossing my fingers Dunne's had more pints of Guinness than Ledley on Friday night.
vs.
MCF.net: Crystal ball time. Where do you see the two clubs next season? Both will undoubtedly be spending heavily in the transfer market, and both will want improvement on rather chaotic and disrupted seasons. Who will be pushing up the league (or plummeting down it) next year?
TJP: Ah, next season. Every Spurs fan's favourite two words. It really depends on if we keep hold of our key players. If we do I'd say a Europa spot is a reasonable minimum expectation. If United, Liverpool (or even City) decide to bundle anyone that floats their boat into a car and tell us they are signing him, then it would be a massive psychological blow and I think we could struggle again.
City are a bit less predictable with so much money to play with and some question marks allegedly hanging over Hughes. I think their financial clout alone is going to be enough to see an improvement on this season and I could see you guys finishing around 5th.
MCF.net: Finally, the big one. The one that always comes back to haunt you in the pub, Predictions. How many goals will City win by?
TJP: Predictions. Right, well Dunne will definitely score a hat-trick of own goals and I've got a sneaky feeling Zokora might grab his first, second and third goals for the club, so allowing for the customary Spurs collapse in the last 30 minutes that 6-7 to City. That's my accumulator bet of the day which could net some people a lot of money and take a bit of weight off us Spurs fans paying your benefits so pass it on…seriously though I've got to back Spurs and I'm gonna go 2-1. Yid army!
MCF.net: Enough, enough. We'll take the 6-7 score line and leave it at that.
So there you have it. Expect drunken players, world class midfielders and spectacular England cricket team-esque collapses. And hopefully, an excellent game of football resulting in the Blues taking three points back north with them.

Come on Blues!
Thanks to The Man In Blue of ManCityFans.Net for writing this preview