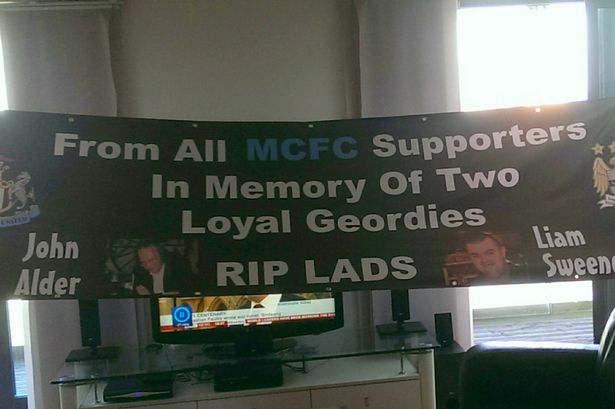 And we're back!
Let's just start this first view by giving credit to a very classy Blue, Rick Haswell-Cohen (branch secretary of the North East Manchester City Supporters Club), who designed and raised money for this banner to be created in memory of the two Geordie boys who were on MH17. What more can you say?
It's time for the first game of the new year and the current champions are up in Toon Town.  I can't say that the home fans are very confident; apparently the game hinges on who among their new signings will be available. Already, they are saying that the season doesn't start until next week. It's good to be a Blue.
Can't wait for Sunday, and in the mean time….Enjoy!
Team Selection
Krul
Janmaat     Colo    Willo     Haidara
Anita    Sissoko
Cabella      De Jong      Aarons
Riviere
My Favourite
If we let Silva play, he will pull are pants down and rim us good style!
And the rest…
As long as we don't get embarrassed by City I'll be relatively pleased. Despite how bad last season was I'm really itching for the Premier League to start.
Anyone think we can get anything? Not a bad time to play them but I'm going for a 1-3
First game of the season at home, lots of new signings playing to impress, so anything is possible.  Doubt we'll win mind. 0-2
Just hope we don't get thumped and that we play well. 1-2 would be a good result.
Yeah I'm looking for performance rather than result. We have strengthened, but imo we're still short of the kind of talent they have. I also think the new lads need to get used to each other's games and before that happens we'll probably be relying on individuals wanting to impress.
0 v 4
Okay I'm going to be an optimist here, because I'm happy with signings we have made so far. I don't think it will be humiliation like the start of last season and say we will win 2-1. I think with the injuries to De Jong and Tiote and the lack of a heavyweight goalscorer, it's going to take us a few games to get up to speed. Can't see much else but a hiding.
I think a few of our new signings will be looking to impress. 2 – 1.
I have a good feeling for this one, reckon we can snatch a point. 1-1.
Attendance will be interesting …
It might be a good time to play Man City, but i doubt it. Signing have been good, but pardew in charge still fills me with dread. I'll say it again, the season's target is to stay in the PL.
And we will. We may sneak a draw. We might get a bit luck like they did last season at our place.
1-1
Not that arsed about the city game, as long we dont get humped. Any sort of result would be a bonus, just get it out of the way and crack on with the more winnable games
Best we can hope for is a draw I think, probably 0-0.  Can't see where our goals are going to come from, especially if de Jong is out.
Couldnt see our defence keeping a clean sheet either though, even if it will be Dzeko/Jovetic instead of Aguero/Negredo.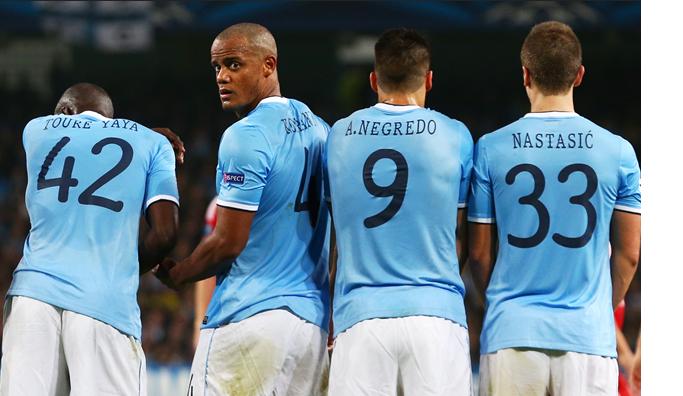 A plus for us is that Yaya didnt look at all fit today in the community shield.  Not sure how much more match fitness he can get in a week with no games either
It's difficult to predict a score for this game, it would be good if we can beat them but I think we could get a draw at least. 2-2
Just watching City v Gunners on motd.
City were none existent during the period before changes were made and Silva was introduced. Its fairly simple man mark Silva out of the game and they will likely do nowt. I'll get ripped for saying this, because its obvious they have talent everywhere, but he is the key to most of what they do to hurt teams. If he's ignored which he will be because its to simple a task to just hassle him and stop him playing, then he and the players he dictates to will destroy us.
Get this game out of the way. We'll lose. Can't see our defence holding out against City as we've looked shocking at the back at times this pre season, so what will City do to us?
Our season starts against Villa the week after next.
Cabella has to play, we've tried playing with a lone striker before and it doesn't work yes that was with Pappis and we didn't have the quality of De Jong behind him but still we have bought well this summer (for Newcastle anyway) why cant we play with 2 up top and 1 behind, with the players we have and the pace that will terrify defences.
Basically we need players to start who are match fit or as near as damn it. De-Jong would be at best a half game man, possibly a second half sub if required to maybe change the game.
Colback should play. He might not be anything special in some people's eyes but he does an excellent job in midfield, doing the stuff that generally gets overlooked on the whole.
We arguably couldn't have a tougher start but the aim is to put out a fully functional starting 11, match fit and raring to go.
Don't be under any illusions that we are just turning up to make up the numbers and it's going to be some kind of walk in the park for Man city, because I believe we will be well prepared for this. Forget about the pre-season games, they are just fitness workouts. The real motoring will be on display next sunday. Don't anyone write us off. We know how difficult it is but all games are difficult.
If you graft hard and show no fear, then we have every chance of scalping Man city, as long as the ref plays an even game and doesn't go against us like ruling the Tiote goal out.
Come on, let's see some full on positivity here. All games are tehre to be won…on the day….it's all about how we approach it. We are at home with a team with fire in their bellies. We have pace to scare Man city, as well as steel of stifle them. We have nothing to be afraid of.
i think City at home is a good first game for us to be honest, there will no be pressure on the new signings and all of the players can go out with no fear and hopefully play relaxed.  We have enough pace in the team to cause City problems, Gouffran, Sissoko and Cabella i'm looking forward to see how they do.  Also Jack Colback could be a very key player for us against the good passng sides this season, he his good at breaking up play and disrupting the rhythm.
It's a good time to play them!  We should be able to keep the score down to under 5.  I'll go for 0-3
0-6 Pardew out
I think it's a 2 goal difference in favor of City but with it being the first game at home, it would not completely shock me to draw here.
Quietly confident for this one, think we will be the surprize package this season 1nil
Always tricky playing a team like city etc…their bench is ridiculously strong whoever starts, real game changers with enough to tactically tweak when necessary.  Unfortunately, can't see Tiote and de Jong starting as their fitness may be an issue.    Cabella will start and I think Ginge will start in Tiotes usual role.  I'd like to see Aarons either start or at least come on with enough time to have an impact. He looks fearless, which is half the battle.  I'd also be surprised if Pardew changes the system we've been playing pre season just for this, last time he tinkered we were all over the place and got taken apart.   As long as the players are brave on the ball and don't sink too deep which in turn all too often results on panicked long balls punted in the direction of our striker…who ever it is. This time Rivière.
Have belief, move the ball fast and attack with purpose and we may well cause an upset.  How Pardew prepares our team however may well be the difference and that is where so many of us are a little mistrusting.
0-3 and everyone looks average !
Martin Atkinson as ref.
Odds on the ref disallowing a goal because after years of taking charge of Newcastle games, he's just used to Shola being offside?
A different City will turn up to the one at Wembley yesterday.
Don't think we'll lose – Have a feeling it will be a scrappy 1-1 draw. I can see us being ultra defensive and hitting City on the break.
Praying for a win. Hoping for a draw. Expecting a narrow defeat.Quite disturbing how long it is since we beat Citeh.
Citeh also just signed Mangala from Porto for £32 million. I personally think our losing run to Citeh will continue as our 2 CB are woefully slow.
We will get roasted. Pardew will be writing his excuses on the paper he scribbles on during games in his defense the one he should use is valid. The only difference between those two side today was about a billion pounds.
good to see the financial fair play kicking in
how much is that now they have spent this season
£32M on one player is more than we have spent on 7
Sorry to say my gut instinct is a 3-1 defeat, so I'm agreeing with mrtiote on this one. I'd be more than happy to be proved wrong of course.
I don't think we'll be struggling all season in terms if relegation, but I think Citeh will stuff us this weekend.
We'll win 3-1.
We've canny players, adrenilan with first home match against a major team could see us raise our game to that level we'll need, so for that reason alone I'm optimistic, I only hope Pardew doesn't fk this up in our preparation,  to be fair we were unlucky last season against them, and even a few city fans aren't overly confident for a change.
We'll try keep it tight, concede within 15 minutes and fall apart, losing 4-0.