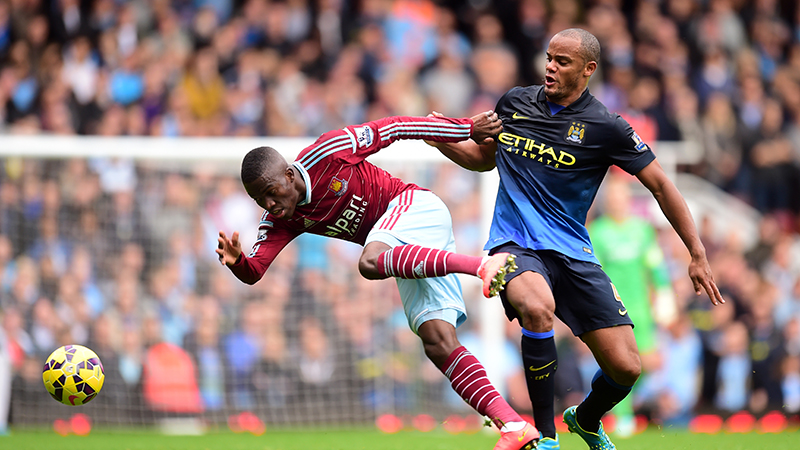 I have to admit that when I hear "I'm forever blowing bubbles", all I can think of is Michael Jackson and his chimp. Putting that aside for the moment, the away fans are feeling a bit invincible at the moment, and events and injuries this week, have not helped.I'm little bit scared of this game, it will be a true test of our spirit. I have a feeling Joe is going to have to pull out a goalkeeping masterclass tomorrow. Is Walami still around?
Now….COME ON CITY !!!
Team Selection
Adrian
Tomkins Collins Reid Cresswell
Obiang
Noble Kouyate
Payet Sakho Moses
My favourite
What a wonderful situation we find ourselves in. After getting 9 points from 5 games we can now go up to Manchester City and enjoy the occasion (and hopefully give them a good run for their money). If we lose then it's no disgrace after the start they've had. If we nick a draw then fantastic. Happy days! A great time to be a West Ham fan. Exciting times ahead and I am going to savour this moment. It feels like we didn't even get out of 2nd gear last night so imagine what we could really do when all guns are blazing….
Referee
The man in the middle is : Robert Madley
And the rest…
3-1, we will be the first team to score past them, but that's the best we can hope for
am looking forward to this one…we will need a big fat slice of luck to get anything out of this…regardless of the arsenal and Liverpool results, this lot are the real deal that said, our new style of play which lends itself to closing down space and pressing, will hopefully nullify their possession game to a certain degree…if we can do that early, break and nick one in the first 10-15 minutes, it will make the locals edgy and nervous…
I can't see a clean sheet for this one, we will probably need to score a handful to win it…we can certainly score goals, but I'm not sure we will be able to keep them out, particularly as Silva will be back…he scares the **** out of me ……3-1 or 3-2 to man city
It's nice going into a game like this knowing that we can cause them problems and give them something to think about with the speed we have on the counter. Not saying we are going to win or anything mind!  2-2 for me, Noble Pen and Sakho!
Watching City v Juve now. 3/4 done. 1-1. If they play like so far tonight, I wouldn't bet against us this Saturday. Not that they are playing bad – but if we remain compact at the back (like Juve), I can see how our pace on the break will hurt them.
In all seriousness, we will have to play very well and they'll have to be off the boil but it's do-able. Keep it very, very tight.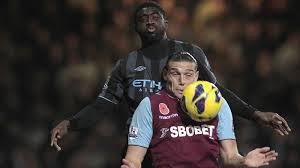 As others have said, lets just give it a go… I can see us scoring, but also conceding, especially if Jenks is back at rightback. I'll go 2-2… they'll snatch a last gasp equaliser.
Nothing to fear with this game, Manchester City are the team to beat, nobody in the Premiership has scored against them, so it will be interesting to see how the players perform with no pressure upon them to get a result…I hope we turn up park the bus and leave the handbrake off again
I'm going 0-0… We'll set up like we did against Arsenal and Liverpool, but the quality of this lots defence means i think we'll struggle. At the same time, we're looking solid in defence and without Aguero, i think Bony will find it difficult and so i think a frustrating afternoon for both.
We've got some very capable players now, Payet, Kouyate, Moses etc who have played at the highest levels and should be unfazed. Quietly optimistic for a 1-1 draw or even a 1-2.
Easy win. ..Look at what we did to Arsenal and Liverpool. Look at what Juventus did to Man City last night.
We're easily better than Juve now they've sold half their first team. We owe them for that LC semi final.
This is West Ham and people are beginning to believe after the Arsenal and Liverpool games…3-0 Citeh
Ah Raheem Sterling. Liverpool must have seen you coming, to say nothing of the tantrum he threw to get this move. What was it, £45m ? He is no better than Victor Moses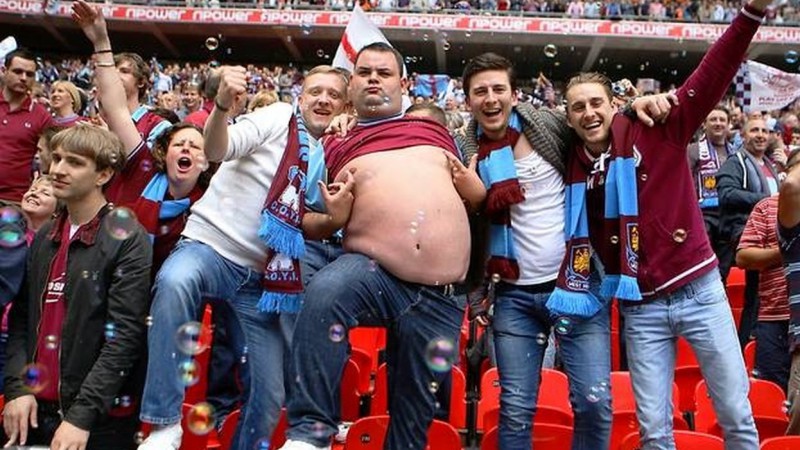 We've got the players to hurt them, Moses and Payet with Sakho busting a gut could cause them some serious problems, then there's big Andy on the bench and Lanzini either starting or sub, not to mention the beast that is Antonio, pure power and pace with skill to boot.
The first 15 minutes could be decisive. If they catch us out early it might be a long day for us, but if they do come at us fast from the start it might also leave them vulnerable, and IF we catch them out…But as we are the two top scoring sides in the PL, it will probably end 0-0
We will take it to them a lot more away than we would have last season and that will be nice – and there will be no Relegation Roger backpeddling a 100m efforts just to gift them a goal!
Man City are the best team in the country without question but I still think we'll give them a scare tomorrow. A point would be a good result.
Have we sold out yet ?
There's gonna be goals but we won't win it. I predict a 2-2 draw
Sagna …Mangala …Otamendi…Kolarov………..Every chance.
A win here would allow us to start dreaming of a grand slam of away victories….I want clubs to feel terrified of West Ham United at their homes .I want them to look at the fixture list with trepidation when they see we are up next
Lessons from Juve…
Juve beat City by keeping absolutely solid at the back and central midfield – where they often crowded out City before they could do harm. This was in effect what we did to Arsenal and Liverpool. I think we will do the same coming Saturday to great effect. Bilic's European and international experience (and relative success) will stand us in good stead here.
Another thing that Juve did very well was to slow the game down. City is at their most dangerous when the ball is being pinged about at great speed and player movement is fluid. They are much less effective when the tempo of play is slow or ponderous. Whether we will do as well as Juve in this aspect of the game is much more of a question mark. We'd need to be able to retain possession and slow the pace of the game – and frankly I have not seen us do this ever. To expect Bilic instil this in us after 5 league games is probably expecting a bit too much – and even if we did try it, we'd certainly not be as effective as top European sides with deeper tactical nous.
Yet Juve doesn't have our power or pace on the break. City will be aware of that. So whilst they will not fear us, they will nevertheless respect our ability to hurt them on the break. To the extent that this will prevent them from throwing everything at us when they attack, it will make for a pretty tight game.
Aguero was clearly not 100% fit when he came on against Juve. I think if he doesn't start, we have a very decent chance of getting something from this game. However, if he does start, our counter attacking game had better be absolutely lethal – for we will likely concede. City is a different side when Aguero is fully fit and playing.
2-1 to us and thereafter a statue for Slaven.
We have nothing to lose, not many expect to get results away at Man City.  Until they lost in Europe I had a good'ish feeling. Now I think we will be first to score against them this season, but probably not enough. Looking forward to a good game and asking chance of taking something from this.