Date: Saturday 31 Jan 2009
KO Time: 12:45 PM
Venue: Britannia Stadium, Stoke-on-Trent
City, the richest club in the world, take on the Potters in what is now an epic battle of City v. Tony Pulis. Pulis is perhaps the man who saved City from further years mired in the lower leagues in allowing Gillingham to concede 2 goals and then lose a penalty shoot-out in 1999's Second Division Playoff Final, allowing City to begin their climb back into the Premiership. The commentary on that fateful day was "Is this the start of a City resurgence?" — and history moves at a slow, aching pace which answers "Yes" to that question now nearly ten years later. Ahead of tomorrow's match with the Blues, Pulis has come out in criticism of City's new foreign owners, and their knowledge and dedication to the club.
Current Form
City sit on 7th best form in the league over the last 6 matches, having taken advantage of a positive post-Xmas vein of form which has seen the Blues take 10 pts from their last 4 matches. City performed a workmanlike job in dispatching of Newcastle midweek — despite being the most evil football club in the history of the world — and new signings Craig Bellamy, Wayne Bridge, and Nigel De Jong have already started to impact a side that has now risen to 9th in the Premier League table. The media buzz and howl over City won't seem to die down though, as both the club and it's supporters start to show signs of impatience and frustration with a strong anti-City bias from almost any source imaginable these days it seems — the FA, Arsene Wegner, Steve Bruce, Tony Pulis, various print journalists, and even once-neutral fans as well who often might have considered Man City's lovable tagline "Typical City" as something that made them attractive as a second club. The failure to land Kaka, the challenges to break into the upper half of the given City's profile as the richest club in the world, and the recent Robinho saga(s) have provided ammunition to hungry sharks awaiting some City-related chum. And they will gladly gorge themselves on it. However, City seemed to have suffered little negative influence from the headlines and negativity surrounding the club, preferring to use the football to speak to the media and fellow clubs. City could find themselves within a month pushing for 7th or drifting back towards the relegation zone.
Stoke sit 17th on current form and 18th in the league table. Stoke have taken 1 point from their last 6 matches, though fairly they haven't played as poorly as the current stats suggest. Stoke drew with Liverpool, and hung onto a lead away from home at Stamford Bridge vs. Chelsea for an extended period before succumbing in injury time. A staunch defender of his team's "direct" football, Pulis needs to string together some points to get clear of the relegation zone, but you can place a smart bet on the fact that the team will likely have a long relegation battle ahead of them to keep their unfashionable side in the Premier League. Manager Tony Pulis has decided to take a hit at City by saying that City's new Abu Dhabi-based owner has no sense of history or purpose with the club. And further, Pulis has let everyone know that he doesn't envy City gaffer Mark Hughes in trying to build his team under the spotlight of media scrutiny and international pressure. In terms of approach, Pulis should be lauded for trying to find anything to take the focus off his players and their performance. Any good manager will try and take some of the heat to allow players to focus and play their game without the distraction which current form such as theirs can allow to spiral into a self-fulfilling prophecy of football in the Championship next season.
Last Time Out
City battered a poor Stoke side who went missing 3-0 at COMS. Robinho's hat trick served up at least the 2nd City defeat which Tony Pulis probably wanted to forget in his managerial career.
Last Match
City 2-1 Newcastle United
City looked positive in an entertaining first half, and then managed to hunker down to get business done in the 2nd half and collect a deserved 3 points from a struggling Magpies side who were struck by several injuries during the match to Owen and Barton. Is the new physicality of Zaba, Kompany and De Jong creating a stronger side capable of kicking a team off the ball like many of Hughes' Blackburn teams? Stoke present a strong, tall physical test for City's new look.
Spurs 3-1 Stoke
Spurs ran riot over a flagging Stoke side who couldn't keep up any defensive pressure against the many Spurs weapons on display. Will they suffer the same fate against one of the League's most potent offenses in Manchester City?
Danger Men
Stoke
The inimitable Tony Pulis — Will his anti-City/anti-Sheik tirade take some stress off one of the worst performing clubs in the league ahead of tomorrow's match?
Tony Pulis — in a rare shot without his everpresent baseball cap:

Longball archer Rory Delap — Who said negative football was ugly?

More likely newboy James Beattie. Always pregnant with potential, can the rejuvenated striker find the net again for his new team?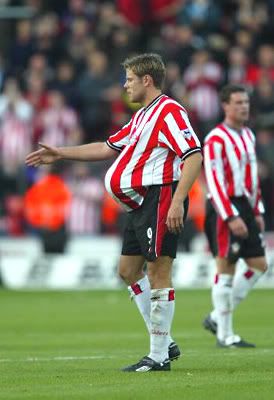 City
The entire squad is a death machine now…on a slow march to take over the universe and change humanity as we know it. Who will try and get in their way? Surely, the death of football is nigh.
Here's an image of the team outside their Carrington training ground:

Prediction
Stoke 1 City 2
A big thank you for this preview, which was written by DoomMerchant from www.mancityfans.net. You can discuss this preview and much more on our forum by clicking on the link.