Manchester City v Blackburn Rovers
City of Manchester Stadium
Saturday 2 May 2009 3:00 PM Kickoff
Coaching Carousel
Big Sam Allardyce (Fat Sam to some) made his name at a small Northern club by finding the grit to grind out victories. Sometimes his wins weren't pretty, but he guided his side to an unfashionable place in Europe and garnered himself some consideration as the next England manager perhaps. Several years on now from that episode, Sam saw the allure of leaving his small but successful club to search for success on a bigger stage — the stage of St James' Park, Newcastle. Sam soon found that his ability to run a club, despite the seeming backing of his new millionaire owner, was compromised…his effort and tactics called in question. The ultimate endpoint the sack and the search for a way back in begins. Big Sam's resurfacing at a small Northern club — Blackburn Rovers — are his reward for patience and being fortuitous. His ultimate reward could be the relegation of his former employer, while his side beat the drop. The sting of that irony for Newcastle would be satisfying I am sure. Never accused of playing fashionable football, Sam is rebuilding his reputation as someone who can own a dressing room and command respect, and earn results — the only thing that ultimately matters in this game we love.
Leslie Mark Hughes (Sparky to some) made his name at a small Northern club by finding the grit to grind out victories. Sometimes his wins weren't pretty, but he guided his side to an unfashionable place in Europe and Hughes success at Blackburn's Edwood Park garnered himself some mindshare as the "Best Young British Manager." His move from that provincial side to a "massive club" in the form of City has provided mixed results for the richest club in the world. Success hasn't always begat success, as City have sputtered through horrific away form in the League, but a positive European campaign which ended in the Quarterfinals to likely finalist Hamburger SV. Hughes' ultimate reward could be to pip into 7th position in the league to steal the Europa League spot which they have no natural right to own given their horrible away form. But the table doesn't lie, and if City win their two remaining home matches and earn a point on the road they have a shout at 7th. And 7th surely will earn the man they call Sparky another season to show what he can do to merit the job of running a club on the verge of success it hasn't seen in 30 years on a global stage with all eyes and ears of the world upon them.
Previously This Campaign
City earned a dramatic 2-2 draw at the death at Edwood Park back in the Xmas fixture crush. City certainly deserved a point, and made the most of 2 opportunities by Sturridge and Robinho. Sturridge's effort to take one and create the second gave City fans a boost in their evaluation of him. He has still yet to sign a new contract though, and looks to be off in the summer where he can be guaranteed first team football.
Current Form
On current form over the last 6 matches, City and Blackburn sit 9th and 11th respectively. Expect a close match of two wills. Who can assert theirs rules the day.
City L-W-L-L-W-W
Blackburn L-D-W-L-L-W
Danger Men
City
Robinho & Ireland
Robinho is 11/8 to score in the 90 minutes, and 8/1 to score a brace in the tie. Ireland and Robinho are in top form, and will look to push the side at home, where City have been nearly indestructible.
Robinho washes over City

Steven Ireland, fresh off losing the Young Player of the Year Award unjustly some would say, will have to simply be content with one of the best seasons in the Prem this year. Likely one of the top 10 footballers in the top league in the world. Seriously. It's a far cry from Daddy Dick, Grannygate, and the pink sled he used to roll in. And City fans couldn't be more in love with him right now. He's the soul of the club, and a likely candidate for Captain next year if he can continue his work ethic.
Superman bares all for City every time he sets foot on the pitch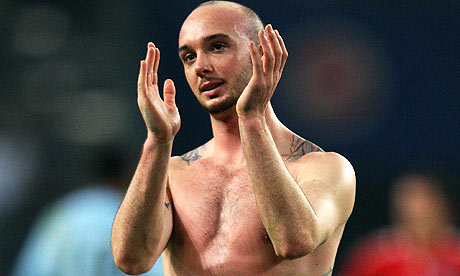 Blackburn Rovers
Christopher Samba
Rovers most dangerous offensive threat seems to be the head of ginormous defender Chris Samba. He's about 6 feet whatever, and plays in a very forward role in the longball mercantilism which Big Sam deploys. City perform a one-act play entitled "Squeaky Bum Time" written by Leslie Mark Hughes every time they concede a corner, so Samba's impact could be early and often unless City decide to man-mark the goliath and not drift off their man.
Samba shows us that his kungfu is strong.

Gamst Pedersen
The left winger is a dead ball specialist and has a great crossing ability, with a knack for fantastic goals, though he's laid a goose egg so far this season in the Prem on the score sheet. He is however, getting more assists than previous years in only 1/2 as many games, so he's definitely still an impact player on the pitch to watch out for. City also have the "Curse of the Broken Duck" where players who really really need a goal to get their rhythm back, find us an easy side to get themselves back on track against. Expect Pedersen to be a factor moving forward, and on corners searching for the huge head of Samba.
Pedersen likes to play a pretty game of footy!

Prediction
City 4 – 2 Blackburn
City will overcome a tough Blackburn side at home, and continue their march towards Europe. That final score line is at 50/1 odds as I type this, so get it while it's hot!