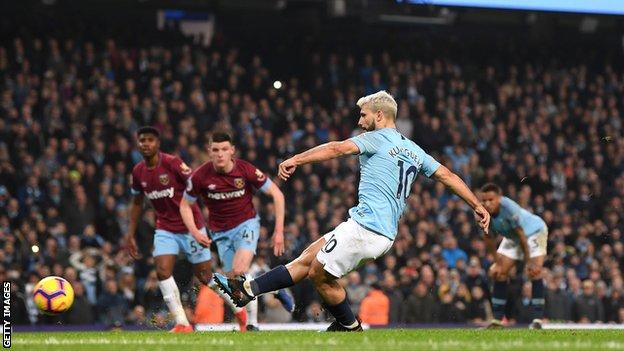 I know it is a silly question, but how come we are playing at lunch time (in London) just two days after playing a CL game?  Forget I said that we play again on Tuesday, so I guess we just have to live with it. The general opinion seems to be that there has never been a better time to play City. I am not confident that Moyes has enough skills to get one over on Pep
COME ON CITY!!!
Referee: Anthony Taylor
Assistants: Gary Beswick, Adam Nunn
Fourth official: David Coote
VAR: Peter Bankes
Assistant VAR: Neil Davies
Team Selection
Fabianski
Diop Ogbonna Cresswell
Coufal Rice Soucek Masuaka
Bowen Antonio Fornals
And the rest…
Unreal going forwards…Not great at the back…Another 3-3?
There's no excuse for our yearly roll over to them anymore. When you take the game to City, some of their players can't mentally process the fact that it's entirely plausible they can't win every game and crumble…Same team again and stay switched on from the start. Another draw for me, which would be another great result from this horrid run.
The thing is, in my 50+ years of following West Ham, we've often played better against better teams & struggled against poor teams.
Reckon we should play as many 6 footers possible. They are not the biggest sides let's do em on set plays!
The flaw with Citeh is that they play like robots. They all have their fixed place on the park. This is great if the opposition respect that style but disrespect them and then they are flummoxed. They have no individual flair just a collective skill, which btw is world class. We need to get in their faces big time. Gang up on them. Mess them about…Team wise, I would really like to see Yarmalenko starting. I think he has earned it…Coufal looks to be an intelligent player…It's nice to have these options for a change.
I am going to carry on with the feeling of impending doom, which has served me so well in the last three matches…That and wearing my lucky pants.
Put Rice on KDB and you are half way there. Almost everything goes through him.
No De Bruyne however, Stering always has a good game against us…But given how results have been this season so far, I have no doubt we can get something from this game as long as we keep up our recent high level of play.
Pity Aguero's back. Jesus isn't a bad player per se but he's not quite at the level where he should be routinely leading the line for a team like City…Graphic during their game at the weekend said they've only spent £49m on forwards since Pep has been there, which hilariously, is far less than us. Balanced out somewhat by the fact they have spent £2 trillion on defenders.
Just watch Jesus, loves a cross and nailed on to score.
They should put him in goal as Jesus saves
Just get out there and put up a fight. Irrespective of how results have been going, I just don't want to see us roll over and lay down against City again.
Pity Aguero's back.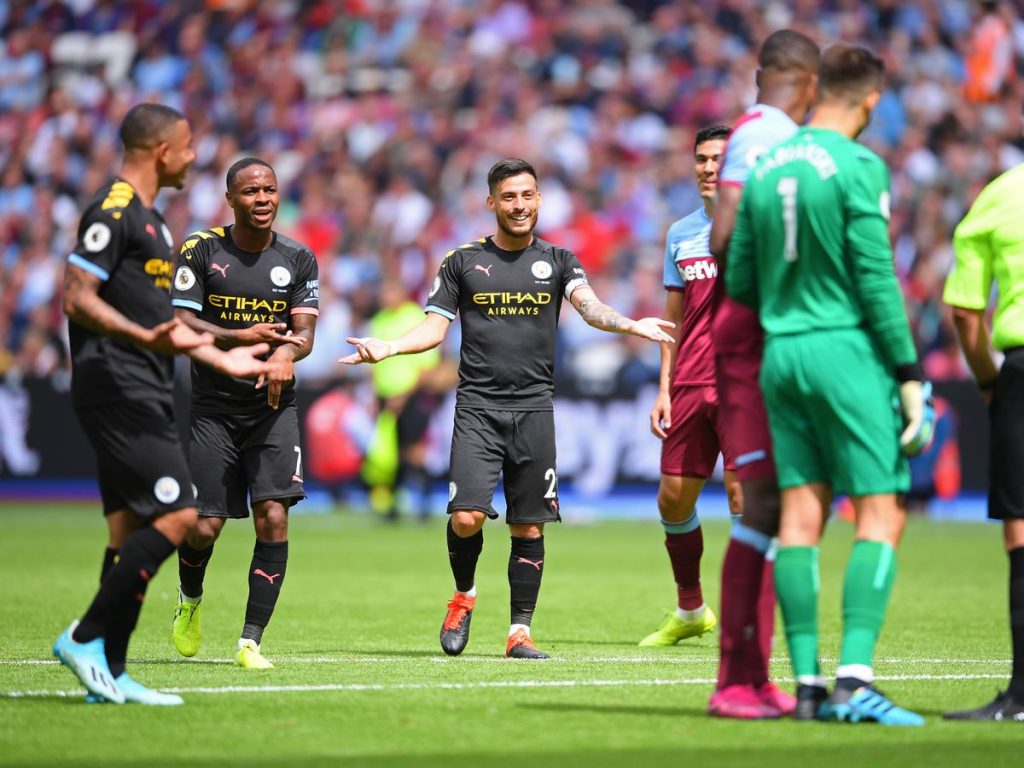 Maybe he will be banned after touching up that bird who was doing a linesman's job at the weekend.
Augero gets off touching the official which I thought was an instant ban but not for a top 6 side I guess. diop in for balbuena due to pace of sterling. coufal to keep his place.
Our 5th game in a row against teams that finished in the top 8 last season and I have been very surprised, not sure what to expect anymore.
We will never have a better chance of getting something from City.
This game will be won or lost in the midfield. Thankfully for us KDB is out, and I think we can grab something from this one we just have to stay focused when they do their tippy tappy b*llocks in the middle and try and turn them over on the break which is doable.
Manc City have underwhelmed lately. They're looking very much beatable…8-0 to the Mancs.
With city having just over 48 hours to recover and prepare I can't see them changing their system from their result against arsenal where they were far from their brilliant best…This game is all about individual battles.
This lot always put 5 or 6 past us, so I'm predicting 5-5 or 6-6.
Didn't Leicester beat then 5-2 just a couple of weeks ago? No de Bruyne…I'm going for a win!
These are the only team in the league that I can see us getting nowhere near, expect a 3 or 4 goal defeat with at least 2 of their goals being tap ins from balls rolled across the 6 yard box
its just how many we concede…i hate playing city, we can be right in the game for huge periods and still lose by 4…they really seem to have our number…not just being negative, there are vibes at the moment that this is a very different west ham team…a lot of spirit and some big performances…if we can get close to this lot i will really start to believe we have turned a corner.
All this crap about pep being the best. look at the money he spends. how much was their team last night ? All that is wrong in football is encapsulated in city. money over everything. they will win the CL soon but who really cares because anyone can win it if you buy it…lets smash the mancs on saturday. come on west ham we are due a good performance and win against this lot!
Watched Man C last night, they are not at their usual level yet, yes, they kept the ball but they were not creating the chances they usually do. One thing I noticed was Sterling, he was making some magnificent runs, just not being picked out. Hopefully that will continue on Saturday.
Thing for me with Guardiola, he seems a good manager, but im not sold he is a great manager, the second coming that some make out. He has managed Barcelona and Bayern, both won trophies before he joined, both won trophies since he left. He has spent over a bilion quid on transfers!!!. Lets be honest, if he did not win things there would need to be a Stewards. If he were to take over a side like Arsenal, Lazio etc and win things, create something, then maybe id listien to all the praise a bit more.
West Ham are Manchester City's bitch. We know what's going to happen, would be delighted if it didn't of course.
Not helped in the sports phycology department by the match being sold as "come and see Man City's superstars" by our gimps.
The Spurs result might act as the perfect preparation for this game…The comeback will have given them huge confidence, yet the 3 goals conceded in 15mins, will act as a reminder that there is still a lot of work to be done…The result might be inevitable, but let's not bend over for them like we usually do.
David Moyes' side have scored three or more goals in nine different Premier League matches in 2020, the joint most of any side along with Manchester City.