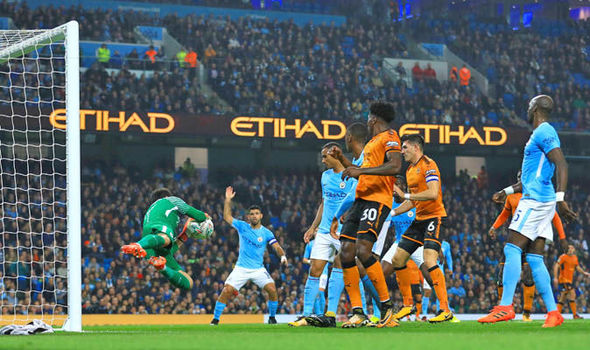 It feels like I am doing this everyday now, and I am just sat here with a laptop.  Wolves sit 12th in the table at the moment, and I somehow expected better of them at this point in the season. Based on what the away fans are saying we might be in for a good evening. I would like to go into the weekend with our record intact, and then just add to it on Sunday with a heavy win. A boy can dream
COME ON CITY!!!
Referee: Chris Kavanagh
Assistants: Adam Nunn, Sian Massey-Ellis
Fourth official: Anthony Taylor
VAR: Craig Pawson
Assistant VAR: Stephen Child
Team Selection
Rui
Saiss Coady Kilman
Semedo Neves Moutinho Dendoncker Johnny
Neto Traore
And the rest…
Can't see anything other than a loss coming out of this. Would like to replace Jose but we don't have any other option available – Dias would laugh at coming up against a young boy like Fabio. Best hope is if City rest their entire team. And their bench too.
352. Traore and Neto up front. Whoever else is up to playing no real issue with any as we will probably get pumped. Just get 9 behind the ball and lamp the ball in the corners when we get it, hope city's high line can be undone by the pace of Traore and Neto.
They will come at us regardless of who plays. Traore and neto will get chances. It is just what they do with those chances.
I imagine that we will go super negative in this one, a bit like the Man United and Chelsea games. Type of game this season where it will be a novelty to see us get out our own half and doing so will be completely reliant on Traore or Neto pulling something off individually…Hopefully I'm wrong though and we do provide some sort of counter threat this time.
We got more points off the 'big boys' acting and playing like underdogs then we do/did (against anyone!) trying to dominate the ball.
3-4-2-1
Three covering the front door.
Four covering the back door
Two in the house.
One to deliver the note to Guardiola saying we have his kids.
We should play in our Portugal kit to disorientate Dias and Bernardo Silva.
Have we a brick layer in the squad?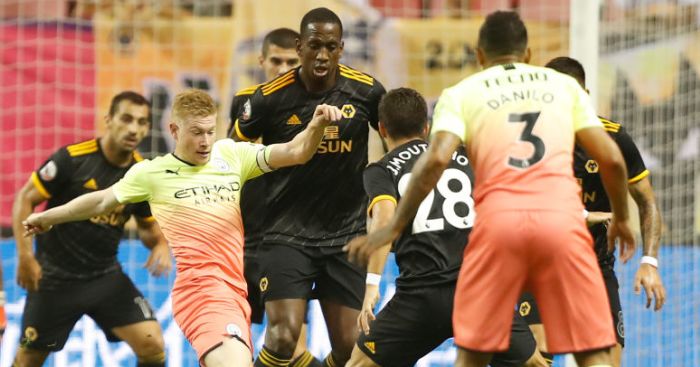 Hard to see anything from this game. Newcastle carved us open at will while we were being defensive so don't see how city won't breach us.
Will surely just play Neto and Traore up front and put an extra body in midfield, maybe Donk and put Kilman at the back.
We are going to get well and truly walloped so the only sense is to pick a damage limitation team with 5 at the back and hope it is not too embarrassing.
I'm literally not going to watch this one …we had our day against city before… I have it down as a 4-0 defeat. Anything better than that will be a success, and I'm not going to gripe about it if it's worse than that.
They hate playing us there going to be up for it, but we will compete.
Best just to forget this game is happening and start the Villa thread instead.
I was going to say we need an old school Wolves away performance with rapid breaks as before. But that only works with Raul to provide a break by holding the ball up. Can't see anything other than a routine 2-0 win for city, if we are lucky.
If we start the game the same way we as most of our games I can see 2-0 at least before half time.
Its simple really, none of this silly tactics nonsense, go with a 7-2-1 formation and park Traore on the half way line and hope we can get 2 or 3 balls to him somehow.
Tbf our defence looked ragged with 5 last night at times…………against Newcastle.
If City don't win by three clear goals, I'll be astounded. And if we raise our game here and get anything out of it (won't happen), that makes performances like the one yesterday even more frustrating – because we know we have talent in the squad…The reality is, they are a fantastic squad and in fantastic form. Looking at the players rested yesterday, we can guarantee Cancelo, Sterling & probably Jesus start v us.
The best we can hope for is Man City to have their worst game of the decade. Dont forget Martyn Tyler is on their side, the one eyed bastard. Damage limitation im afraid. But i live in hope that a miracle can happen.
What position does Tyler play?
Hes their biggest fan, i wish Sky Sports would fuck him off, he gets on my nerves, only gets excited when Man City play. You may have gathered, i dont like him.
Would be typical Wolves to end their winning streak.
I don't think we should be too defeatist, especially when we can't put the likes of Newcastle or WBA to the sword either Clearly we're likely to lose, and they're in imperious form, but we've won 2 out of 5 games since promotion, same as them, so there's always hope.
These hopeless bastards couldn't beat Albion at home either. In fact that's the last game they didn't win!
Forget any Mumbo jumbo but this is an absolute free swing. Statistically the likelihood of MSN City winning reduces as the probability of a draw or defeat after 20 wins is higher. There are no fans in the stadium and we have zero to lose. Watch WJ score and us get at least a point!
Christ please not a front 2 of Fabio & Jose. Don't mind losing, but I really don't want to be watching that.