Manchester City v Arsenal
Barclays Premier League
Saturday 14th December 2013
Live on BT Sport 1HD, 12.45pm KO
When I sat down to write this preview early on Tuesday evening my theme was going to be about the shifting balance between the two sides and a rivalry built up over recent years due to Arsenal's increasing inferiority complex towards Manchester City. One that City had previously held against Arsenal as over the last 30 years City had always suffered some form of trepidation when travelling to the capital to face Arsenal (or anyone), thus not having won there for 40 years, and how even when facing them at home the visit of Arsenal was a game to be written off not matter what the current fortunes of both sides.

If only he had ran that hard every week!
The balance of power came, of course, from the arrival of the Sheik and his ambition, purchasing Emmanuel Adebayor, Kolo Toure, Gael Clichy and Sami Nasri all from Arsenal whilst they themselves when through a period of self-imposed austerity to facilitate the move to the Emirates. With the pinnacle of the shift being that lovely August afternoon when the Etihad was rocking as Adebayor, Bellamy and Shaun Wright-Phillips were laying waste to Rob Van Persie and his Arsenal cohorts. However on Tuesday night City caused me to reach for the Ctrl + A keys followed by the back space key and I found myself laying waste to 1,000+ words on our record against Arsenal in the Premier League (note: it may not have been 1,000 words I promise).

Even his celebrations are understated
What caused me to tear up my preview and start again? (I promise the bit about football follows quickly) Quite simply the matured European performance of what is considered a Manchester City 2nd XI at the home of the European Champions against a team who hadn't lost at home when leading by two goals for almost 40 years. Now admittedly if I'd written the preview at 7.57pm on Tuesday night I would have been writing with the belief that City were about to be pummelled by the sort of cricket score that Australians seem to be tallying against English bowling when in the Southern Hemisphere. However City weathered the storm, they got out of the starting blocks, showed the necessary composure needed when under the cosh then created and took their chances. Anyone who switched the TV on at 7.58pm would have seen an accomplished countering attacking away European performance.

"What do you think Mr Woy will have to say about that?" "Cleverley wouldn't have got booked!"
It was just a shame that instead of lauding our accomplishment like the media do every time United defeat Pontefract Collieries Under 16 girls at home, Phil Jones completes a pass to a teammate in training or Tom Cleverley successfully finishes his breakfast they rolled out the tripe that Pellegrini didn't know the rules as if we'd been holding the ball in the corner flag in the dying seconds trying to hang on. To focus on Pellegrini for City not defeating the Champions of Europe away from home by note enough goals sickeningly undermines what an accomplishment finishing in the group with 15 points, a 100% European away record and advancing to the knockout stages. Surely the column inches were already there for the impeding City capitulation that they were expecting. Anway it was certainly quite the sight to see Bayern holding the ball in the corner flag in the dying seconds…but then they knew who Negredo was second time around.
My most significant thought about the game aside from the level of performance shown from everyone was that Pellegrini learnt from his mistake in the first game. At the Etihad he recognised that 442 wasn't working and changed it to a five man midfield, releasing Silva from the shackles of defensive duty. If you added the last 20 minutes of the home game, although detractors say that Bayern had given up, where City scored, hit the bar and Bayern were reduced to 10 men and the last 70 minutes of the second game, where City scored three times without reply, and it paints a different picture altogether.
Bring on Barcelona… and fuck off Niall Quinn.
"We never win at home and we never win away!"
City v Arsenal
For the first time in memory City welcome Arsenal to the Etihad on Saturday lunch time in a game that will have serious title implications for both teams. In the pre-Mansour days title ambitions simply wasn't in the City handbook with the blues seemingly willing to aid the Gunners with catastrophic home defeats and had a frightening ability to be 4-0 after 20 minutes…often. In the modern era with City using Arsenal as a feeder team for their own title ambitions and Arsenal seemingly content to charge the highest ticket prices in the land to secure a Champions League place whilst they pay off their move to the Emirates there has often been a bit of mis-match when it has come to these games.
The Opposition
Aaron Ramsey/Mesut Ozil
More column inches have been written about the above two players this season than the pube-headed pricks nocturnal activities in Merseyside brothels. It is understandable, however, as Ramsey has re-emerged from a horrific injury and had previously looked a shadow of the player he could be capable of. With Ozil, how Saddam and Gaddafhi must have wished they could have parted with £45m on a Turk-German footballer to keep the masses from uprising with simply trickery with a football. Its interesting to see how quickly commentators of European football are already coming out to explain how over-rated he is even if its that he's rated a nine when he's more like an eight.
In fact, although they will both be key players, for me, it's more about how City close them down and mark them than what either of them can do. Three years ago Mancini would have cried 'release De Jong' and from a darkened place within the bowls of the Etihad our Dutch holding midfield player would have emerged ready to play football with an international playmaker in his pocket for an hour and half. Now its slightly different as we've predominantly employed two strikers at home leaving Fernandinho and Yaya Toure to cover the gap between the defence and midfield. When it works well City close the ball down in numbers and break with electric speed to devastating effect. When it fails, the centre backs are pulled out of position and opposition waltz through and expose us to devastating effect.
Theo Walcott
Admittedly he may not be fully fit and it's probably unnecessary to explain his attributes here…speed for those who don't know. Again if he does play it's about how we set up to close him down because although he's a complete blind alley man if we pair him with Kolarov on a bad day or if Clichy takes those tranquilisers before a game again even he is likely to produce a final ball given unlimited attempts to do so.
City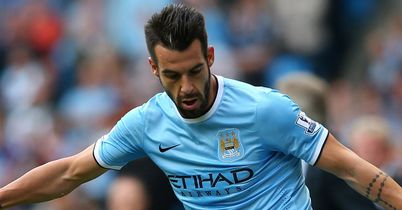 Centre Back Pairing
Pellegrini has already ruled out Nastasic for the game leaving Kompany to partner either Demechelis or Lescott at the back. Arsenal are likely to play Giroud who has scored his goals this season with that low whipped in ball from wide positions and traditionally when playing with huge centrebacks like Joleon they struggle most when the ball is whipped in behind them forcing them to face their own goal. However Lescott is a great screener of the goal, reads the game well and rarely allows players to get past him. When Demechelis arrived my main fear was his glacial like speed for the Premier League compared to the near pedestrian nature of most La Liga games not involving the big two. It has proved to have been true but despite this has slotted in rather seamlessly into a defence that has already seen a ridiculous number of pairings this season. Demechelis seems to read the game well and is a million times the player Joleon is on the ball so it will be interesting to see who he selects.
Silva, Nasri or Navas?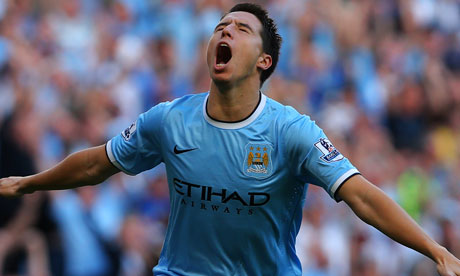 I never thought that I would be writing these words (or at least tapping these keys) but tomorrow might be the first time that the creative spark might come from someone other than David Silva. That's not to say that Silva has not played well or hasn't played as well as he has previously because for me Silva remains the best player to ever pull on a Manchester City shirt after Javi Garcia…just kidding (It's Sergio Aguero). However this season Sami Nasri has simply been world class and if his performances for us had been for anyone else they would already be talking about the PFA Player fo the Year award for him. His creativity has been up there with Silva's and his work rate has been up there with anyone, both on and off the ball.
A small highlight for me was when, early in the first half against Spurs, he was in the corner on the touch line and had two players around him, he fought, harried, twisted and turned to come away with the ball, successfully, when 12 months ago he would have settled for a corner or simply conceded possession. The willingness to fight speaks volumes.
Obviously there is room for both Silva and Nasri in the starting 11 but that would mean sacrificing Jesus Navas on the wing. After Negredo, and now possibly Fernandinho, he has been the signing of the Premier League with what he offers as an outlet, his desire to move the ball support the team, crossing ability and even chipping in with a goal or two. He's fast too you know.
Prediction
Wow 1500 words and I wasn't even sure what to write when I started however this is the most difficult bit for me. I recently was interviewed by a Swansea fanzine before our last home game and got torn between my desire to both be correct and diplomatic whilst prepare the Jacks for the potential siege that was coming their way. I settled on 5-2 so will console myself with getting the margin right. I really think it's all about City tomorrow and how they perform. We've had some sluggish performances where we've not really got going and struggled as the opposition gained belief from holding us but I think Pellegrini has learnt from that and ensured that in the league he has his team selection spot on (play your best players where possible) and get the ball forward quickly as possible.
3-0 City.
A Massive thanks to Bobby Brows from www.mancityfans.net for this great Match Day Preview